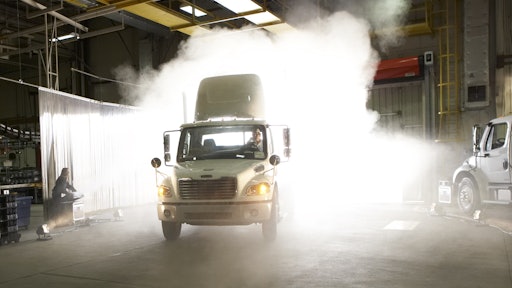 Daimler Trucks North America (DTNA) marked the production of its 1,000th hybrid electric vehicle with a celebration at its Mt. Holly, NC plant. The 1,000th vehicle--a Freightliner Business Class M2 106 Hybrid truck--is manufactured at the Mt. Holly location.

The Freightliner Business Class M2 106 Hybrid features the same benefits of the Freightliner Business Class M2, such as outstanding visibility and maneuverability, with the added efficiency and environment-friendly features of hybrid power. The Business Class M2 106 Hybrid also can be easily configured for a wide variety of bodies for different applications, such as beverage, dump, government, landscape, towing, utility vehicles, and emergency.

In addition to the Business Class M2 106 Hybrid, Freightliner Custom Chassis Corporation (FCCC), a subsidiary of DTNA, leads the way for alternative power in its markets. For the walk-in van industry, FCCC manufactures hybrid-electric vehicle (HEV) chassis, hydraulic hybrid vehicle (HHV) chassis and an all-electric chassis. FCCC also manufactures HEV chassis for the commercial bus market segments. In 2009, Thomas Built Buses, another DTNA subsidiary, launched is first HEV, the Saf-T-Liner C2e solution, also supported by FCCC's hybrid-electric chassis.

All of DTNA's hybrid products are equipped with EPA 2010-compliant engines utilizing selective catalytic reduction (SCR) technology and the Eaton Hybrid Electric Drivetrain System, a parallel hybrid system that enables the truck to operate using the diesel engine alone, or in combination with the hybrid electric motor. The hybrid-electric motor provides power to launch and accelerate the truck, improving fuel economy and reducing emissions in stop-and-go operations, and the electric power comes from regenerative braking while the vehicle is slowing down. Further, DTNA hybrid's can be equipped with electronic PTO and/or 110V power generation capabilities to power hydraulics, lights, tools, or other equipment for job site or refrigerated cargo applications.

"DTNA has worked closely with our partners and customers to develop leading-edge hybrid solutions that shape future transportation by maximizing fuel efficiency while also benefiting the environment," said Mark Lampert, senior vice president of sales and marketing for DTNA. "And it is because of the shared dedication between us, our partners and customers that we were able to reach this important 1,000thvehicle milestone."

Last spring, DTNA further demonstrated its leadership in hybrid technologies with the announcement of the opening of its Local Hybrid Application Center in Portland, Ore. An extension of Daimler's Global Hybrid Center in Japan, the Local Hybrid Application Center will spearhead DTNA's product research and development for hybrid and alternative fuel solutions in North America.

The Local Hybrid Application Center will work closely with the Global Hybrid Center to implement products that specifically meet the needs of the North American market.

DTNA's commitment to green technologies is part of Daimler AG's global "Shaping Future Transportation" initiative. Launched in Stuttgart, Germany in 2007, the initiative is focused on reducing criteria pollutants, carbon dioxide, and fuel consumption. Not only has DTNA had success with its hybrid and all-electric products, it has demonstrated leadership in development and sales of other green products as well, including natural gas-fueled vehicles.