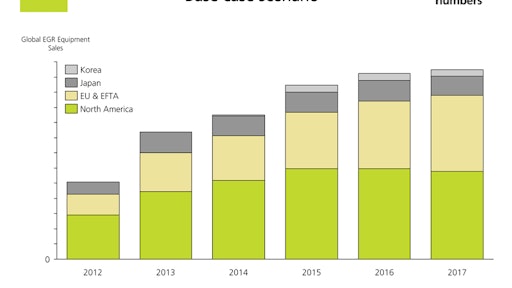 Integer Research predicts the European and North American markets will dominate sales of SCR-equipped off-highway equipment, with these regions accounting for more than two thirds of the machine parc using SCR aftertreatment by 2023. Depending on the timing of Tier 4-equivalent legislation, China has the potential to rival both markets by 2023 and sales of non-road mobile machinery (NRMM) with advanced exhaust aftertreatment could surpass Europe and North America by 2023.
In Integer's base-case scenario, the global SCR-equipped NRMM parc grows rapidly over the period 2017 to 2023, from 1 million SCR vehicles globally to 5 million by 2023. Its upside scenario predicts an explosive growth between 2017 to 2023 which sees the SCR parc expand seven-fold over this period as a result of Tier 4 Final/Stage IV phase-in and end of flexibility schemes. 2017 would see a global SCR vehicle parc of 1 million growing towards 7 million by 2023.
This growth estimate is according to Integer's new Emissions Control in Non-Road Mobile Machinery (NRMM) Markets: 2013 Edition which forecasts non-road vehicle sales, PARC figures, aftertreatment options and sales forecasts, AUS32 market forecasts while providing an up-to-date overview of global legislation. This is the only report to provide in-depth coverage of the market - past, current and future - discussing trends, future developments and providing forecasts for the NRMM market.
As well as SCR, Integer has studied the DPF and EGR markets and predicts a rapid increase in DPF sales post 2014. The DPF market will be concentrated on the North American, European and to a lesser degree Japanese markets following the implementation of more stringent emissions legislation. Both construction and agricultural sectors provide the main markets for DPF. EGR technology will equally find its biggest non-road market in North America and Europe (87%). The BRIC countries are not expected to require DPF until post-2017 at the earliest and will start playing a bigger role when Tier 4 equivalents are rolled out post-2020.
Tim Cheyne, Director at Integer Research says, "Off-highway equipment manufacturers are addressing Tier 4 and Stage 4 requirements in a much more diverse way than we have seen in any other diesel emissions control markets. This creates opportunities for the most flexible and responsive component suppliers. We expect common technology paths to emerge, but at the moment the only clear theme is the widespread use of SCR – all other aspects vary tremendously across the market. Preparing this report has given us the opportunity to delve into the implications of these diverse strategies."
Besides the growth potential in Europe and North America, the BRIC countries offer attractive long-term opportunities. These opportunities depend on Tier 4 equivalent legislation implementation. China could be the key emerging market for advanced diesel aftertreatment technology, and will generate most interest in terms of SCR applications. This is an interesting contrast to Japan, where OEMs will lean towards a preference of EGR and DPF technology instead of SCR due to the smaller average engine size.