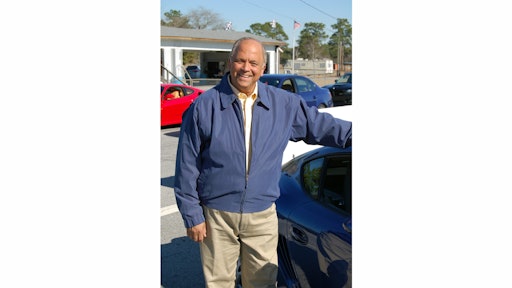 John Davis, the Emmy Award-winning host, executive producer and creator of MotorWeek, will serve as master of ceremonies at the 2015 Green Truck Summit. As MC, he will introduce presenters for the Summit's alternative fuel, advanced technology and regulatory update educational sessions, and also offer his own insights on clean vehicles.
Held in conjunction with The Work Truck Show 2015, the Green Truck Summit provides real-world answers for many of the fuel and productivity questions fleet operators are asking. It takes place March 3–4, 2015 at the Indiana Convention Center in Indianapolis, IN. The Work Truck Show trade show floor is open March 4–6.
"The work truck industry has moved beyond the early phases of clean technology development, and many fleets have already effectively adopted green truck strategies," says Doyle Sumrall, NTEA managing director. "That's why we've shifted the Green Truck Summit's focus toward the area of truck deployment, and this year, we've included more opportunities for fleet managers to share their experiences. The work John Davis has done to promote alternative fuels and advanced vehicles on MotorWeek makes him a natural choice for MC."
MotorWeek is television's longest-running automotive series. Davis oversees all editorial content and is the driving force behind the show's increasing coverage of green technology and alternative fuels. In recent years, Davis and MotorWeek have worked with the U.S. Department of Energy (DOE) to promote public awareness of alternative fuels. Davis has received some of the highest awards in automotive journalism and television and is one of the founders of the North American Car & Truck of the Year Awards.
"In 2013, MotorWeek visited The Work Truck Show and put together a segment about the wide range of clean vehicle technology available at the time," says Davis. "So much has changed since then, and I am looking forward to showcasing the latest truck advancements and sharing some of my own observations at the Green Truck Summit."
Green Truck Summit attendees can hear about the clean vehicle implementation successes of some of the country's leading fleet operators at "Using Sustainable Technologies – A Fleet Perspective." This immersive forum is led by Kenneth P. Jack, Jr., vice president of fleet operations for Verizon Communications (Basking Ridge, NJ), which operates more than 60,000 units. Representatives from Coca-Cola Refreshments (Atlanta, GA), PepsiCo (Plano, TX), Smith Dairy Trucking (Orrville, OH) and McLean Consulting & Associates, Inc. (Grand Blanc, MI) will discuss their sustainable technology selection processes, implementation challenges and returns on investment.
While "Using Sustainable Technologies – A Fleet Perspective" and several other educational sessions highlight current fleet applications for clean vehicle technology, the Green Truck Summit also provides attendees with a look into the future. At "The Impact of Phase Two Greenhouse Gas and Fuel Efficiency Regulations for Trucks," a panel of industry and government experts will explain how upcoming greenhouse gas and fuel efficiency regulations will impact work truck users. Insights provided by the panel are especially timely, as the Environmental Protection Agency and National Highway Traffic Safety Administration are expected to jointly propose their second phase of regulations in March 2015.
Green Truck Summit and Work Truck Show attendees who are considering implementing green programs in 2015 should also check out the Green Truck Ride-and-Drive sponsored by Hino Trucks, where they can experience the latest cutting-edge clean vehicle technologies with test drives and demos. Additionally, the Productivity and Fuels Pavilion on the trade show floor features clean vehicle technologies and fuels that are commercially available today.
Connect with the NTEA on Facebook at www.facebook.com/NTEA.TheAssociationForTheWorkTruckIndustry, and join the Work Truck Show conversation on Twitter at @WorkTruckShow and with the official Work Truck Show and Green Truck Summit hashtags: #wts15 and #gts15.