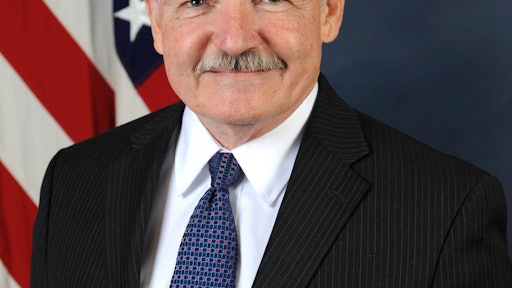 Assistant Secretary of the Navy (Energy, Installations & Environment) Dennis McGinn will serve as keynote speaker at the 2015 Green Truck Summit. His address on the morning of Tuesday, March 3, will offer insights based on his extensive experience in the clean energy field.
Held in conjunction with The Work Truck Show 2015, the Green Truck Summit provides real-world answers for alternative fuel, advanced technology and regulatory questions. It is held March 3 to 4, 2015, at the Indiana Convention Center in Indianapolis, IN. The Work Truck Show trade show floor is open March 4 to 6.
As the Navy's Assistant Secretary for Energy, Installations and Environment, McGinn oversees the management of Navy and Marine Corps facilities, and natural and cultural resource protection efforts. The policies, procedures, advocacy and strategic plans McGinn develops are used throughout the Department of the Navy.
McGinn was appointed to his current position in 2013. He previously served for 35 years in the Navy, before retiring in 2002 as vice admiral. During that time, McGinn's roles included naval aviator, test pilot, aircraft carrier commanding officer and national security strategist.
After his initial retirement, McGinn served as President of the American Council On Renewable Energy (ACORE), an organization dedicated to building a secure and prosperous America with clean, renewable energy. At ACORE, McGinn worked to demonstrate the significant economic, security and environmental benefits of renewable energy.
McGinn is also a past member of the Steering Committee of the Energy Future Coalition, the United States Energy Security Council and the Bipartisan Policy Center Energy Board.
"Dennis McGinn has a history of leadership in the clean energy field," says Doyle Sumrall, NTEA Managing Director. "Currently, he is working to reduce the Navy's petroleum consumption for non-tactical uses. This includes the department's entire land-based vehicle fleet, which is made up of a variety of work trucks, vans and cars. He has extensive knowledge about the viability of alternative fuels for the Navy's vehicle fleet, and Green Truck Summit attendees will be able to apply many of his insights to their own businesses."
The 2015 Green Truck Summit features general and breakout educational sessions offering balanced perspectives from vocational truck and energy industry experts. Attendees can learn about the latest alternative fuel and advanced technology trends, and hear implementation success stories from peers. An immersion session on upcoming greenhouse gas and fuel efficiency regulations will show how proposals from the Environmental Protection Agency and National Highway Traffic Safety Administration will impact work truck users. Also new this year are programs covering clean vehicle innovations and funding opportunities. NTEA staff members are onsite to answer technical and regulatory questions, and attendees can talk to manufacturer representatives during test drives at the Green Truck Ride-and-Drive that is held during show hours on Wednesday, March 4, and Thursday, March 5.