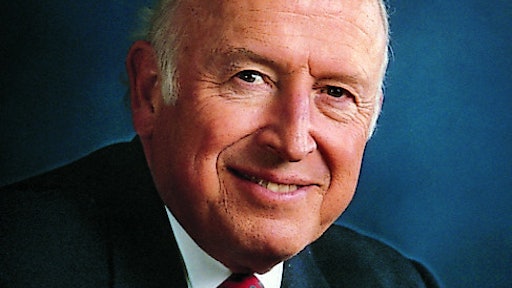 The Association of Equipment Manufacturers (AEM), the leading trade association for the off-road equipment industry, announced AGCO Corporation founder Robert J. Ratliff as one of the 2014 inductees into the AEM Hall of Fame.
The AEM Hall of Fame recognizes and celebrates outstanding individuals in the agricultural and off-road equipment industry and their legacies of innovation, service and leadership. Past inductees include such notable figures as John Deere, Jerome Increase Case, and Caterpillar founders Benjamin Holt and Daniel Best.
Ratliff was inducted because he turned a struggling $200 million farm equipment business into a major, global manufacturer of some of the most innovative and productive agricultural equipment in the world. He had a vision to provide solutions for the growing needs of the farm industry worldwide, and between 1990 and 2005, Ratliff established more than 20 agricultural machinery companies under the AGCO umbrella. Today, the company, headquartered in Duluth, GA, sells its products in more than 140 countries with annual net sales of more than $10 billion.
"I am deeply honored to receive this recognition on behalf of my partners John Shumejda, Jim Seaver and Ed Swingle, without whom AGCO Corporation would have never been realized," Ratliff says. "The AGCO story is a unique example of the American Dream, and I have been blessed to work with so many talented and loyal friends and employees. I am grateful, as an inductee, to join an elite group of industrial leaders in the equipment industry."
Under Ratliff's leadership, the company blended various business practices and cultures. He created an atmosphere that motivated employees to achieve a mutually desirable goal: the vision of brands operating under the leadership of AGCO. His hands-on leadership style extended to company dealers. Recognizing their strategic importance, Ratliff institutionalized the practice of soliciting feedback from dealers, and made known the fact that senior management was only a phone call away.
Ratliff also is a life honorary director of the AEM, and has fulfilled numerous leadership roles for the National Association of Manufacturers (NAM), including chair of NAM's Manufacturing Institute, which focuses on manufacturing revival and education.
To advance education, the Robert J. Ratliff Baltimore Polytechnic Institute Incentive Awards Fund was established to fund annual student scholarships through the University of Maryland Incentive Awards Program. Ratliff is among a select group recognized as program "visionaries."
Other 2014 inductees into the AEM Hall of Fame are E.G. Melroe and the Melroe Family, Melroe Manufacturing and Bobcat Company; Agustin "Gus" Ramirez, HUSCO International; John West, The Manitowoc Company; and Rollin Henry White, Cleveland Tractor Company (Cletrac).
Companies in this article