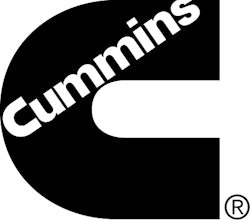 Cummins Turbo Technologies, a global engineering leader in turbocharger technology, offered a glimpse of its advanced waste heat expander prototype to customers and visitors attending this year's Mid-America Trucking Show (MATS), March 22 to 24. Cummins Turbo Technologies is part of the Cummins Components Group, which includes Cummins Emission Solutions, Cummins Filtration and Cummins Fuel Systems. The Holset brand has been synonymous with turbocharging and aerodynamic excellence for over 50 years, developing an enviable reputation in pursuit of improved engine efficiencies, durability and emissions reduction.
The system, which includes the Holset waste heat expander, can reduce fuel consumption by up to 6%, delivering fuel savings of between $4,000 (typical heavy-duty cycle) and $40,000 (typical high-horsepower cycle), depending on the application and engine power.
Speaking from MATS, Adrian Tipling - Cummins Turbo Technologies Account Executive for Global OEMs, said: "With increasing pressure to reduce CO2 emissions and fuel consumption, engine manufacturers and integrators are searching for fresh ways to achieve improvements in the efficiency of their equipment.
"Our waste heat expander captures what would otherwise be lost energy - in the form of heat - from a number of sources onboard the vehicle and turns it into useful mechanical or electrical power. The net result is lower levels of environmental pollution and lower bills at the pump."
The principles of waste heat recovery (WHR), which utilizes organic fluids to draw energy from available and waste heat, have been proven in applications such as electricity generation and very large marine diesel engines - since engine power output determines the scale of fuel, emissions and dollars saved.
Cummins Turbo Technologies' expertise in the field of small, high-speed turbines and participation in the U.S. Department of Energy's SuperTruck initiative means that it is the first to reveal a solution that is currently being developed for specific applications on behalf of a number of customers.
The waste heat turbine expander prototype was displayed alongside the business' latest range of highly efficient turbocharging solutions (Booth 30035), highlighting both its market relevance and appropriate fit within the wider product portfolio.
Cummins Turbo Technologies is known for providing a wide range of innovative, reliable and durable turbochargers that offer manufacturers tailored solutions that can be developed and seamlessly integrated into a variety of vehicles and engines to help achieve the manufacturers' performance goals.
Tipling added, "While we anticipate that our waste heat turbine expander will be among the most exciting advanced technologies to be previewed at MATS, we will also be showcasing a suite of currently available turbocharging solutions that can be tailored to meet the demands of any vehicle duty cycle or market regulation.
"These competitive, market-proven products and technologies draw on our 60-year history of innovation and engineering excellence to delivering savings without compromising on performance."
As the United States' premier heavy-duty trucking event, MATS has a reputation as a major showcase for the industry's most innovative products. Among the other technologically advanced products being exhibited by Cummins Turbo Technologies are:
Electronic Variable Geometry Turbochargers provide improved efficiency across the drive cycle while also delivering high boost at low engine speeds through a patented "sliding wall" design, that can supply auxiliary braking that extends the longevity of brake components and service.
Two-Stage Turbochargers for mid-range and heavy-duty applications that deliver high boost even at low engine speeds with a corresponding improvement in transient performance, and with the additional advantage of providing aftertreatment thermal management as well as an engine braking function.
Highly durable Small Turbochargers, for the 2- to 6-liter engine market, suited to a number of LCV and other light-duty applications that meet U.S. Environmental Protection Agency (EPA) 2010/2013 regulations as well as Tier 4 exhaust emissions limits. Small turbochargers also serve the evolving needs of the truck industry by offering a smaller product that reflects the growing trend toward engine downsizing.
Turbo machinery for Turbocompounding that can maximize engine efficiency and power a turbine to convert exhaust gas into extra horsepower through a mechanical turbine. The second turbine is fully integrated within the exhaust gas stream and can thus be used to optimize the combustion and emissions strategy of the engine.