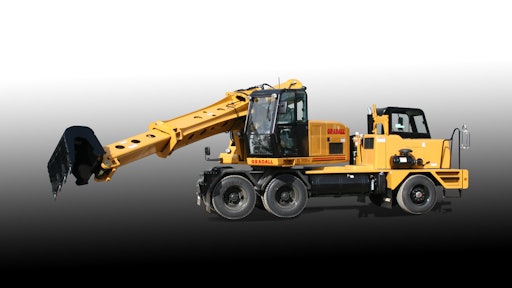 Gradall Industries' XL 5100 IV is a more versatile, productive, highway-speed excavator than any other in its weight class. At 57,670 lbs., it allows for faster travel than ever before, from job site to job site, and back to the equipment yard at the end of the day.
With a six-speed AutoDrive Allison automatic transmission and transfer-case system, the operator can drive the excavator at highway speeds up to 60 mph and easily reposition the machine around job sites and over roadside ditches from the upper cab. Models are available with either a 6 x 4 or 6 x 6 drivetrain.
Attachments include: excavating buckets, trenching buckets, ditching buckets, dredging buckets, pavement removal buckets, fixed thumb grapple, Telestick, tree limb shear, boom extensions and grading blade.
The XL 5100 IV has a maximum reach of 33 ft., 9 in. (10.3 m) at grade. The boom has full-tilting power for versatility on job sites, versus using a boom and tilt attachment. Maximum dig depth is 24 ft., 5 in. (7.4m). Loading height maximum is 18 ft. (5.8 m).
Rated bucket force is 24,900 lbs. (111 kN) while the telescoping boom crowd force is 24,500 lbs. (109 kN). Unlike conventional excavators, the telescoping boom forces are constant through the entire dig cycle.
XL 5100 IV models also have high-performance, high-reliability 24V electrical system and new high-visibility LED lighting and a compact tail swing that allows the machine to be more productive than ever on roadside jobs, while decreasing obstruction of traffic.
Over 80% of the service parts on all current Gradall machines are interchangeable, simplifying inventory processes to assure normal service parts are available. Optional equipment includes: bucket carrier, grid heater strobe light, block heater, tilt steering wheel and auxiliary hydraulics.