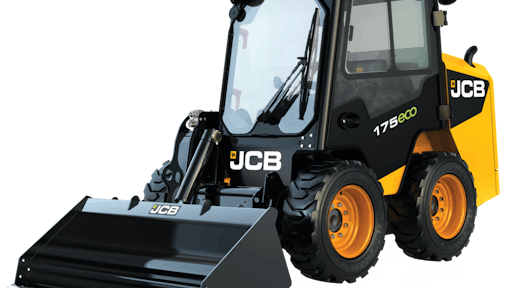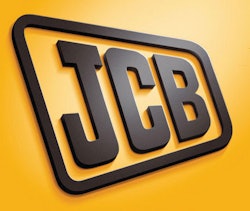 JCB completes its line-up of 17 new generation skid steer and compact track loaders with the launch of five small platform, vertical lift models. The machines are 16% more fuel efficient than rival models and will save customers around €2,000 annually.
The new machines - the 175, 190 and 205 skid steers and the 190T and 205T compact track loaders - all use a vertical lift version of the JCB Powerboom single arm, providing maximum reach at full height. Their unveiling follows the launch earlier this year of the 135 and 155 skid steers and the 150T track loader. All complement JCB's nine large platform new generation models launched in 2010.
The machines are more maneuvrable in tight, confined areas and are easily transported from job site to job site. However, they don't sacrifice power, safety, comfort or productivity. They feature:
A 46% larger cab, with full height side door for maximum operator safety
Industry-leading serviceability, with tilting cab
60% better visibility than competitors
John Patterson, JCB North America's CEO and JCB Group Deputy Chairman, says the small platform machines are designed to meet the needs of a growing market.
He says, "With the launch of these new small platform machines, we now offer 17 models in our skid steer range – both wheeled and tracked with radial and vertical lift designs – providing 97% market coverage.
"While the majority of these machines are sold in North America, international demand for smaller skid steers and track loaders is growing at a fast pace, particularly in Europe and the Middle East. By introducing these small platform machines, JCB is well-positioned to answer the unique needs of skid steer and compact track loader customers worldwide."
Radial and vertical lift options. The 135, 155 and 150T machines feature radial lift, which offers improved digging geometry for heavy loading applications. Because they contain fewer pins and bushings, radial lift machines perform well in high-cycle applications such as waste, recycling and demolition. The 175, 190, 205, 190T and 205T models offer vertical lift, which provides maximum reach at full height - an important consideration when loading dump trucks, lifting pallets or using an auger attachment.
Unmatched safety. As with all JCB machines, the new generation small platform skid steers and compact track loaders offer unmatched safety, comfort, serviceability, productivity and total overall value. With JCB's famous Powerboom design, these machines feature a unique side-entry door that allows operators to enter and exit the machines without crawling over any attachments. This design also increases the operator's visibility to 270 degrees - a tremendous improvement over the 160-degree visibility offered by JCB's competitors.
Class-leading comfort. When it comes to operator comfort, the JCB new generation machines are second to none. The cabs on the small platform machines are 46% larger than those offered by the average competitive machine. The cabs come as standard with a mechanical suspension seat with an option for a heated, air suspension seat with adjustable arm pods. Because a comfortable operator is a more productive operator, machines have the option of a fully enclosed cab with heating and air con. The cabs are also sealed and pressurised to help eliminate dirt and dust ingress. Ergonomically-positioned controls and instrumentation help to further reduce operator fatigue.
Superior serviceability. Serviceability is always an important consideration in purchasing decisions. JCB's small platform skid steers and compact track loaders provide 21% better serviceability than competitive models. A large opening rear door with a tilting cooling pack provides the best total service access for daily service and faster routine maintenance. A tilting cab offers unrestricted access to the machine's inner workings for more detailed maintenance. The skid steers and track loaders have 38% fewer parts, 25% fewer potential leak paths and O-ring face seal fittings throughout.
Innovative and hi-tech electro-hydraulic servo controls improve machine controllability and service access.
Peak productivity. While safety, comfort and serviceability are important factors to consider when purchasing a skid steer or compact track loader, prospective owners also place great emphasis on machines that improve productivity. JCB offers 31 families of attachments that can handle virtually any application, greatly enhancing the productivity and money-making potential of its skid steers and compact track loaders. The eight small platform models are also available with an optional hydraulic quick-hitch that makes it faster than ever to change out attachments in the field.
Outstanding value. By combining productivity and fuel efficiency with a lower cost of ownership and safer operation, JCB's new generation skid steers and compact track loaders offer industry-leading value in a wide variety of applications, from construction and landscaping to agriculture and beyond.
John Patterson says, "By adapting the design of our industry-leading Loadall telescopic handlers and applying it to skid steer loaders, we continue to manufacture a much safer machine that doesn't sacrifice performance or versatility.
"Our small platform skid steer and compact track loaders are simply another example of how JCB's innovative spirit continues to help owners and operators meet today's challenges head- on."