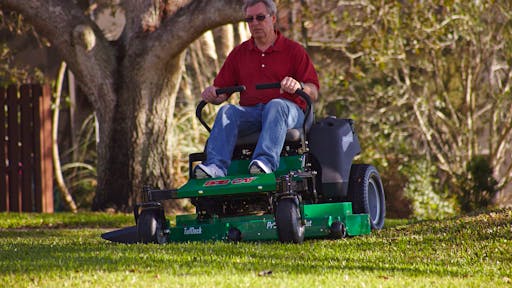 BOB-CAT, a leading brand of commercial walk-behind and zero-turn riding mowers, introduces the new BOB-CAT CRZ, an all-new consumer zero-turn mower line that brings professional-grade power and performance to the residential zero-turn riding mower market. With models that come in 48-, 52-, and 61-inch deck sizes - all powered by ruggedKawasakiengines - and a starting price under $5,000, the new BOB-CAT CRZ zero-turn makes it affordable for do-it-yourself home landscapers to tame their terrain like the pros this mowing season.
A great cut every time. The new BOB-CAT CRZ features BOB-CAT's all-new TufDeck Cutting System that features a patented double-wave baffle for maximum airflow and lift - making grass stand up and take what's coming to it from high-lift cutting blades that spin at up to 18,000 feet per minute with a large impact-resistant discharge chute that fans clippings to eliminate clumping for a crisp clean finish on the first pass. Height adjustable anti-scalp ball rollers fluidly follow the contours of the most undulated turf. The CRZ's wide stance and turf friendly rear drive wheels provide sure footing on hills and slopes as well.
BOB-CAT keeps you mowing. The formed and welded reinforced 10 gauge steel TufDeck is built to take whatever the ground can throw at it. And the CRZ's open frame design allows easy access to operator controls, engine and vital components that make regular maintenance quick and easy too.
Built for the property owner who demands professional durability and performance, the new BOB-CAT CRZ offers:
Three Zero-Turn Riding Mower Models -
48 in. Deck with Kawasaki FR600V 603cc Engine
52 in. Deck with Kawasaki FR651V 726cc Engine
61 in. Deck with Kawasaki FR691V 726cc Engine
Large fuel capacity: 6 gallon, single tank
7 mph ground speed
A Lifetime of Durability Built In -
BOB-CAT's 40 year legacy in designing and building reliable heavy-duty mowers for professional landscapers shines through in the new CRZ with rugged durability built in;

Welded and reinforced 7 gauge steel rear frame
Welded 2.5 in. x 1.5 in. and 2 in. x 1.5 in. steel tube front frame construction
TufDeck Cutting System -
10 gauge welded and reinforced steel deck top/7 gauge welded steel side skirt construction
Large 20-inch drive wheels and 13 in. casters
Patented double-wave baffles 
Large discharge opening with impact resistant chute 
Offset high lift heavy-duty cutter blades 
Optimized caster wheels and anti-scalp placement 
Provides maximum lift and airflow for a better cut and discharge
Disperses clippings over a wider area in a uniform discharge pattern for a beautiful finish
Offset to improve blade performance while protecting the blade mounting from damage or wear
18,000+ FPM Blade Tip Speed
Caster Wheels and Anti-Scalps work together to glide over undulating turf to provide an even carpet-like cut
Easy to Own / Easy to Maintain
Affordable. The new BOB-CAT CRZ starts at under $5,000 (MSRP)
Easy access to belts, idlers, battery, engine, hydraulic tank and filters  for daily inspection, cleaning and service
Self adjusting idlers and maintenance-free idler pulleys
Maintenance-free cutter spindles and caster wheels
National sales and service dealer network
Peace of mind industry best residential warranty, 3 Years/300 Hours