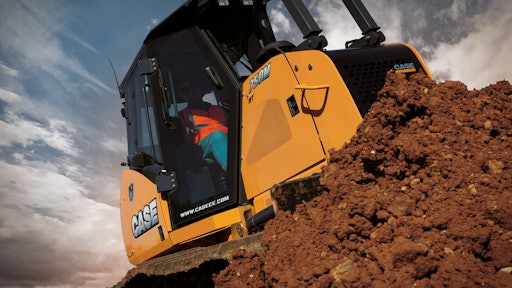 CASE Construction Equipment introduces the new M Series line of dozers. The new product line includes five models ranging from 92 to 214 net horsepower. M Series dozers were designed from the ground up and take into account extensive customer research, testing and feedback related to durability, productivity, controls, comfort and serviceability. Key features found on M Series dozers include best-in-class drawbar pull, increased horsepower ratings, the first selective catalytic reduction (SCR) technology built into a dozer, fuel savings up to 14%, industry leading visibility, new versatile controls and a pressurized cab for optimal comfort. The new models include the 750M (92 hp), 850M (112 hp), 1150M (127 hp), 1650M (150 hp), and 2050M (214 hp).
Pushing Productivity
New M Series Dozers deliver power and productivity through best-in-class drawbar pull (models 750M through 1650M), increased horsepower ratings, proven SCR engine technology, a hydrostatic drive system and an advanced load management system. The advanced load management system automatically reduces track speed (increasing torque) with a heavier load on the blade and increases track speed (reducing torque) with a lighter load on the blade, ensuring the machine is working at optimal power and efficiency.
Exclusive Tier 4 Interim Technology for Dozers
CASE is the first heavy equipment manufacturer to build proven SCR engine technology into a dozer to meet Tier 4 Interim standards. The engines on models 850M through 2050M are built by Fiat Powertrain Technologies (FPT) and offer advantages in terms of maintenance (no regeneration or diesel particulate filter to maintain) and fuel efficiency (some models experience fuel savings up to 14%). One of the greatest advantages of SCR in this application relates to machine performance. SCR is well suited for dozers because it lets the engine run at peak performance under variable loads without compromising the power or drawbar pull that achieves the brute force required for earthmoving.
The 750M, designed primarily for the rental market, features a cooled exhaust gas recirculation (CEGR) engine also produced by FPT. This emissions treatment requires diesel particulate filter maintenance but no end-user involvement in filling diesel exhaust fluid (DEF).
Giving Control to the Operator
New control customizations allow the operator to better tailor machine performance to jobsite conditions, including the ability to set blade sensitivity (1150M through 2050M), steering sensitivity and shuttle sensitivity to smooth, moderate or aggressive. This allows the operator to adjust machine responsiveness and controls to their preferences and ground conditions. A new electro-hydraulic joystick further simplifies operation by providing better feel and responsiveness to the operator. Fingertip blade shake allows for quick blade cleaning, and a grading mode reduces blade speed by 40% for increased accuracy. Each M Series dozer is also compatible with blade control technologies from Leica Geosystems, Topcon and Trimble to match operator preference.
Cab Built for Visibility, Comfort
The new models feature a cab-forward design with floor-to-ceiling glass doors to provide industry-leading visibility down to the blade. A sloped hood and the position of the operator in the cab provide excellent visibility to the ground in front of the machine.
M Series dozers feature a sealed and pressurized cab that helps keep dust and other materials out of the operating environment. Noise is significantly reduced over previous generations down to 75 dBa, helping to reduce operator fatigue. Amenities such as a factory-installed radio and environmental controls further make this the most comfortable CASE dozer cab.
Built to Last – Easy to Maintain
The new M Series dozers were designed to withstand the harshest of environments. This includes a box-style C-frame built for heavy earthmoving and a new cooling system that is tested under maintained heavy load conditions and designed to optimize engine and hydraulic temperatures. Additional components, including cylinders, the electrical system and the rippers have been engineered to work in the toughest conditions.
All daily service checks – including hydraulic components, filters and electrical components – are accessible from the ground and do not require hand tools for access.
CASE ProCare Provides Peace of Mind
All M Series dozers come standard with CASE ProCare, the industry's most complete factory-provided heavy machine coverage. ProCare includes a three-year, 3,000-hour full-machine factory warranty; three-year, 3,000-hour planned maintenance contract; and a three-year Advanced CASE SiteWatch telematics system. CASE ProCare, when combined with CASE's extensive REMAN and undercarriage offering, help businesses acquire new equipment with confidence knowing that operating costs will be predictable for the first three years of ownership.