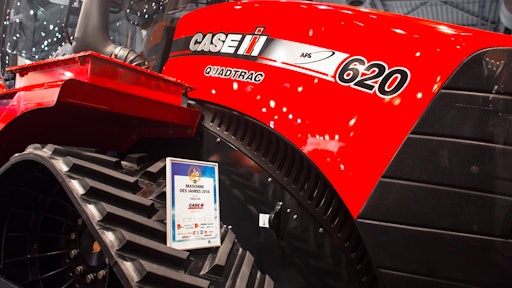 The winner has been found: The Case IH Quadtrac 620 is "Machine of the Year 2014" in the XXL tractor category. On the third evening of the Agritechnica 2013 exhibition in Hannover, the industry accolade "Machine of the Year 2014" was awarded to Case IH in the presence of well over 600 participating guests. The highly coveted trophy, which has become an important recognition of achievements in the industry, was awarded because of the innovative concept of the new Case IH Quadtrac Series.
In his laudation, Agricultural Editor Bernd Feuerborn not only acknowledged the nearly 700 hp maximum and a torque of up to 3,000 Nm but also highlighted the excellent driving comfort of the most powerful series tractor produced worldwide. The Quadtrac tractors feature the largest cab in the industry and an unsurpassed surround vision. The surveyor cab offers an exclusive suspension system which balances and absorbs any forward, sideways or seesaw cab movements, thus providing superior operational comfort and control.
The Quadtrac particularly impressed the jury with its peak performance in terms of traction and soil protection. With four independent tracks, the chassis provides for a consistent footprint of more than 5.6 square meters – exceeding the contact area of comparable tractors in this class by more than 25%. This huge contact area increases traction whilst greatly reducing soil pressure and almost completely avoiding slippage.
All Quadtrac tractors are powered by the new FPT Industrial Cursor 13 engines. This six cylinder power source, with a capacity of 12.9 liters and two intercoolers, enables a significant improvement in the thermal efficiency of the engine. The new Quadtrac Series, presented at Agritechnica for the first time, is one of the first high performance tractor series to fulfil the tightened Tier 4 Final/Stage IV emission regulations with an SCR-only system.
The newest generation of the Case IH Efficient Power System featuring new and patented exhaust treatment technologies is used to achieve these results.
The new engines with the unique HI-eSCR technology deliver optimized combustion, thus ensuring that the Case IH Quadtrac continues to stay in the lead with regard to fuel efficiency. The patented technology not only provides outstanding cost-effectiveness but also NOx transformation efficiency of 95%–setting the standard in the industry.
The engines are aligned to deliver maximum performance without increasing emissions or reducing effectiveness.
The "Machine of the Year 2014" accolade is awarded by technical editors of the Deutscher Landwirtschaftsverlag (German Agricultural Publishers) in cooperation with other European agricultural magazines. For this award, journalists specifically look for innovative and outstanding new developments in agricultural engineering. The "Machine of the Year" accolade is awarded at the Agritechnica exhibition.