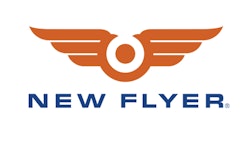 New Flyer of America Inc., a subsidiary of New Flyer Industries Inc., the leading manufacturer of heavy-duty transit buses in the United States and Canada, announces that the Southeastern Pennsylvania Transportation Authority (SEPTA) awarded New Flyer a contract for up to 35 30-foot MiDi clean diesel buses.
The contract, valued at approximately $17 million, is for a total of 35 MD30 buses, 28 of which are firm with options for an additional seven. The New Flyer MiDi was introduced by New Flyer as part of a joint venture with Alexander Dennis Ltd as a mid-sized transit bus or community shuttle that has been tested to a 12-year durability standard at the bus test program at Altoona, PA and is a compliment to New Flyer's heavy-duty Xcelsior platform. To date, New Flyer has delivered over 80 MiDi buses in North America.
SEPTA currently services over 3.9 million passengers annually in Philadelphia and its suburban areas of Delaware, Montgomery, Bucks and Chester. It has 2,295 revenue vehicles and 196 routes covering 2,200 square miles.
"Since 2002, New Flyer has built and delivered over 1,130 transit buses for SEPTA in a variety of models, lengths and powered by various propulsion systems. This award for MiDi buses reflects the strong partnership that we have developed with SEPTA and is the first significant award for our MiDi program," says Paul Soubry, President and Chief Executive Officer of New Flyer. "SEPTA's commitment to continuous fleet renewal efforts proves why they are amongst the leading transit agencies in the United States."