©chesky – stock.adobe.com
Eaton recently announced it has received two awards from the U.S. Department of Energy (DOE) to aid with the development of electric vehicle (EV) charging infrastructure as well as emissions reduction technology for agriculture equipment.
The company received a $4.9 million award from the DOE to develop a means of reducing the cost and complexity of deploying direct-current (DC) fast EV charging infrastructure. The second award is for $2.4 million and will be used by Eaton's Vehicle Group to develop technology capable of reducing both greenhouse gas (GHG) and nitrogen oxide (NOx) emissions from agricultural equipment powertrains.
Improving EV charging infrastructure
Building up charging infrastructure is vital to the uptake of electric vehicles in both the passenger car and commercial vehicle space. As such, U.S. Secretary of Energy Jennifer M. Granholm and U.S. Secretary of Transportation Pete Buttigieg signed a memorandum of understanding to create a Joint Office of Energy and Transportation in December 2021. The new joint office will support the deployment of $7.5 billion from President Biden's Bipartisan Infrastructure Law to build out a national electric vehicle charging network. As part of this, there will be a focus on building up this charging infrastructure in rural, disadvantaged, and hard-to-reach locations where it is especially lacking today.
"We are embarking on a transformative path to modernize the way we get to around in this country, making sure all Americans have the option to choose electric vehicles and spend less at the pump while making our air healthier," said Secretary Granholm in the DOE's press release announcing the joint effort. "Our two agencies will work together to deliver on President Biden's historic investments in the Bipartisan Infrastructure Law, starting today with a joint project to build hundreds of thousands of electric vehicle charging stations, to tackle the climate crisis and create manufacturing and construction jobs at the same time."
"Transportation is responsible for the most greenhouse gas emissions of any sector in our economy - so it can and must be a big part of the solution to the climate crisis," said Secretary Buttigieg. "With this announcement by DOT and DOE, we are taking a big step forward on climate by helping make the benefits of EVs more accessible for all Americans."
As part of this initiative, the DOE's Vehicle Technologies Office has granted several awards for low GHG vehicle technologies research, development, demonstration and deployment. Both of Eaton's awards are part of this funding.
Over the next 3 years, Eaton says it will develop and demonstrate a novel, compact and turnkey solution for DC fast-charging infrastructure that is anticipated to reduce costs by 65% through improvements in power conversion and grid interconnection technology, charger integration and modularity, and installation time.
Charging infrastructure for commercial vehicles is especially scarce. Eaton plans to work with project partners to create compact, cost-efficient charging solutions which are fully integrated and factory optimized for local grid interconnection and immediate use. The company's hope is this will help to increase the market uptake of electric-powered commercial vehicles.
"Mass EV adoption requires a much simpler approach to charging infrastructure that doesn't have a big impact on local power systems," said Chris Butler, president for Critical Power and Digital Infrastructure at Eaton, in the company's press release announcing its DOE awards. "We're leveraging long-standing expertise, research and partnerships to fast-track the electrification of transport by reducing the steps required to connect charging systems directly to the utility distribution system."
Eaton says it plans to develop a solid-state transformer design and modular chargers packages on a compact skid which it believes will help speed up installation as well as reduce the amount of necessary equipment in order to bring down deployment costs. Per Eaton's press release, the solid-state transformer technology will enable direct connection to the utility medium-voltage distribution system to eliminate the need for additional power conversion devices and associated commissioning. With integrated energy management and charge control software, the EV charging solution will also help avoid peak energy costs by accurately forecasting and managing electrical demand.
The company will leverage previous work it has done in this area under a DOE-funded project. It will partner with the National Renewable Energy Lab (NREL), North Carolina State University (NCSU), University of Pittsburgh (Pitt), ITC Holdings, and CALSTART.
"One of the biggest challenges to the buildout of complete EV charging infrastructure is coordinating with stakeholders," explained Eaton's Vijay Bhavaraju, who is leading the project as principal investigator and system architect. "In addition to leveraging the expertise of our project partners, we're actively engaging with community, business and government leaders to help ensure everyone is able to experience the long-term benefits of electrifying transport."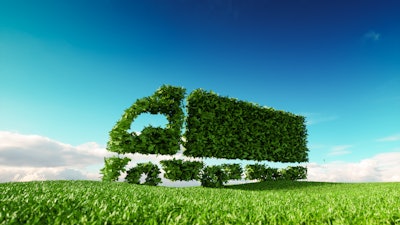 Reducing emissions from farm equipment
Agricultural and other off-road equipment manufacturers continue to look for ways to reduce emissions from their machines to help not only the environment but also the safety of those using the equipment. Using the new DOE award, Eaton is looking to design technology which can simultaneously reduce GHG by 10% and NOx by 90% when agriculture equipment is used over multiple-duty cycles.
Not only will this help OEM customers create cleaner operating machines, but also enable Eaton to achieve its 2030 Sustainability Target which include reducing emissions from solutions and its value chain by 15%.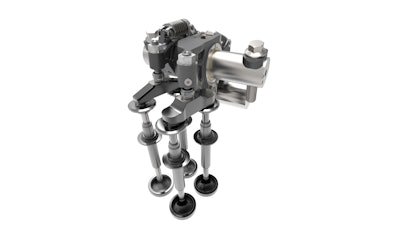 Eaton states in its press release announcing the award that the technologies are required to span application diversity in the segment while being both cost-efficient and robust. "Off-highway sector emissions levels, including in the agricultural segment, significantly lag behind on-road applications due to a lack of technology solutions," said Dr. Mihai Dorobantu, director, Technology Planning and Government Affairs, Eaton's Vehicle Group. "This grant could enable significant reductions in both GHG and NOx emissions that would then drive the technology and its benefits nationwide and help us meet our corporate sustainability objectives. The DOE funding supports our ongoing work to develop technologies that reduce emissions in applications that are difficult to decarbonize. The funding also enables research partnerships to optimize architectures and components."
Eaton plans to develop new components as well as modify existing technologies developed for commercial vehicles such as engine and aftertreatment systems to help meet the goals of the project. Modifications and new technology will be necessary because of the off-road equipment sector's unique demands and varied duty cycles compared to those of the on-highway market.
The company also plans to partner with engine manufacturers to meet its emissions reduction targets and create technologies providing higher engine compression ratios, reduce friction and increase turbo machinery efficiency all while minimizing mechanical losses.
More on the project from Eaton's press release:
Eaton will adapt its line of variable-valve actuation (VVA) solutions, originally designed for commercial vehicles, for agricultural use. Eaton's VVA technologies are based on two building blocks — a rocker with a switchable capsule, and a split rocker for full deactivation. By combining these two building blocks, several VVA strategies can be utilized in virtually any engine architecture from — single and dual overhead cam to cam-in-designs, for engine displacements ranging from 2.0-15.0 L.
Cylinder deactivation (CDA) is a VVA technology that consists of deactivating the intake and exhaust valve opening, as well as the fuel injection on some of the cylinders when the engine is running at low load. CDA is an ideal solution for commercial vehicles that make frequent stops, as well as many agricultural implements. CDA can reduce NOx emissions by up to 40% and carbon dioxide (CO2) by 5-8%.
READ MORE: Eaton Cylinder Deactivation and Exhaust Thermal Management Technologies Reduce Emissions
Eaton will also focus on active catalyst heating technology to assist with exhaust thermal management as part of achieving the DOE's targets. Active heating solutions provide heat directly to the vehicle's aftertreatment system, reducing harmful NOx emissions by warming the selective catalytic reduction (SCR) catalyst to approximately 200-250 C as quickly as possible, and maintaining this temperature during periods of low-load operation.
Additionally, Eaton plans to leverage its positive-displacement TVS® exhaust gas recirculation (EGR) pump to meet the program's objectives. The EGR pump complements a high-efficiency turbocharger to reduce engine pumping losses, thereby increasing fuel economy and lowering emissions. Because the pump is a positive-displacement device, the engine controller uses the pump speed signal, as well as other Controller Area Network (CAN) sensor data, to accurately calculate EGR mass flow rate.
"This program is foundational to creating two market drivers in the off-highway segment —upcoming regulations to lower GHG and NOx emissions across the segment, and a significant economic benefit generated for end users," Dorobantu said.
Companies in this article