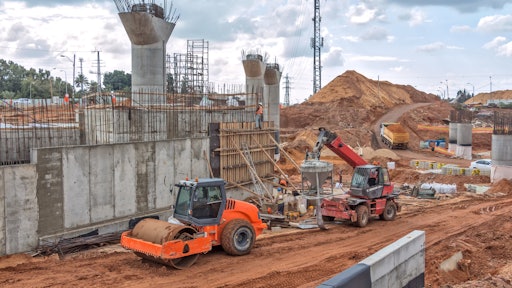 ©rmoshe – stock.adobe.com
After weeks of party infighting and debate, House Democrats on Nov. 5 clinched a long-sought victory on President Biden's domestic agenda, passage of the $1.2 trillion bipartisan infrastructure bill named the Infrastructure Investment & Jobs Act (IIJA).
The passage came after a progressive Democrats agreed to compromise with the rest of the party to unlink Biden's larger economic package, the Build Back Better plan, from the Senate-passed bipartisan infrastructure deal. The climate and social spending package is now being negotiated with final language being drafted. It will then receive a cost estimate from the nonpartisan Congressional Budget Office (CBO). It is expected to reach the floor the week of Nov. 15.
The tally on the infrastructure bill was 228-206, with 13 Republicans crossing the aisle to support the measure, and six progressive Democrats bucking Biden and party leaders to register their opposition to a process that left the fate of the larger bill up in the air.
"The Bipartisan Infrastructure Framework is a generational investment essential to repair and rebuild our crumbling infrastructure, bolster our economy, and keep America globally competitive" Congressman David Price (NC-04), Chairman of the Transportation, and Housing and Urban Development, and Related Agencies (T-HUD) Appropriations Subcommittee and a member of the House Budget Committee said. "In passing this legislation, we are delivering good-paying jobs, investing in clean water infrastructure, and bringing broadband access to millions of Americans, including the more than 400,000 North Carolinians who currently lack reliable internet access."
On Nov. 15, President Biden signed the bill into law; communities across the country will begin to reap the benefits of these investments in the weeks and months ahead.
A ceremony was held at the White House to celebrate passage of the bipartisan spending agreement, and lawmakers from both parties were in attendance including federal, state and local lawmakers. Per The Hill, President Biden used the opportunity to tout the rare bipartisan effort which enabled passage of the infrastructure spending bill.
Former New Orleans Mayor Mitch Landrieu has been appointed as a senior White House advisor to help coordinate implementation of the bill. Many Democratic lawmakers are hoping to get projects going quickly so the public can see the impacts of the spending measure.
"A Monumental Step Forward"
The Senate passed the measure to the House August 10, but it took nearly 2 months for it to make it to Biden's desk. After its passage, Biden addressed reporters saying the bipartisan infrastructure bill was "a monumental step forward as a nation."
"It will create good-paying jobs that can't be outsourced. Jobs that will transform our transportation system with the most significant investments in passenger and freight rail, roads, bridges, ports, airports, and public transit in generations," he said in a statement. "This will make it easier for companies to get goods to market more quickly and reduce supply chain bottlenecks now and for decades to come. This will ease inflationary pressures and lower costs for working families."
Highlights of the IIJA:
$303.5 billion over 5 years for Federal Highway programs, a 35% increase from previous bills
$450 billion for highway and public transportation investments and a new, 5-year reauthorization of federal surface transportation programs
Overall package includes $40 billion in dedicated resources for bridge repair, replacement and rehabilitation, which is the single largest dedicated bridge investment since the construction of the interstate highway system
$55 billion for water projects with a focus on upgrading infrastructure - largest investment in clean drinking water in our nation's history
Project permitting overhauls to move projects forward more quickly. The environmental impact statements under NEPA takes an average of 7 years. This bill provides numerous provisions including the One Federal Decision for highway projects which establishes a 2-year goal for project approval
$66 billion in passenger and freight rail
$65 billion to rebuild the electric grid
$65 billion to expand broadband Internet access
$39 billion to modernize and expand transit systems
$7.5 billion to build a national network of charging infrastructure for electric vehicles
The legislation includes $550 billion in new spending, which Biden and Democrats had sought. The remainder of the package is funded by tapping unspent coronavirus relief funds already in law. Ratification of this bipartisan effort to safeguard and advance the nation's infrastructure will provide an additional investment of $110 billion for roads and bridges – for a total $360 billion over 5 years – guaranteeing predictable and enhanced funding for state and local governments to build, repair and maintain their roadways.
Industry Ready to Get to Work
This was an historic and impactful week for the transportation construction industry as well as other related industries; the industry is ready to put this money to work. The delay in House approval of the IIJA in no way overshadows the 5-plus year impact the nation will receive from its enactment.
Statement of Association of Equipment Manufacturers (AEM) Senior Vice President of Government and Industry Relations Kip Eideberg:
"Tonight's vote represents a win for bipartisanship and a once-in-a-generation investment in the future of our country. We salute this rare and historic bipartisan victory for the 2.8 million men and women of the equipment manufacturing industry. It will make us more competitive, more prosperous, and more equitable as a nation. Equipment manufacturers have long criticized the partisan rancor and division that has undermined much-needed investments in our future. The lawmakers who put country first and voted in favor of the Infrastructure Investment and Jobs Act have demonstrated real leadership and a commitment to our nation's renewal."
Read more on AEM's thoughts on the benefits of an infrastructure bill for the heavy equipment manufacturing industry in our recent Q&A with President Dennis Slater.
Alliance for American Manufacturing President Scott Paul said:
"The House of Representatives has given its approval, and now the long journey to rebuild America's failing infrastructure can really begin as soon as President Biden signs the bipartisan infrastructure bill.
"America's factory workers and manufacturers stand ready and willing to rebuild roads, bridges, the electric grid, public transit, water systems, and so much more. We're also ready to build our clean energy future, from solar panels and wind turbines to electric vehicle charging stations. That is why it is so encouraging to see that the investment bill passed today by the House includes strong Buy America provisions to ensure these resources are reinvested back into our workers, companies, and communities. We should avoid sending taxpayer money overseas when this work can be done here at home.
"We're truly grateful for all the Senators and Members of Congress who lent support to this effort, as well as the strong leadership of the Biden administration. Let's get to work."
Statement of American Road & Transportation Builders Association (ARTBA) President & CEO Dave Bauer:
"The Infrastructure Investment and Jobs Act is the most significant measure in more than 50 years to meaningfully address the condition and performance of the U.S. transportation network.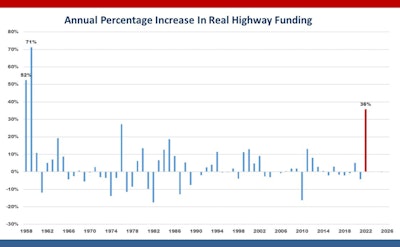 "Members of the U.S. Senate and House of Representatives have demonstrated not only the importance of federal transportation infrastructure leadership, but that policymakers can find common ground and govern on matters of national concern.
"We salute President Joe Biden, House Speaker Nancy Pelosi (D-Calif.), House Majority Leader Steny Hoyer (D-Md.), Senate Majority Leader Chuck Schumer (D-N.Y.), Senate Minority Leader Mitch McConnell (R-Ky.), Sen. Tom Carper (D-Del.), Sen. Shelley Moore Capito (R-W.Va.), Sen. Kyrsten Sinema (D-Ariz.), Sen. Rob Portman (R-Ohio), and Rep. Peter DeFazio (D-Ore.) for their leadership in getting the job done, along with other members of Congress who voted for final passage.
"In today's political environment where distortions and broadsides masquerade as solutions, members of Congress have taken tangible action that will benefit every state and community across the nation.
"The transportation construction community now welcomes the opportunity to use these historic investments to deliver infrastructure outcomes that will improve the quality of life for all Americans."
U.S. Chamber Applauds Passage of the Bipartisan Infrastructure Bill, Continues to Oppose Reconciliation
U.S. Chamber of Commerce President and CEO Suzanne Clark issued the following statement after the U.S. House of Representatives passed the bipartisan infrastructure bill:
"Today's passage of the bipartisan infrastructure bill is a major win for America.
"We thank every member of the House and Senate who cast a vote for America's future. This historic victory wouldn't have been possible without the leadership of Senators Portman, Cassidy, Sinema, and Manchin, and key members of the House Problem Solvers Caucus.
"The Infrastructure Investment and Jobs Act will help connect 14 million Americans to broadband, provide clean drinking water for 10 million families, upgrade our energy grid, and create millions of jobs. It is the single largest investment in bridges since construction of the Interstate Highway System and the single largest investment made to address climate change in U.S. history.
"For more than 25 years, the Chamber has led the charge for investment in America's crumbling infrastructure. We will continue to work with our partners in business, labor, and government to identify projects with the most critical need, help find the necessary workers to get started, and bring much-needed investment to communities across America.  
"The bipartisan infrastructure negotiations showed us how Congress can work together to solve today's most pressing challenges.
"Members of the House also made the right decision in delaying consideration of the partisan reconciliation bill. It would be the height of irresponsibility for Members of Congress to vote on a multi-trillion tax-and-spend bill without even knowing its true cost or even pausing to consider the policy ramifications. The Chamber applauds those Members who helped inject some sanity into this process."
Associated Equipment Distributors' (AED) President & CEO Brian P. McGuire issued the following statement after the House of Representatives' vote:
"After many years of delay, Congress finally did its job and approved bipartisan legislation that will provide historic investments to upgrade the United States' infrastructure. This long-sought achievement didn't come easy and wouldn't have happened without the unprecedented involvement of AED members engaging during the lengthy legislative process. IIJA's enactment is truly an achievement for the equipment industry, its customers, and the entire country. AED members are ready to provide the machinery needed to rebuild the country."
"Unfortunately, politics unnecessarily delayed IIJA's passage and it's regrettable that every House and Senate member didn't support the bill. The Senate set an example with its deliberative and thoughtful consideration of the proposal last summer, but its counterparts in the House failed to follow suit. The House's politicization of much-needed, bipartisan infrastructure legislation is unfortunate and caused by members of both parties."
"The lawmakers, Democrat and Republican, that chose to do what was right for the country over the politics of the day should be commended. AED and its members won't forget the courageous stance many took in the face of immense political pressure and misinformation campaigns."
Patrick Sabol, Co-Founder and CEO of United for Infrastructure said after the vote:
"As President Biden recently said, "after years and years and years of 'Infrastructure week' – we're on the cusp of an infrastructure decade." With the passage of the Infrastructure Investment and Jobs Act, that decade starts today. We all know that one bill won't fix all the problems facing our sector. However, it is a time to celebrate the collective work of the hundreds of organizations and thousands of individuals that brought us to this moment.
While the fight in Congress is over, the work is just beginning for the federal agencies tasked with implementation, the state and local governments responsible for the projects themselves, as well as the labor, business, and civic groups that will do the hard work of delivering world class infrastructure for their communities."
Environmental groups voice support
Included in the IIJA are several provisions that will aid not only the economy but also the environment which several industry groups support. Key environmental elements from the bill include:
$55 billion for water infrastructure, including $15 billion to remove lead pipes and $200 million to address lead in school drinking water
Record investments in transit, walking and biking infrastructure
$7.5 billion to begin building a nationwide electric vehicle charging network
Funding for thousands of clean, electric school buses and low and zero emission transit buses
$73 billion to strengthen the electrical grid and improve energy efficiency
Begins the process of reinstating the Superfund tax "polluter pays" principle while also including additional funding to clean up Superfund and brownfield sites, reclaim abandoned mine land and cap orphaned gas wells
$65 billion for broadband
$350 million to build wildlife corridors, which ensure animals can get under, around or over roads to migrate, mate and maintain biodiversity
U.S. PIRG's Chairman Doug Phelps issued the following statement:
"To solve social problems, we need leaders -- who don't always agree -- to set aside their differences and reach compromises on solutions. "This bill reflects that bipartisan spirit and takes major steps toward a cleaner and healthier America. It includes the largest-ever federal investment in public transportation. It invests in electric school buses. It reinstates one of the 'polluter pays' taxes for hazardous waste Superfund site cleanups.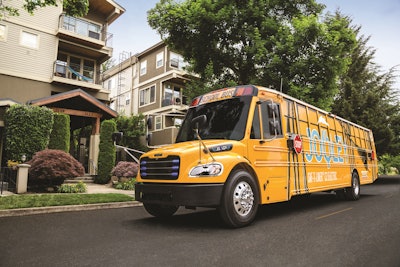 "On its own, this investment is historic and will leave our country healthier, stronger and more resilient. Together with the Build Back Better Act, which includes robust provisions to address climate change, this could be a great package of positive environmental programs, one that President Biden and Congress can be proud of."
Environment America's President Wendy Wendlandt issued the following statement:
"The infrastructure we build impacts our health and the environment for decades into the future. All Americans want clean air to breathe, clean, lead-free water to drink, and more options to get around. But for decades, our infrastructure investments haven't reflected those values.
"This legislation makes needed progress in these areas. It begins to rectify the harms of past infrastructure investments by removing lead pipes and targeting investments to protect our kids from lead in school drinking water; cleaning up Superfund sites; and reconnecting wildlife habitats. Just as important, it invests in the clean transportation technologies we need to have a livable future, such as clean electric school buses and electric vehicle charging.
"After a summer of record-breaking drought, heat waves, fires and floods, the urgency of solving climate change has never been more apparent. The proposed Build Back Better Act, a necessary counterpart to the infrastructure bill, would grow solar and wind power, help people buy electric vehicles, and reduce air pollution. We urge Congress to move forward with the Build Back Better Act at the speed the climate crisis demands."
Joe Britton, Executive Director of the Zero Emission Transportation Association (ZETA) said:
"EVs are among our most powerful tools for reducing emissions while creating new, good-paying American jobs as we rebuild our country's infrastructure. EV manufacturing is injecting billions of new dollars into local economies across the country. The passage of the IIJA presents an unprecedented opportunity to accelerate the deployment of EVs, which will ensure that these benefits are delivered to all Americans—even those who never end up sitting behind the wheel of an EV.
"Though the IIJA is a much-needed down payment on the United States' long-term success in the ascendant EV sector, we must also invest in robust consumer incentives through the BBBA if we are to ensure widespread EV adoption in the United States."
*Editor's Note: A version of this article was written and published on our sister site ForConstructionPros.com with additional reporting added.