Proterra Inc.
While electrification is not a new concept, its prevalence within the heavy-duty vehicle and equipment segment has grown as manufacturers have seen the benefits it can provide.
Drivetrain electrification in particular has seen an uptick in recent years due to the efficiency gains that can be achieved. In 2017, several manufacturers announced development programs focused on drivetrain electrification such as Meritor and AxleTech; OEMs including Volvo, John Deere and Caterpillar have also begun developing more equipment with electrified drivelines (see sidebar below).
Jason Gies, Director of Business Development for Electric Powertrain Systems at AxleTech International, says the company has developed electric components for several years, often due to specific customer requests. After development programs in recent years with Proterra and Wrightspeed, he says the company started seeing there was a business beyond just customer-directed programs. "Since then we've decided to go out and develop a whole line of [electric] products for our typical off-highway customers, and into the transit bus market."
He says with battery prices decreasing and different drivetrain technologies coming out, AxleTech sees many possible benefits to drivetrain electrification.
"As we look to future emissions regulations and our customers' desire for more efficiency, Meritor is working hard to position ourselves as a leader in electric solutions for the commercial vehicle market," says John Bennett, General Manager, Global Product Strategy & Advanced Engineering at Meritor Inc., in regards to the company's decision to develop an electric drivetrain platform.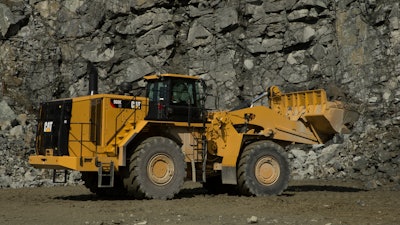 Efficiencies achieved
In September, Caterpillar Inc. introduced its first electric drive wheel loader, the 988K XE, which the company says is 25% more fuel efficient than its standard 988K wheel loader. The machine has the same C18 engine as the 988K, but the transmission and torque converter were removed and replaced by a generator, inverter and motor.
Replacing the mechanical system with an electric one enables fuel efficiency gains by allowing the engine to run at a lower rpm. Todd Tuntland, Product Application Specialist at Caterpillar Inc., said during a launch event for the machine the C18 engine runs at 1,860 rpm on the standard 988K, whereas on the XE it drops to 1,600 rpm, which equates to less fuel burned.
The system utilizes a brushless non-permanent magnet motor, offering simplicity said Tuntland. It is also a variable speed motor, enabling machine operators to fine tune gear changes and not feel gear shifting as they would with a traditional machine. Compared to a mechanical drive wheel loader, he says the 988K XE provides quicker, smoother operation because the electric driveline puts more power to the ground.
At the 2017 American Public Transit Association (APTA) Annual Meeting, Proterra Inc. introduced its new DuoPower electric drivetrain system. Matt Horton, Chief Commercial Officer at Proterra Inc., says a vehicle with this new drivetrain is nearly six times as efficient as a diesel bus. The system is also more efficient than the company's previous drivetrain. "It ended up being even more energy efficient because of the recapture of braking energy [aka regenerative braking]," he says.
Horton says Proterra developed its new electric drivetrain system because it has found over the years that many of the available technologies in the marketplace for motors and transmissions have not been powerful enough to match the performance of a diesel-powered drivetrain. "We want people to buy these vehicles [electric buses] because they make sense for the environment and because they're just better vehicles overall," he explains. "And so we've designed this new drivetrain to far exceed the performance of a combustion engine powered vehicle."
Hill climb capability was an important aspect for Proterra during the drivetrain system's development. "The technology will now blow the doors off a diesel bus going up a hill," Horton says. "The acceleration is far superior; it accelerates almost twice as fast as a diesel bus."
To achieve this, the company kept the two-speed capability of its previous drivetrain system as it enables the driveline to remain in its most efficient range whether traveling at freeway speeds or climbing up steep hills. "Having that two speed capability has allowed our vehicles to outperform other vehicles, both on an efficiency and performance standpoint," says Horton.
The DuoPower drivetrain includes two motors and a multispeed transmission integrated into a planetary wheel end designed by AxleTech—which collaborated with Proterra on the drivetrain's development. With a multispeed transmission, a bus can run at faster speeds, in the 45+ mph range that many North Americans are accustomed to driving. "What our competition's done, typically in Europe, is a single speed into either a planetary wheel end or a standard wheel end," says Gies.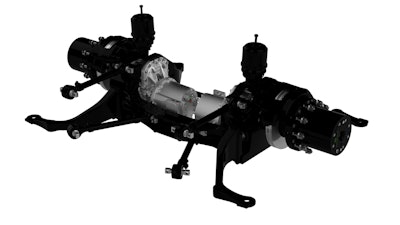 However, he says, "If you're not mapping your motor efficiencies with the proper gear ratio mix for those higher speeds, your drivetrain efficiency is only optimized for 20-30 mph in-city types of applications." AxleTech and Proterra worked together to ensure the motor efficiencies of the DuoPower drivetrain were mapped for both the higher and lower speed ranges to accommodate both in-city and freeway drive cycles.
Going electric
DuoPower is a fully integrated system which includes everything from the power electronics and motor to the cooling components. Creating an integrated electric drivetrain system enables it to be more compact and fit into the same space a traditional system would occupy. "The undercarriage is dramatically simplified," Horton says. "[There are] fewer moving parts, and it's very compact. In terms of space saving and ease of access, it's definitely been an advancement in that way, as well."
Gies says electric drivetrain development has come about in phases. The easiest and cheapest method of implementing an electric drivetrain, he says, is to remove the IC motor and replace it with an electric motor and add some batteries. "A lot of companies have done that for the last 5-10 years. Some successfully, quite a few not."
He notes that's the method some are still using, and in certain applications it's the right one to use. However, Gies says the downside to that type of electric drivetrain is that it is very inefficient. Other methods include adding a transmission, which he says some of AxleTech's competitors are doing. "We see that as a middle phase," he says.
A fully integrated system, however, can provide the efficiencies an OEM is looking for while also providing space savings. And as battery and other vehicle electrification technologies improve, and get smaller, the overall vehicle size can eventually decrease, as well, notes Gies. Some of the current direct drive electric vehicles require a large motor and still do not perform as well as a diesel. "At the end of the day, they're either going to have to put a transmission on that, lose efficiencies, or go to a system like ours," he says. "A fully-integrated solution is more efficient and powerful for certain on-highway types of applications, as demonstrated by the DuoPower. For off-highway, I think we can still stay with a more standard setup because packaging is not always an issue, and speed is not an issue.
"Our end goal is to get the power to the road in the most efficient, compact way possible without compromising standard suspension setups, [or] standard vehicle architecture," says Gies. "We're not going out and making our customers develop a whole new chassis for what we're doing. We want this to bolt in a similar space they're used to today." There may be some suspension tuning and other minor adjustments necessary, he says, but a complete vehicle tear-up and rebuild is unnecessary.
Bennett says Meritor's flexible electric carrier (eCarrier) design will be the foundation for various drivetrain configurations, including full electric, hybrid, single or tandem axles with various options based on application. The electrified, lightweight carrier—designed for city delivery, medium-duty, transit bus, as well as off-road and severe-duty applications—offers several benefits over remote-mounted electric motor configurations.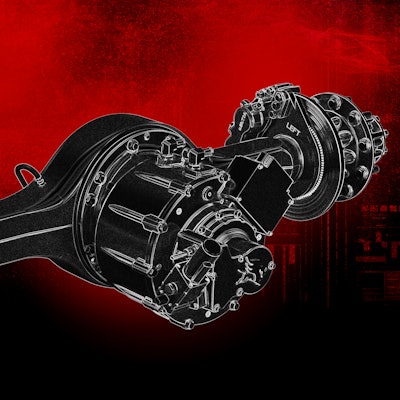 The eCarrier is designed to be a drop-in replacement of a conventional mechanical carrier that does not disrupt axle or suspension packaging. "Because the electric motor is integrated into the axle, space is freed up for batteries and other electrical components, offering easier packaging and installation and a safer, more protected location inside the frame rails to mount the batteries," explains Bennett. "The solution also eliminates cost and weight associated with a driveline and mounting a remote motor with brackets."
Meritor's eCarrier platform delivers 150-200 kW (201.2-268.2 hp) of continuous power and fits a wide variety of existing rigid axles and independent suspensions. It includes an integrated two-speed automated shift unit which allows the company to downsize the motor to save cost and weight while also improving the efficiency of the system.
In addition to the eCarrier, other near-term electric product solutions include an eAxle, rigid axle capable of producing up to 200 kW (268.2 hp) of continuous power. It features a customizable gearing to cover linehaul, school bus, refuse, pickup and delivery, utility and other applications. Meritor is also developing an independent eSuspension for applications such as military, emergency, off-highway and construction vehicles that will benefit from increased performance, as well as better ride comfort and handling, says Bennett.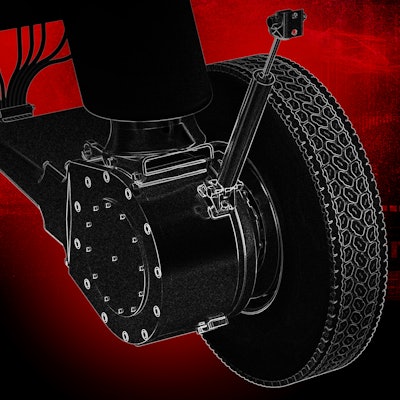 "Meritor will also offer braking systems optimized for e-axles," he says. "The next generation Quadraulic brake and next generation air disc brake have been designed for use on hybrid or electric vehicles with regenerative braking. Both brakes reduce weight on wheel-ends."
When Proterra first started in the transit bus market, Horton says it used off-the-shelf systems. However, the company found it difficult to get the best performance possible unless an electronic component is designed specifically for the use and application for which it's intended. He notes integrating the energy storage, drivetrain and necessary controls technologies poses its challenges, but is not as challenging as trying to integrate off-the-shelf products. "And the performance is not nearly as good as a product that's been designed from the ground up."
Horton says it's important to deeply understand the application and what unique requirements there are before designing an electric powertrain for a vehicle. "When you know from the very basic level how the batteries are built, how the powered axle is constructed, you're able to integrate that much better with the other components and truly design it to make sure you're getting the result you need."
The company collaborated with AxleTech on the drivetrain's development because "we recognize there are some very specific areas of expertise that can be quite difficult to develop," says Horton. "Working with a very experienced partner like AxleTech, they were able to bring more to our team in terms of the deep understanding of some of the ways to translate our requirements into a physical product."
Gies says there is no one size fits all when it comes to electric drivetrains, and AxleTech has developed various types of systems over the years with customers. "There's a different duty cycle for how axles perform with an electric motor integrated," he explains. "Axles weren't meant to have that much regenerative braking sent through them, so we've helped customers with those types of issues.
"Bottom line, there's a different approach for each application you're looking at," says Gies, which is why development collaborations such as the one between AxleTech and Proterra are beneficial to ensuring all requirements and performance needs of an application can be met.
An industry transformation
Horton says Proterra has received interest from vehicle OEMs in other heavy-duty sectors in regards to the new electric drivetrain system. The drivetrain is suited for a variety of applications—both on- and off-road—but the company sees broad applicability to heavy-duty transportation and goods movement. "Rather than developing for the truck market and having it work its way into the bus market, things are starting to work its way out of the bus market into other heavy-duty segments," he says.
"The thing we think is really exciting, [is] all of the transportation and heavy equipment markets we believe are at the beginnings of a complete transformation to full electrification," he adds. "Public transit will be the first market to completely convert; that will be because it is so cost effective already."
AxleTech sees strong demand for electrification in the transit bus market. "At this point, it makes very little sense not to," says Gies. "By the mid-2025 range, the way battery prices are falling, you should be at parity on vehicle cost; by then there should be no reason you should have a diesel or IC motor on those types of vehicles."

Bennett says some regions such as China are already ramping up their electrification efforts. "We expect China to be fully electric for the majority of buses in 5-10 years." North America and Europe is also expected to rapidly adopt these technologies, he says, especially in the bus market.
"While we are seeing the quickest ramp up in the bus market, there is also strong demand in the pickup and delivery segment," says Bennett. "Beyond this timeframe we expect many other types of electric drivetrains will find their way into other applications."
The same drive for electrification will ripple through every industry, says Horton. "Our view, long term, is that it'll be very difficult to find a piece of equipment or vehicle that isn't going to have an electrified drivetrain in it. We think we're at the early stages of it; at least from our core market in public transit we're seeing such quick adoption…now adjacent markets are starting to take note and beginning to look for their transformation as well."
While there are still challenges, such as charging capabilities and infrastructure, Horton says Proterra doesn't see any challenges that won't be readily overcome. "It's a process of time, it takes a lot of education," he says. "It does take time to develop the right products for these markets.
"We focus on building products that are going to outperform their fossil fuel counterparts so that people aren't being forced to choose between performance and environmental responsibility," he concludes. "We believe strongly we can have both."
Companies in this article