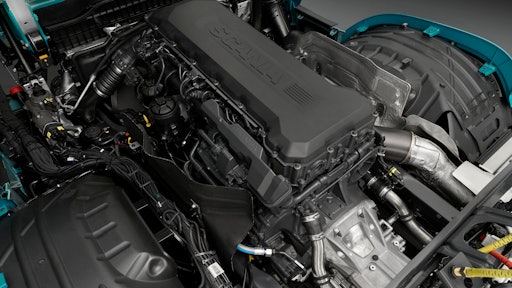 Scania AB
OEM Industry News Briefs provides a weekly round up of the latest news and company announcements you may have missed in the heavy equipment engineering and manufacturing industries.
Rolls-Royce receives technology prize for sliding bearing
Rolls-Royce's Power Systems business unit was recently awarded an Environmental Technology Prize by the Ministry for the Environment in the state of Baden-Württemberg for its sliding bearing design. The bearing was designed for mtu engine and has enabled a 1% reduction in fuel consumption.
According to the company's press release announcing the award, the new bearings significantly reduce the amount of friction arising between bearing and crankshaft and also enable prediction of when maintenance will next be required.
"This is an innovation with huge potential, because the new bearings can simply replace the existing bearings in a whole range of applications," said Thekla Walker, Environment Minister of Baden-Württemberg, in the awards ceremony.
The surface of the bearing features fine grooves instead of being smooth, which works together with the appropriate lubricant to produce an effect similar to aquaplaning (also known as hydroplaning). This creates an anti-friction layer which reduced friction-induced losses between the crankshaft and bearing by 20-35%.
"We've succeeded in developing an optimized metal slide bearing that can be installed in our engines without the need for further modification. With just one easy production step extra, a 1% reduction in fuel consumption can be achieved that not only lowers costs, but avoids emissions," said Dr. Otto Preiss, COO and CTO at RollsRoyce Power Systems, in the company's press release.
The company intends to integrate the new sliding bearing into mtu engines in the near future.
Epiroc adds charging products to electrification offering
Epiroc has announced the addition of flexible charging products for electric powered mining equipment to its portfolio. The company says this new line of products includes several fixed and mobile products to provide customers with the right solution for their operation.
Epiroc's chargers are available with a connectivity option which enables monitoring of charging products remotely through the cloud.
"We want to be a total solutions provider when it comes to our customer's electrification journey, providing everything from Battery conversions and BEV to related services and infrastructure," says Fredrik Martinsson, Commercial Manager Rocvolt, Epiroc, in the company's press release announcing the addition of the charging products.
The new chargers are available to customers across the globe; the portfolio also includes lifting tools for Epiroc batteries as well as the provision of expert advice on the design of charging bays.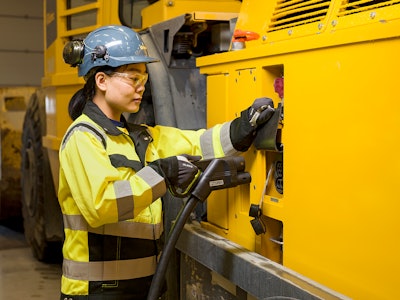 DEUTZ builds 10 millionth engine
DEUTZ recently celebrated the production of its 10 millionth engine. The engine was a TCG 7.8 H2, its recently launched hydrogen 6-cylinder engine.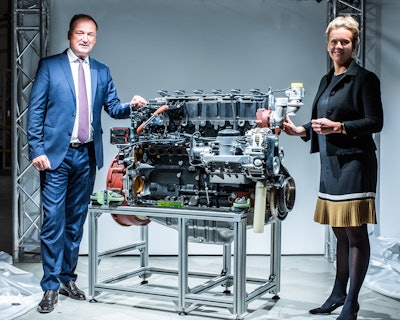 "The 10 millionth engine represents a milestone in our long and successful history and we are very proud to mark this achievement. Whether diesel, electric, or hydrogen, we are reinventing the engine every day. We build the world's cleanest and most efficient engines for our customers. After all, we can only achieve the Paris climate targets by working together," said Dr. Frank Hiller, CEO of DEUTZ AG, in the company's press release announcing the production milestone.
Allison Transmission has announced completion of a new e-Axle production assembly line at the company's electric axle development and manufacturing facility in Auburn Hills, MI. The production line is purpose built to manufacture the company's eGen Power series of fully integrated electric axles and includes automated assembly features.
"The completion of the new assembly line and expansion of our e-Axle manufacturing capabilities marks a crucial step in bringing Allison's eGen Power Series of electric axles to market," said John Coll, Senior Vice President of Global Marketing, Sales and Service at Allison Transmission, in the company's press release announcing completion of the production line. "Through implementing this industry leading manufacturing and development infrastructure, we will ensure eGen Power e-Axles deliver the same uncompromising quality, reliability, durability and performance our customers have come to expect from our fully automatic transmission and electric hybrid propulsion solutions."
The purpose-built production line is just one part of the infrastructure Allison Transmission has developed to support the electric axle line. Allison has completed installation of a specific build verification and test protocol through which e-Axle will undergo to ensure it meets specific performance criteria.
Watch our video interview with Alexander Schey, Chief Commercial Officer, Electrification at Allison Transmission, to learn more about the eGen Power series.


Caterpillar partnering with Newmont on zero-emissions mining
Caterpillar Inc. has formed a strategic alliance with Newmont Corporation, a gold mining company, to develop and deploy a fully connected, automated, zero carbon emission, end-to-end mining system. The collaboration will help Newmont reach its goal of reducing greenhouse gas (GHG) emissions over 30% by 2030 and achieve net zero carbon operations by 2050.
Meanwhile, Newmont will be helping Caterpillar to validate its products, including the MineStar suite of automation technologies.
Newmont says in its press release announcing the partnership it plans to provide a preliminary investment of $100 million as the companies set initial automation and electrification goals for surface and underground mining infrastructures and haulage fleets at Newmont's Cripple Creek and Victor (CC&V) mine in Colorado, U.S.A. and Tanami mine in Northern Territory, Australia. The goals include:
Introduction of an automated haulage fleet of up to 16 vehicles at CC&V planned through 2023, with a transition to haulage fleet electrification and implementation of

Caterpillar's

advanced electrification and infrastructure system with delivery of a test fleet in 2026. Actions include validating first-of-a-kind battery electric haulage technology in the years prior to full production of autonomous electric haulage equipment.

Caterpillar

will develop its first battery electric zero-emissions underground truck to be deployed at Tanami by 2026. The deployment includes a fleet of up to 10 battery electric underground haul trucks, supported by

Caterpillar's

advanced electrification and infrastructure system. This includes first-of-a-kind battery electric haulage technology for underground mining in 2024, the introduction of battery autonomous technology in 2025, with full deployment in 2026.
Caterpillar and Newmont will validate equipment as well as infrastructure, technologies and processes to achieve the goals of the partnership.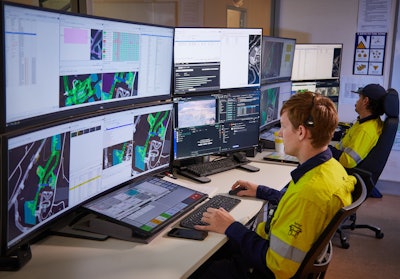 Scania introduces new powertrain
Scania has launched a new engine and powertrain platform for heavy-duty trucks which the company says is one of its biggest product introductions since its new truck generation in 2016. The engine is designed for Euro 6 vehicles and offers a power range of 420-560 hp (313-417.6 kW).
The company says the powertrain will provide a fuel savings of up to 8% in long haul applications. In addition, the engines in the new platform include HVO (Hydrotreated Vegetable Oil) fuel capabilities while two models are available as FAME (fatty acid methyl esters) biodiesel versions. Other options will be made available as well for biogas solutions and markets outside of Europe.
Scania's powertrain includes new gearboxes and axles, as well as a premium service to aid with uptime. An option for digital rearview mirrors will also be made available to help customers improve safety.
"Renewable fuels and electrified vehicles will increase their share dramatically in the next few years, but we all still depend on combustion engines for our daily lives. And that is why Scania's new engine is so important, since it will contribute towards substantial decarbonisation for the rest of this decade," said Alexander Vlaskamp, Executive Vice President and Head of Sales and Marketing at Scania, in the company's press release announcing the new powertrain platform.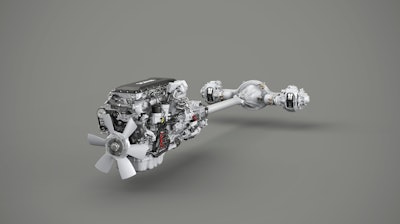 Companies in this article