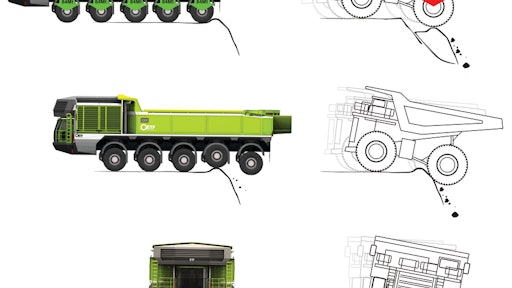 All it took was a Dutchman living in Indonesia importing trucks from the Netherlands to utilize German engineering and technology to produce a completely out-of-the-box solution to persistent mining haul truck challenges yet to be solved by other OEMs – funded entirely from his own personal savings.
Eddy de Jongh, prior to becoming the CEO of ETF European Truck Factory GmbH (initially established in Germany with a second location in the United Arab Emirates), realized a niche need in the large haul truck industry while working in Indonesia. The country of Indonesia typically sees rainfall approximately 12%* of the year (*percentage provided by de Jongh, but with research found estimates upwards of 30%). "That means that 12% of the time, a coal mine in the tropics will be shut down while it's raining. That's a huge problem," says de Jongh.
Haul trucks were developed approximately 60 years ago, and as they grew in size, the equipment configuration remained the same with slight modifications made incrementally. Equipment handling in slippery conditions was ineffective and unsafe for operators and site workers, which impacted overall performance and productivity.
The whole truth
In order to find the true needs and challenges facing equipment manufacturing and productivity, he interviewed several personnel layers at a mining company to find out what was needed and what was desired technologically from the CEO, the designers, the equipment users and the mechanics.
"Speaking with mining CEOs, I asked them what they wanted from a new truck if the price wasn't an issue," says de Jongh. "They told me 'the cheapest price per ton.' The mechanics and operators had a lot of needs, but 95% of those needs had solutions that they were unable to use or implement," either due to cost, time or market competitiveness. It is a struggle for an OEM to balance being a leader in technology and being the first to implement a new feature that may or may not give it a competitive edge in the industry.
"In a corporate setting, the decisions and conversations typically happen with the boss, not the mechanic, so when decisions are made, they don't have the whole story," de Jongh says. After several interviews, he left his job to focus exclusively on engineering his new vehicle, and moved back to Germany to utilize its advanced technology and products available. He pulled together a group of young engineers and two seasoned industry veterans to start the design, and nine years later ETF was ready to launch its first vehicle.
Since there was only design and no production, there was no income, requiring de Jongh to eventually find a partner/investor to help fund the development, which is how Jacques Jespers, Chairman of ETF, was brought on board, and how the United Arab Emirates location for the Holding was established.
The first truck is set to be delivered in December to an iron ore company based in Brazil. "Our design solves so many problems of existing haul trucks that I'm sure we're going to be making a lot of trucks in the future," de Jongh says.
ETF has put together a unique business model to actually rent its trucks for the customer to pay by ton/km. Full maintenance, repair and tires are included in life cycle rental contracts and guarantees 95% technical availability during the full equipment life cycle (up to 90,000 hours, equivalent to 11 to 12 years of use). Renting the equipment means no capital expenditure for the user; all the user provides is the fuel and the operator.
Chassis and powertrain reevaluation
Frame
Since the main frame of existing haul trucks is often times what determines the life of the vehicle with its constant battering by extreme forces transferred from road impact and loading shocks, ETF developed a different solution – the Monorail frame. Instead of the frame sitting on top of the axles, the frame is actually located between the axles which results in a lower center of gravity for improved vehicle stability.
With the additional axles, the ETF vehicle has between eight and 16 points dependent on the vehicle size instead of four impact points transferring the load to the wheels. This way, the forces to the frame are better equalized while nearly eliminating frame torsion. The monorail frame in combination with the long suspension travel of 950 mm reduces frame fatigue and extends the vehicle's life.
Axles, Tires and Steering
In order for ETF to implement its desired all-wheel drive system, the axles needed to be handled in a new way. Existing haul trucks run on two axles, a front and a rear. The rear axle is the power and takes on a large portion of the weight when the truck bed is loaded, necessitating large tires. With tire shortages due to excessive demand, de Jongh decided to add more axles (ETF truck models are available with between four and eight axle-lines) and use one standard tire in a much smaller size. The ETF truck uses 24.00R35 tires compared to conventional mining size 56/80R63 tires which can be difficult to transport and change. The modularity of the vehicle design calls for the same tire and oscillating axle system configuration.
An all-wheel drive steering system with ABS (anti-lock brakes) and traction control steers wheels at low to medium speeds to reduce tire wear, and at high speeds the last two axles' lines gradually change to a rigid system, increasing overall maneuverability and stability.
All axles are equipped with two hydraulic steering cylinders, each with its own closed-loop hydraulic system for 100% safety redundancy considering only one cylinder is necessary. An embedded electronic control system optimizes acceleration while monitoring the health of the system.
The additional axles spread the total vehicle weight more equally over the vehicle's 20 wheels (on a five axle system, four wheels per axle). An automatic axle lift feature allows fewer tires to be in contact with the road during empty haulage cycles, or in the event of a flat tire without putting the vehicle out of service. The tires have a central tire inflation system and the axles are affixed with pressure and temperature sensors to closely monitor tire wear and proper load distribution for a stable ride.
Suspension
"We designed our truck to also have a suspension with the same comfort that is comparable to a Mercedes," says de Jongh. The hydro-pneumatic self-leveling suspension, along with the oscillating axles (10 degrees left or right) prevents overall vehicle oscillation and reduces spillage during driving. The operator health and comfort benefits are an added bonus.
All axles interact through a cross-control configuration connecting the piston chamber of one spring cylinder to the ring chamber on the other side of the vehicle. This permits no overcharge of one axle during extreme spring movements in severe road conditions.
Engine
The vehicle uses four to six independent power systems which offer several benefits to renters and operators, such as redundancy back up for steering and braking systems. "If you think of the duty cycle of a haul truck, 50% of the time it is running empty, so when the truck is empty, I don't need 2,000 kW of power. The 15.9 liter turbocharged engine is rated at 480 kW with a max power of 576 kW at 1,800 rpm. So, we decided to have several smaller engines," says de Jongh. When the truck load is empty, two of the engines are switched off automatically without operator intervention, and the same is true if there is an engine failure. "If an engine has a problem, the vehicle can still drive to the maintenance location with the functioning three engines, and since our vehicles are all modular, you can swap out the engine in 15 minutes and get it back to work."
Operator comfort and safety features
The braking system employed on ETF's haul trucks are full dynamic hydro-kinetic retarding on all powered wheels, with retarding torque of 38,000 Nm per wheel. A dry disc brake and wet parking brake with ABS are on all wheels, adding much needed safety features to a heavy truck.
In Indonesia, de Jongh cites a safety issue he ran across during his interviews. "At an Indonesian mine, nearly 60% of operators are women from surrounding villages. Many of these women don't even drive cars, but they are taught to drive a giant haul truck." The women were on average 5 ft. 4 inches in height, and could not properly reach the truck's pedals. "They were sitting on the edge of the cab seat to reach the pedals for over 8 hours a day, so we made the cab pedals adjustable in height so more people could sit properly and drive comfortably; a huge operator safety issue solved very easily."
Some standard safety features that are unique to the ETF product line include a sleep deterrent system to alert drivers of dangerous impending fatigue, a breath-alcohol measuring device and an optical safety system to reduce fatigue during night operation. While visiting Australia and Canada oil sands, even though site managers say safety is a priority, operators were pulling driving shifts of upwards of 12 hours along with very limited visibility from several blind spots.
"That was something I could not understand. These are small things, not big investments. What does it cost to add a few cameras to a vehicle to make the operator and other site workers safe?" de Jongh asks. Other operators mentioned low visibility of the road due to the curvature of the pit mine roads. Because the headlights always pointed straight, if an operator was making a sharp left turn, the only thing visible was the wall in front of him (or her), not the road around the corner. Cornering lights are an existing technology on many luxury automobiles, so de Jongh made sure to include the cornering headlights on his haul truck.
Between several cameras and automatically lit mirror cameras, as well as five dual range and two velocity radars, the operator's visibility and awareness is substantial. Static and moving object collision avoidance and other productivity enhancement systems only add to the vehicle's safety benefits.
The uniquely designed cab has three seats for a comfortable training area, and the cab glass has insulated glazing to absorb temperature and sound. The operator in the cab has a natural line of site within one meter from the cab and 180 degrees visibility (360 degrees with cameras and radar).
The operator interface software was written to only display system data that was timely and necessary at that moment. Otherwise, de Jongh felt the information could confuse, exhaust or distract an operator from productivity goals. "The software development is a result of our x-by-wire system structure. And thankfully using that platform allowed the autonomous operation system to function extremely well."
Environmental impacts
"The second most important issue for us was the environmental footprint of the vehicle," de Jongh says. "Everybody is talking about it, but few are doing anything of any significance." ETF vehicles can utilize a variety of fuel options including straight diesel fuel, biodiesel, or mixtures of diesel with either LNG or hydrogen. ETF claims 56% lower NOx and hydrocarbon (HC) emissions, 63% lower particulate matter (PM) and 15% lower carbon dioxide (CO2) emissions due to lower fuel consumption. Because of a special filter system, a vehicle will require fewer oil changes than necessary and can achieve up to an 85% reduction in waste oils.
The significant developments to the axles, suspension and powertrain can save 47% more tire waste, considerably reducing overall use of raw materials like rubber.
It was an arduous nine year process for ETF founder Eddy de Jongh from inception to conversation to design to finished product, but the sheer number of technological advancements implemented in the new vehicle took the 60-year-old haul truck into the 21st century. With operator comfort and safety guiding features, and productivity and environmental concerns guiding function, the completed ETF haul truck should make a profound impact on the mining industry and future competitive equipment designs.