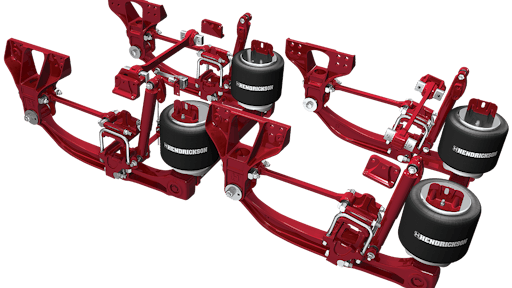 Hendrickson Truck Commercial Vehicle Systems
Hendrickson Truck Commercial Vehicle Systems has announced its partnership with Peterbilt to offer PRIMAAX EX — the severe-duty vocational air suspension system — as a part of the chassis enhancements for the Peterbilt 567, 579 and 589 models. PRIMAAX EX will be available in capacities of 46,000 and 52,000 pounds, have a 10-inch ride height and is compatible with drum and air disc brakes.
The PRIMAAX EX suspension is designed specifically for the rigorous demands of vocational and severe-service, such as construction, refuse, mixer, logging and heavy-haul applications. PRIMAAX EX incorporates optimized suspension geometry which helps minimize driveline vibrations and control suspension windup and corresponding frame rise. Premium heavy-duty rubber bushings require no lubrication and are performance tested for longer service life. The suspension provides enhanced stability and handling for vehicles with heavy loads and high centers of gravity confidently negotiate tight turns with minimal sway.