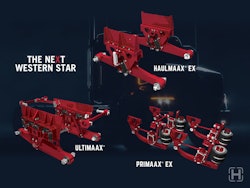 Hendrickson
Hendrickson Truck Commercial Vehicle Systems announces that it has partnered with Western Star Trucks to offer a comprehensive premium rear suspension portfolio as a part of the chassis enhancements of the Western Star 49X.
The suspension offerings include the introduction of HAULMAAX EX and the expansion of ULTIMAAX and PRIMAAX EX on the new Western Star truck.
"When developing our trucks, we apply our vocationally-focused engineering and manufacturing expertise together with equipment from leading suppliers to create solutions that deliver the durability and dependability to benefit our customers' operations," says David Carson, Senior Vice President, Vocational Sales and Marketing, Daimler Trucks North America.
"We're deeply committed to the vocational market and are looking forward to adding the toughest Western Star yet to our portfolio" adds Carson. With the new vehicle's introduction, Hendrickson will also be debuting its next generation heavy-duty rubber suspension, HAULMAAX EX. To address the growing demand for rubber suspensions across all vocational applications, the HAULMAAX EX suspension is optimized to provide increased site rating, expanded capacity ranges and improved durability.
"Customers today expect more out of their vocational suspensions and HAULMAAX EX exceeds those expectations by expanding on the capabilities of the current HAULMAAX design with up to a 70,000 lb. site rating for the 46,000 lb. capacity suspension. HAULMAAX EX is extremely rugged, supporting the most demanding vocational applications and offering capacities of 40,000 lbs., 46,000 lbs. and now 52,000 lbs." says Ashley Dudding, Director of Engineering for Hendrickson Truck Commercial Vehicle Systems. "Hendrickson utilized our industry leading analysis and validation techniques to ensure HAULMAAX EX would meet these rigorous demands, minimize maintenance requirements and deliver the lightest weight vocational suspension on the market."
In addition to HAULMAAX EX, the 49X will also offer Hendrickson's ULTIMAAX severe-duty rubber suspension for more extreme applications as well as PRIMAAX EX, Hendrickson's severe-duty vocational air suspension for applications requiring the softer ride of an air suspension but still demanding rugged durability.
ULTIMAAX is available in capacities of 52,000, 60,000 and 70,000 lbs. and delivers enhanced stability, handling, and ride quality even in the most severe-duty environments where vehicles encounter harsh and unexpected ground conditions. The integration of Hendrickson's proven walking (equalizing) beam technology, with its patented progressive rate spring, provides a balance of loaded stability and unloaded ride quality even in the most rugged environments.
PRIMAAX EX is designed specifically for the rigorous demands of vocational, severe-service, and heavy-haul applications. The system features a robust structural design optimized for exceptional stability, handling and ride resulting in higher driver comfort and less premature wear on expensive truck and body equipment. Initially, the new vehicle will feature PRIMAAX EX in capacities of 46,000 and 52,000 lbs. with expanded capacities coming soon.
Companies in this article