The Association of Equipment Manufacturers (AEM) has recognized 19 companies for achieving "milestone member" status in 2019, a designation that highlights their off-road equipment manufacturing industry support through longtime and continuous participation in AEM.
"AEM could not achieve success without the active and continued involvement of our member companies," says Paul Flemming, AEM Senior Director, Membership & Engagement. "Their participation has been key to the growth and progress of our industry and AEM; we appreciate and are proud to recognize their outstanding support."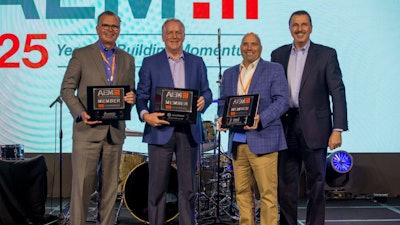 During this 125th-anniversary year for AEM, three companies were honored as 125-year members:
AGCO Corporation (Massey Ferguson)
CNH Industrial America LLC
Achieving 75-year member company status was Wells Fargo Equipment Finance.
Achieving 50-year-member status was AC Business Media, parent company of OEM Off-Highway magazine and several other brands related to the heavy equipment sector including ForConstructionPros.com and GreenIndustryPros.com.
Fourteen AEM members were saluted for reaching the 25-year-member mark:
Bay Shore Systems Inc.
Comer Industries Inc.
Concentric Rockford Inc.
Furukawa Rock Drill USA
Gator Machinery Company
Kioti Tractor Div Daedong-USA Inc.
NPK Construction Equipment Inc.
O'Neal Industries Inc.
Palfinger North America
Solar Technology Inc.
Troxler Electronic Laboratories Inc.
AEM saluted all its milestone-member companies at the Association's recent annual conference.
Companies in this article