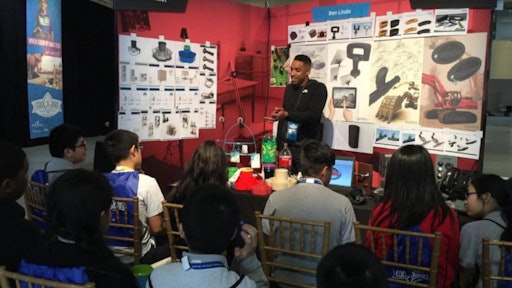 Southco Inc., the global leader in engineered Access Hardware Solutions, is a longtime supporter of STEM initiatives and programs throughout the Greater Philadelphia region. Recently, Ben Lindo, an industrial designer at Southco's Concordville, PA, headquarters, volunteered his time at the Cool Jobs event sponsored by the Fresh Artists Organization.
The mission of the Cool Jobs program is to:
Introduce at-risk seventh graders to people doing real jobs they didn't know existed
Show them accessible paths to these jobs in the creative economy
Encourage them to stay in school and choose the best-fit high schools and colleges
As part of this mission, the organization selected local professionals working successfully in the creative economy to talk about who they are and what they do every day, and discuss what led them down their chosen career path. The program culminated in a three-day pop-up expo where these professionals demonstrated their tools, technology and creative process, and showed finished products to small groups of teens.
Lindo spoke about his career as an Industrial Designer, in which he brings his ideas and the ideas of others to life. Lindo takes simple concepts and sketches of engineered products and makes them a reality. Many of the components he designs are used in products that people use in everyday life and can be found in cars, buildings and homes all over the world.
"I am honored to be able to interact with teens and give them advice to help achieve a career they are excited about. I want them to know that it is possible to design your own future and get paid for the things you enjoy doing. It takes hard work, but with commitment and support from others it can happen," says Lindo.
The Cool Jobs event was attended by 580 local Philadelphia teens who were introduced to new ideas, new technology and new possibilities for their future through interactions with these creative and interesting professionals.