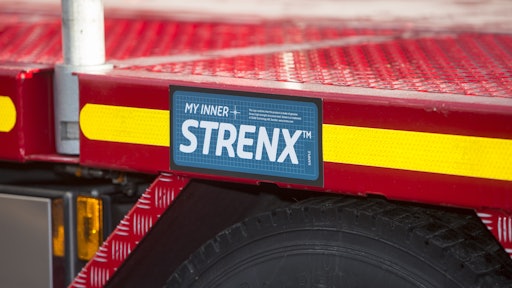 My Inner Strenx is a membership program for companies that design and manufacture advanced steel structures that take full advantage of Strenx performance steel.
Strenx performance steel and My Inner Strenx were launched in 2015. Since then, 50 innovative companies from all corners of the world have already qualified to join the program.
My Inner Strenx members include leading trailer manufacturers such as Wielton and Pastre, innovative lifting companies such as Effer, Argos, Bromma, CTE and Isoli SPA, and companies such as Hardi-Evrard and AMBS La Littorale, which manufacture machinery and vehicles that increase agricultural productivity.
The power of Strenx

To reduce weight, you need stronger steel that can be used in thinner dimensions. Strenx performance steel is SSAB's response to the challenge.
Stronger and lighter steel structures contribute to a more sustainable society. They require fewer resources and less energy throughout their life cycle, and are 100% recyclable.
The combination of Strenx steel properties and the quality requirements in My Inner Strenx result in products that live up to very high performance and safety expectations.
Customers choosing My Inner Strenx members as their suppliers will get advanced products with materials, processing techniques and performance optimized to their needs.
For example, by switching to Strenx steel, haulage companies can carry more payload on each trip, reducing their fuel consumption and CO2 emissions. Lifting equipment can reach higher and wider by using stronger steel in thinner dimensions. In agriculture, Strenx can increase yield through lighter machinery that reduces soil compaction and covers more acres in a day.