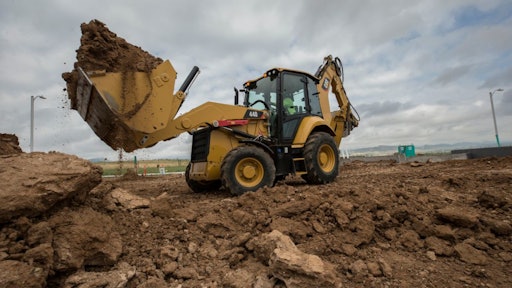 Caterpillar Inc.
Backhoe loaders are versatile, heavy-duty equipment used in a wide range of tasks. Construction, transportation of materials, excavation, and road paving are just a few areas where these workhorses of industry are essential. They efficiently tackle some of the most back-breaking digging and trenching, and improvements in their design and functionality fuel their popularity.
Hydraulic systems enable features like enhanced movement and greater digging capacity that improve backhoe loader productivity. The hydraulic systems are supported by hard-working seals designed to keep the equipment safe and functioning at optimum levels.
Choosing the right seals can be complicated with many factors to consider. OEMs say that temperature and pressure-related seal failures are two of the most common issues confronted in the field. Let's review sealing solutions proven for reliable backhoe loading operations based on key design and material characteristics.
Best rod seal for the job
The backhoe loader is comprised of eight necessary hydraulic cylinders: boom, arm, bucket, swing, lifting, tilting, steering, and stabilizer. Each cylinder is equipped with a network of seals that play a critical role in doing the work. Rod seals, rod buffer seals, piston seals, rod wipers, and bearings (or wear rings) are most prominent.
We begin with the twin-lipped 621 rod seal. A secondary sealing lip, located behind the primary sealing lip, improves seal stability. This seal is recommended for use in the machinery's boom, arm, bucket, swing, lifting, and tilting cylinders because it offers distinctive benefits. First, the seal is manufactured in a high-performance polyurethane. It can perform at low and high temperatures and incorporates an acetyl anti-extrusion ring to withstand side loads and extreme pressure peaks, even with the extrusion gaps. Second, the 621 is rated for operating conditions with a maximum speed of 3.0 ft./sec. (1.0 m/sec.), temperatures ranging from -50-230 F (-45-110 C), and maximum pressure of 10,000 psi (700 bar).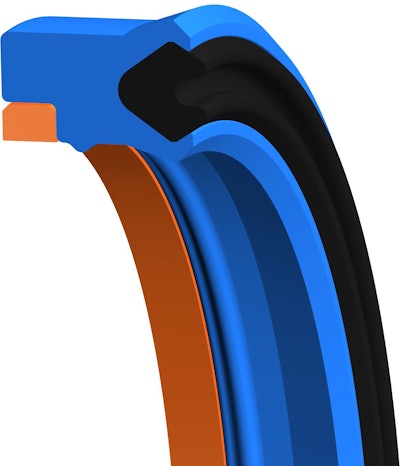 OEMs facing consistent, exceedingly-high hydraulic cylinder operating temperatures and pressures should seek a seal manufacturer's expertise to determine the best profile and materials for the situation. A buffer seal can serve as a preventive measure in managing pressure spikes. A solution like the 653 single-acting rod buffer seal protects the hydraulic cylinder by allowing oil to pass through to the rod seal while holding back pressure spikes. It also allows pressure to pass back into the system preventing a pressure trap between the rod and buffer seal.
The 663 rod seal is an asymmetric, single-lip U-ring seal fit for the backhoe loader's steering and stabilizer cylinders in light and medium-duty applications. It is a dry rod sealing solution that can be used in heavy-duty applications when paired with a suitable full depth back-up ring. The 663 rod seal is designed for wear resistance, a wide temperature range, and maximum pressure of 6,000 psi (10,000 psi with a back-up ring).
Piston seals, rod wipers and bearings
A range of double-acting piston seals are housed in a backhoe loader hydraulic cylinder system. For light- to heavy-duty applications, a compact, low-friction piston seal like the 755 is recommended. This piston seal is constructed in a tough, wear-resistant thermoplastic elastomer pre-loaded with a square cross-section NBR expander. Several material options to extend operating conditions are available for the piston seal face.
Medium- to heavy-duty, high-pressure backhoe loading applications are more suited for a double-acting piston seal like the 714. In double-acting telescopic cylinders or phasing cylinders, the seal's reinforced, heat-stabilized, thermoplastic face with step-cut protect the seal when it passes over ports. Its rugged, extrusion-resistant design and seal face can also tolerate the large extrusion gaps required to prevent piston-to-bore contact.
The Capped T double-acting piston seal is most appropriate for heavy-duty, high-performance hydraulic systems. It employs thick anti-extrusion rings that protect the seal face and energizer from damaging high-pressure shocks well beyond the capability of standard industry designs. It operates at a maximum speed of 4.5 ft./sec. (1.5 m/sec.), temperature range of -49-392 F (-45-200 C), and maximum pressure of 8,200 psi (600 bar). The Capped T is manufactured with a filled PTFE cap, high-grade elastomeric energizer, and two precision anti-extrusion rings, which contribute to its performance capability.
A rod wiper keeps the backhoe loader's hydraulic cylinder system safe from contaminates. The 844 and 864 wipers have proven quite effective in this regard. The 844 is a polyurethane-based, double-lipped material wiper featuring a protective outside flap on the wiping lip.
The 864 is a double-lipped metal cased wiper designed to press-fit into open groove housings. The metal case is treated with a rust inhibitor, and the two polyurethane wiping lips are proportioned to follow the side movement of the rod and clear away heavily deposited dirt.
The 820 single-lipped, snap-in rod wiper is another option. It features Umbrella Wiper Technology™‒ a protective debris guard flap on the wiping lip that covers the gland housing and prevents the water/slurry trap that is common with conventional wipers.
Finally, wear rings guide the piston and piston rod of a backhoe loader's hydraulic cylinder system to help it withstand arising side loads. Preventing metal-to-metal contact, wear rings help reduce seal damage, leakage, and component damage. Products composed of high wear-resistance materials like those found in the glass-filled T533 nylon wear ring, offer high load capacity over a broad range of temperatures.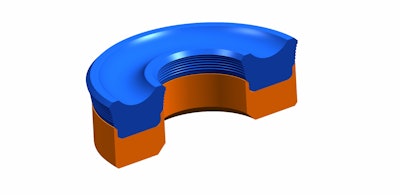 After an OEM identifies and evaluates the most appropriate sealing solutions for the application, seals are put to work on equipment in the field.
Seals at work in India
Growing demand in infrastructure and construction has boosted the need for backhoe loaders in India. Many of the machines in the region are owned and operated by contractors who are paid hourly and want to operate equipment 24 hours a day, seven days a week. Machinery must be capable of performing high-cyclic duty in Rajasthan where summer temperatures reach 113 F (45 C) and the Himalayas where frigid -4 F (-20 C) winter temperatures are common. Extreme environments demand the most versatile sealing solutions based on high-integrity materials.
A global manufacturer of backhoe loaders in the region contacted Hallite for a hydra clamp sealing solution. The company faced heavy warranty issues associated with an incumbent seal assembly for clamping the kingpost carriage to the side shift of the backhoe loader.
Since the basic design of a hydra clamp seal is defined by the nature of the product, there is little room for revolutionary change. However, by modifying the assembly with Hythane® polyurethane sealing elements and an Acetal (polyoxymethylene, POM) clamp, performance reliability increased significantly, and the OEM's warranty claims reduced to almost negligible.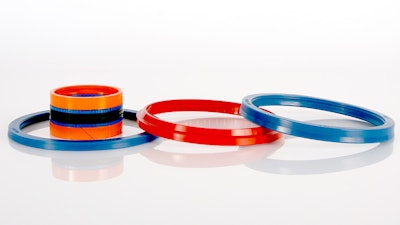 Another major equipment manufacturer wanted to specify a higher-performing clamp seal on new equipment. After evaluating competing designs and test results, Hallite's hydra clamp seal outperformed peer products in quality and capability. The OEM has been successfully using the seal for 5 years.
Conclusion
Wherever a backhoe loader is used, understanding the application and working conditions is important for seal specification. Partnering with a sealing manufacturer with the engineering and technical experience to review and analyze design and material suitability will ensure the highest level of equipment performance possible.
Article contributed by Bansidhar Gaur, Managing Director for Hallite Sealing Solutions India
Companies in this article