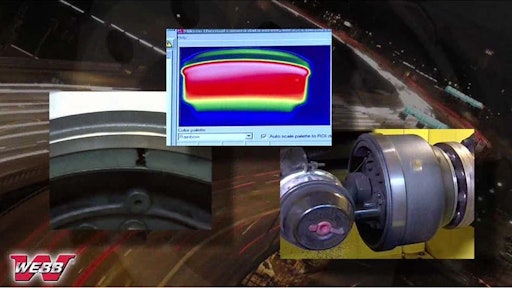 Webb Wheel has added a new training video with an associated tech certification test to the Training Toolbox on its website www.webbwheel.com. The new Proper Brake Drum Selection video illustrates clearly how braking events affect a brake drum depending on vehicle speed and total weight as well as rate of brake deceleration; and it explains how different drum designs manage the amount of heat generated at each stop. Because of these variables, vehicle use is an important factor in choosing the right drum for a particular application and the video assists a fleet in determining the proper designs for them to ensure the best brake performance and lowest cost of maintenance. After viewing the video, a test can be taken on the website to certify that the technician understands how to make this determination for the vehicles they maintain. 
All Webb Training Toolbox videos, files and certification tests can be accessed from the website www.webbwheel.com home page. Technicians can review and test themselves on proper brake drum selection and correct wheel-end installation procedures for different hub mounting systems and the consequences of not following the recommended practices. There is also a downloadable PDF available that addresses the potential causes of the two most common warranty returns for brake drums: "out-of-round" and "cracked" as well describing what to look for to help diagnose these issues. Videos can be viewed in English, Spanish or French. 
The variables in brake application as depicted in the new Proper Brake Drum Selection video are addressed by Webb brake drum product offerings including a value drum, standard drum, High Performance design, Vortex Unlimited, and a heavy duty drum.  Engineers at Webb's Technical Center use an in-house dynamometer and fully equipped metallurgical lab to qualify the performance standards for all their wheel-end products. Vehicle operators can rely on this experience as a guide to selecting the proper brake drum for their own application.