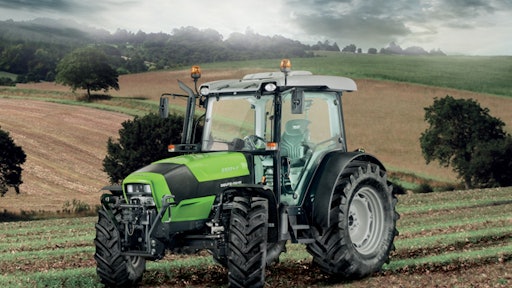 DEUTZ-FAHR introduces the 5D Series tractor, which was designed to meet the most varied requirements, both on the farm and in the open field. It comprises four models from 80 to 100 hp, all with the new FARMotion engines ensuring a high level of reliability, performance and reduced cost of ownership. State-of-the-art technology and numerous versions make the 5D Series particularly flexible and versatile, offering the right configuration for every need.
Power, efficiency and reliability
The 5D Series has the latest generation 3-cylinder (2,887 cc) or 4-cylinder (3,849 cc) FARMotion family engines with a high pressure common rail injection system (2,000 bar) able to provide greater efficiency, high performance and unparalleled reliability.
In addition, the electronically controlled external exhaust gas recirculation (EGR) system and the DOC (Diesel Oxidation Catalyst) post-treatment system make 5D Series tractors compliant with the Tier 4 Interim emissions standard.
Perfect functionality and modularity
The new 5D Series mechanical or Powershift transmissions are equipped with a mechanical (LS version) or hydraulic (GS version) shuttle. GS versions have the Stop&Go system which allows the tractor to be stopped using only the brake pedal, while the ComfortClutch button on the gear lever lets you to change gear without using the clutch pedal.
Extraordinary driving modularity is ensured by three ranges (with mini and supercreeper gears), five gears and three powershift ratios for a total of 45 FWD + 45 REV speeds. The differential lock and dual traction are engaged electro-hydraulically.
Flexible and complete standard equipment
The 5D Series has a three-distributor hydraulic system which can cover the most diverse jobs, thanks to a 54 l/min pump.
In this product family customers can choose between a mechanically or electronically operated lift, with maximum capacity from 3,000 to 3,600 kg.
There is also a wide choice of PTO speeds - 540/540ECO/1,000, synchronized with independent shaft and 1,000 at the front.
Maximum comfort and rationality
The 5D Series stands out for its unmistakable style by Giugiaro Design which makes it a benchmark in its category. The new four-upright cab provides optimal visibility and perfect control of the entire surrounding area. The work area is extremely functional and comfortable, featuring new materials and rational placement of all controls arranged in an intuitive and ergonomic manner on each side of the driver with "color coding" by function group.