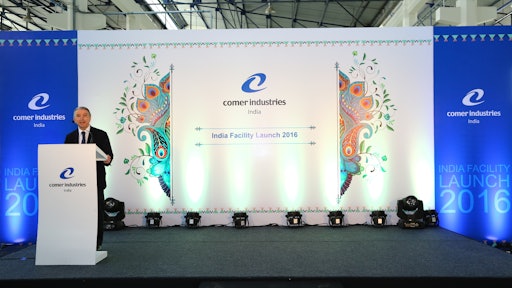 Comer Industries India Private Ltd., a subsidiary company of Comer Industries Spa, Italy was incorporated on September 18, 2015. The opening ceremony of the new plant located at Bommasandra, Bangalore was held on June 2. The all-new facility, equipped with state-of-the-art technologies, will enhance the company's capability to deliver quality products to customers in the Indian region, targeting the highest standards of excellence. The plant will produce axles and transmissions of the Powertrain product line, also for the Asia Pacific region.
The new facility in Bangalore has 4,500 m² (48,440 ft.²) of covered surface and manufactures axles and transmissions for construction equipment, specifically for self-loading concrete mixers, front end loaders, asphalt pavers, soil compactors, teleboom handlers and special vehicles. The Bommasandra plant started producing its first model of axle last April and will soon manufacture the entire range of axles, in order to meet local requirements. Comer Industries plans to introduce additional transmissions for agricultural and off-highway machinery, as demanded by the evolving Indian market.
The company strategy focuses on a close partnership with customers providing local proximity to ensure competitiveness and access to best logistic expertise. Comer Industries is also developing a local supply chain to contribute towards India's pursuit of "Make In India."
The inauguration ceremony began with the welcome speech by Comer Industries' President and CEO Fabio Storchi, who said, "India is a very important market for us. Our investment in the Bangalore plant is an evidence of our strong commitment to serve this region in the long term. We strongly believe in the country potential, based on solid drivers such as increase of population, significant GDP growth and rising demand for industrial machineries. We have set up this facility in Bangalore to participate in India's growth and development. We look forward to a continuing success with full confidence."
The event ended with a cultural program and ceremonial lunch.