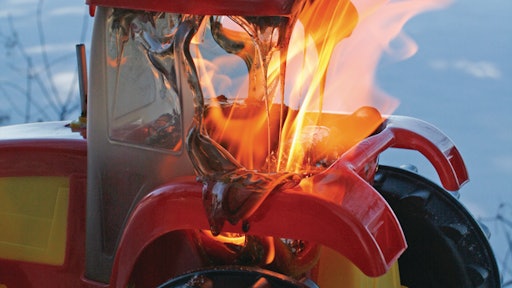 Predictions for what the end of time might entail often involves an over-abundance of fire or ice. The connection between the two is tight in literature. Author Stephen Pyne includes a volume about Antarctica — The Ice — in his comprehensive Circle of Fire book series, reasoning that the frozen continent is a glimpse into what happens when life and fire cease to exist. We're combining fire and ice in this issue, with a slightly different approach.
The mobile off-highway equipment industry has already solved a long list of challenges that have beset human beings over the years, including fire. Machines are available that prevent and fight wildfires. Plus, as Michelle EauClaire covers on page 20, suppliers are working on a variety of on-board fire suppression systems that help prevent the machine itself from becoming a victim of a localized conflagration.
Freezing temperatures may one day radically change the face of the Earth, but for now (in certain areas of North America, anyway) the annual appearance means the arrival of ice-fishing season. Winter isn't all bad. Some Northerners — myself included — don't think hard-water season means it's time to avoid the outdoors and watch more television.
An innovative gas-engined machine has been developed to help prevent an angler from meeting an icy end while in search of the ultimate walleye. The Wilcraft hails from Minnesota, which is fortunate to not only have lots of lakes, but also a long season of sub-freezing temperatures to convert their surfaces into ice.
The Wilcraft is getting some attention. Late last year Wilcraft developer Tom Roering and his business partners were finalists in the Minnesota Cup, which celebrates the state's most innovative business concepts. 2008's competition was just shy of having 850 participants, a record number. "The Minnesota Cup has become an incubator for aspiring entrepreneurs in Minnesota," said Scott Litman, Minnesota Cup co-chairman, during the award ceremony last year.
Part jon boat and four-wheeler, the Wilcraft makes ice fishing safer and more convenient. But as creative solutions often go, its usefulness will not be limited to a group of people who make a sport out of a world covered in ice. See page 14.