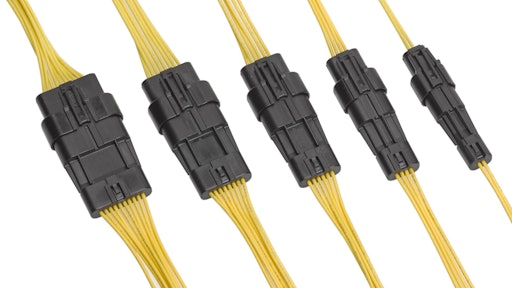 Molex Inc.
Squba sealed wire-to-wire connectors from Molex, a global electronics and connectivity manufacturer, have earned IP68 rating for meeting the stringent international standard of waterproofing and resistance to dust, dirt, sand and other contaminants. In achieving this milestone, Molex addresses ever-increasing demand for compact connectors suited for consumer device, commercial vehicle, industrial automation, connected home and other space-constrained applications where protection from harsh environmental conditions is critical.
Molex's Squba connectors' IP68 certification level demonstrates that Squba connectors are fully resistant to dust, dirt and sand as well as the effects of being immersed in up to 1.5 meters (nearly five feet) of water for up to 30 minutes.
The Molex Squba 1.80-mm pitch connector holds a 6-A current rating, enabling the transmission of more power over smaller gauge wire for additional space savings and reduced costs. The connector's narrow pitch alleviates space constraints with availability in two to 10 circuits. The connector's support for high operating temperatures offers additional product design options.
Request More Information
Fill out the form below to request more information about
Molex IP68-Rated Compact Squba Sealed Wire-to-Wire Connectors