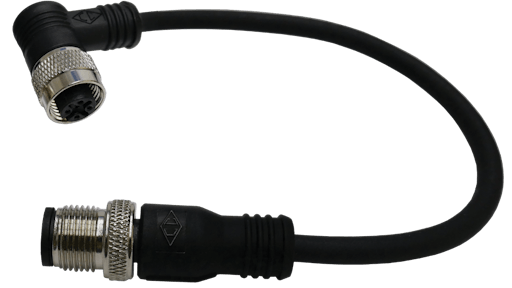 Canfield Connector
Canfield Connector, a manufacturer of electronic connection and sensor technology, expanded its round patch (RP) cord offering to save its customers time and money. In the past, the RP cord required the end user to design a solution for one side of the cable. But with the expansion of Canfield's manufacturing capabilities, its team can provide a complete solution.
These RP patch cords deliver a made-in-the-U.S. solution to those needing a reliable connection to valves, sensors or automation of all types. Each connection is over-molded to provide antivibration and is guaranteed to provide a safe, plug-and-go connection.
Each RP cord features a robust nylon housing that provides shock and vibration protection while maintaining an ingress protection (IP) 68/IP69K (locked position) environmental resistance rating. Options include different pin configurations, cable lengths and cable jacket options. For 8- or 12-millimeter connections, Canfield supplies straight and 90-degree configurations with a pin option to meet every need. All users will benefit from a cabling solution that is readily available and quality tested to ISO 9001:2015 standards.
Request More Information
Fill out the form below to request more information about
Round Patch Cord