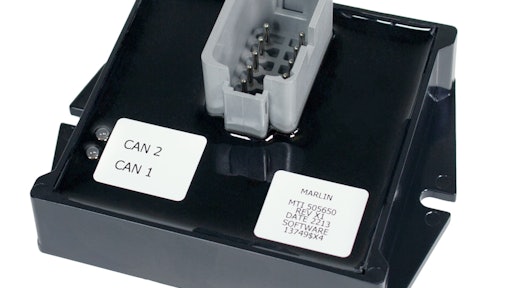 Marlin Technologies

Marlin Technologies announced the launch of its M-Flex Isolated CAN Bridge. It allows CAN messages to be shared across multiple CANbus networks and is designed for vehicles that use one bus for engine controls and additional bus networks for auxiliary equipment.
The Isolated CAN Bridge is a new product that expands Marlin Technologies' M-Flex line of off-the-shelf electronic control components. While Marlin Technologies has had an off-the-shelf CAN Bridge for years, the new M-Flex Isolated CAN Bridge is different in two ways:
It galvanically isolates the networks from one another, allowing bus networks operating at different electrical potentials to be bridged.
It has 40 filters available (double the standard version) that can be used to more specifically target CAN messages brought from one bus to the other.
M-Flex is built to withstand extreme temperatures, shock and vibration, and moisture and electrical transients that are common in off-highway environments.
Request More Information
Fill out the form below to request more information about
Isolated CAN Bridge