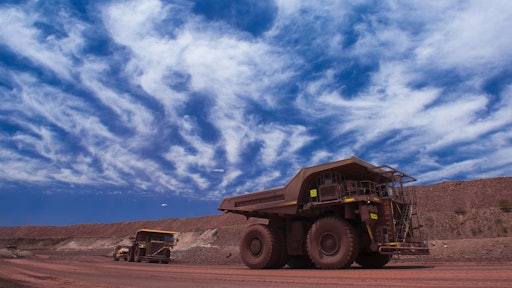 Anglo American
Research and development into the use of hydrogen and fuel cells for various applications continues to grow. While there is currently a lot of work occurring in the on-highway sector—particularly as hydrogen is seen as a better alternative for long-haul applications—there are also development efforts taking place in the off-highway industry.
In July 2020, JCB announced it developed a hydrogen powered excavator. The 20-tonne 220X excavator prototype is powered by a hydrogen fuel cell and has been undergoing testing at the company's quarry proving grounds. "JCB will continue to develop and refine this technology with advanced testing of our prototype machine, and we will continue to be at the forefront of technologies designed to build a zero-carbon future," says Lord Bamford, JCB Chairman, in the company's press release about the prototype machine.
Construction equipment manufacturer SANY announced in March 2021 that two hydrogen fuel cell powered vehicles had rolled off its production line, a dump truck and a mixer truck. The company said the main benefits for using hydrogen is the lack of emissions produced—heat and water vapor are the only emissions from hydrogen.
Additional benefits SANY says these new vehicles provide include increased power due to the high-power fuel cell stacks utilized in conjunction with a large torque drive motor and AMT gearbox. Longer driving distances are possible, as well, using hydrogen cylinders with a combined capacity of 1,680 L (443.8 gal.) which ensure a driving range over 500 km (310.7 mi.).
Cummins Inc. is also working to advance hydrogen and fuel cell technology. In November, the company held a Hydrogen Day to outline its current and future initiatives in this space. Chairman and CEO Tom Linebarger said there is "an incredible opportunity for Cummins to continue to build a strong business in hydrogen production and fuel cell technology, contributing to the lowering [of] emissions and protecting our planet."
READ MORE: Cummins Presents Vision for Hydrogen Technology
During the event he said Cummins believes hydrogen will play a key role in decarbonization efforts because of the many benefits it offers such as being light, easy to store and capable of providing high energy per unit mass. "It offers ways to decarbonize energy-intensive industries like long haul transportation, shipping and industrial processes," said Linebarger.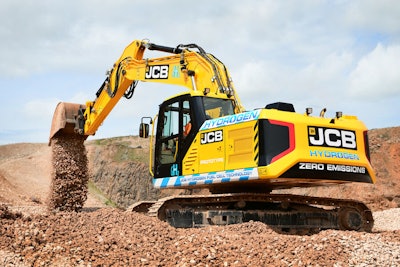 Technology and applications are expanding
According to Cummins, there are three key areas in which the company is focusing its hydrogen and fuel cell development efforts:
production of green hydrogen
management and transportation of hydrogen
application of hydrogen fuel cells.
The company has several ongoing projects related to these development areas. Cummins currently has over 2,000 fuel cell installations in various on- and off-highway applications, including a commercial truck operation in Norway with ASKO, a major grocery wholesaler in the region. More Cummins demonstration projects with additional fuel cell technology will take place in different regions, as well, as industries look to gain familiarity with the technology.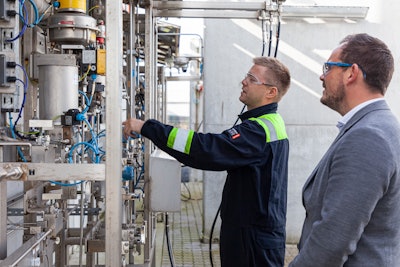 Cummins also recently announced it and Air Liquide completed construction and commissioning of the world's largest PEM (Proton Exchange Membrane) electrolyzer—which is used to generate hydrogen. It is supplied with renewable energy and is producing up to 8.2 tons per day of low-carbon hydrogen in Bécancour, Québec.
"We see battery-electric power and hydrogen fuel cells as complimentary technology as a part of a suit of zero-emission powertrains," says Jeremy Harsin, Cummins Off-Highway Business Director. "There is no one-size-fits-all-universal solution."
Hydrogen makes sense for larger equipment with high utilization and energy demands due to charging infrastructure limitations and the size of batteries needed—as well as their higher cost. The long recharging times required by larger equipment can also be a deterrent. "For heavier duty cycles, fuel cells would offer more flexibility and higher machine utilization. They are well suited for heavy loads and long work shifts with quick refueling and no carbon dioxide emissions," explains Harsin. "Electric is more suited to compact equipment, particularly used in rental."
Hydrogen is more energy dense compared to diesel or natural gas. One kilogram of hydrogen has the general energy equivalence of roughly 3 kg, or 1 gal., of diesel fuel. So, compared to diesel or natural gas, hydrogen will be able to power a vehicle the same distance using less fuel.
"Adoption of fuel cells will be gradual over the next 5-10 years as it becomes not just environmentally but also operationally and economically viable for OEMs and operators," says Harsin.
DEUTZ also sees hydrogen as a beneficial technology for heavy-duty applications. It notes the quick refueling capabilities allow higher utilization of carbon dioxide (CO2) free operation and lower overall total cost of ownership for end-use customers.
The company is currently developing a hydrogen engine based on its TCD7.8 industrial engine, known as the 7.8TCH. Dr. - Ing. Markus Schwaderlapp, Senior Vice President Research and Development at DEUTZ, says the company plans to have a hydrogen genset as a demonstrator of the hydrogen engine technology in operation with a pilot customer by the end of 2021.
In this application, the hydrogen powered generator will be able to provide CO2-free electric power for energy demand peaks as well as remote energy supply such as for construction sites with electric-driven machinery, says Schwaderlapp.
DEUTZ also sees potential for the engine to replace diesel in locomotive and other applications. "We see hydrogen engines in all mobile machinery where high performance coupled with a high degree of autonomy is needed," says Schwaderlapp.
The company is also evaluating development of fuel cells, but believes the hydrogen engine is closer to industrialization for off-highway applications.
READ MORE: Fuel Options Continue to Evolve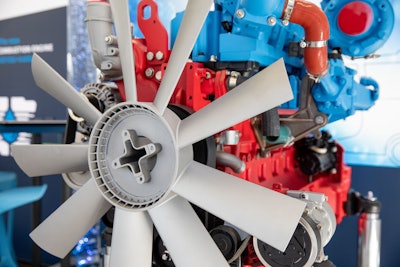 Testing is showing hydrogen's potential
In March 2021, Westport Fuel Systems Inc. announced successful startup and initial trials of a heavy-duty internal combustion engine running on hydrogen utilizing its High Pressure Direct Injection (HPDI) 2.0 System. Preliminary tests have shown the hydrogen-fueled engine can provide combustion and efficiency comparable to fuel cells in heavy-duty applications.
"The potential for OEMs and others to avoid new and significant investments that would be required to develop and manufacture fuel cells, electric motors and batteries that are associated with heavy-duty long haul fuel cell electric vehicle product proposals, while leveraging established supply chains, manufacturing investment and infrastructure and economies of scale, is incredibly exciting," said Scott Baker, Westport Fuel Systems' Vice President of Engineering, in the company's press release announcing the results of its initial testing.
The company believes this technology could be beneficial for heavy-duty trucking and other high-load applications like mining, marine and rail.
Daimler Trucks announced in May it has begun rigorous testing of the latest version of its Mercedes-Benz GenH2 Truck, a prototype hydrogen fuel cell vehicle. According to the company, the series of tests will be very demanding on the vehicle and components and focus on continuous operation, different weather and road conditions, as well as various driving maneuvers.
Daimler's goal for its fuel cell technology is to achieve ranges up to 1,000 km (621.4 mi.) or more without stops for refueling. The company wants to ensure its fuel cell truck provides similar or better performance to diesel counterparts, which means ensuring it can provide similar range and durability. Daimler says it will put the truck through the same rigorous testing it would for diesel powered trucks.
The GenH2 was designed from the ground up and includes completely new components—the fuel cell system, all-electric powertrain and associated systems—the company says. These will be focused on in particular during the testing because the new components' weight and position in the truck affect its handling properties which can impact forces and vibrations felt by the vehicle and the operator.
Daimler is using gaseous hydrogen tanks during its tests of the GenH2. However, the company believes liquid hydrogen is the better option due to its higher energy density in relation to volume than gaseous hydrogen. Daimler says this leads to the use of smaller, lighter tanks because the pressure is lower which allows trucks to carry more cargo. More hydrogen can also be carried in these tanks, helping ensure a longer driving range.
The company is developing liquid hydrogen tank technology and plans to have a new prototype system by the end of 2021. It will then conduct testing going forward using the liquid hydrogen tanks, enabling it to demonstrate the use of both gaseous and liquid options.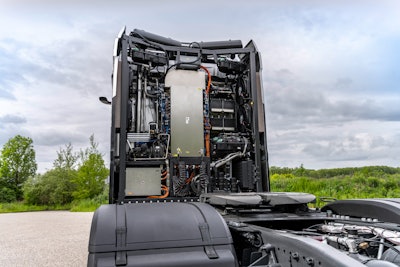 What challenges remain?
Hydrogen generation, storage and infrastructure are some of the key challenges facing the market currently says Schwaderlapp. Like Daimler, DEUTZ sees the use of liquid hydrogen being most beneficial. He also notes the need for developing smart solutions to package hydrogen storage systems into vehicles.
"On-board storage is a critical component of hydrogen power," says Harsin. Hydrogen needs to be shrunk into a tight space through compression or liquefaction in order to store enough to meet duty cycle requirements, he explains. As such, Cummins is investing in storage technology. The company recently announced a joint venture with NPROXX to provide storage tanks for hydrogen as well as compressed natural gas.
Harsin also notes the challenge of—as well as Cummins' ability to address—integration, configuration, and refining of the interaction between fuel cells, batteries, powertrain, and fuel storage. "Understanding and adapting the overall powertrain system will be crucial going forward. This encompasses every component that converts the engine's power into movement and is an area where Cummins can leverage our deep experience and understanding of all the interacting components and different duty requirements needed to serve different sectors."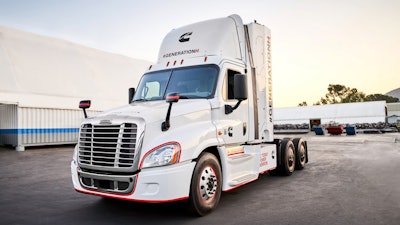 Infrastructure will remain a challenge, as well. Even with the many projects currently in place to increase hydrogen refueling, that will take time and resources to develop. Harsin says adoption of hydrogen will likely begin in markets where fueling can be done centrally such as at home base operations or close to large hydrogen hubs where there is access to affordable renewable power.
Cost is also a hurdle that needs to be overcome. Harsin says the cost of fuel cells and hydrogen is projected to remain above that of internal combustion engines for at least 5-10 years. However, he says green initiatives pushed by corporations or governments could force the move to hydrogen faster. Fleet customers operating municipal machinery or equipment at airports, distribution centers, and ports could also put pressure on OEMs to offer hydrogen solutions as they look to reduce their emissions.
"Battery-electric power will struggle to meet the duty cycle demand for all applications, particularly the larger ones," says Harsin. "Hydrogen can offer a solution that does the work efficiently while meeting zero-emissions demands."
In general, he says hydrogen solutions need to have a total cost of ownership that is competitive with internal combustion engines. "We must see continued improvement in electrolyzer and fuel cell designs to drive increased levels of efficiency and reduce cost through scale."
Much like battery technology, increased volumes will drive scale and help bring down costs over time. "As scale up of hydrogen production, distribution, equipment and component manufacturing continues, cost is projected to decrease over the next decade for a wide range of applications, making hydrogen competitive with internal combustion engine counterparts," says Harsin.
"To achieve the goal of global decarbonization the transportation of huge amounts of energy is required in a rather short term," says Schwaderlapp. "Areas of highly efficient regenerative energy farming either by wind or solar power are normally far away from the main energy consumers. The most efficient way to transport this energy is by a chemical carrier. Hydrogen is the obvious choice for this carrier in our view. It thus becomes the first link in the chain of e-fuels.
"Therefore, we expect to see a rapid increase in the worldwide availability of hydrogen and, by that, a high demand for hydrogen powertrains already in this decade," he concludes.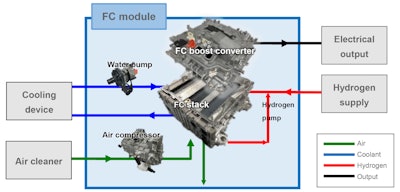 Companies in this article