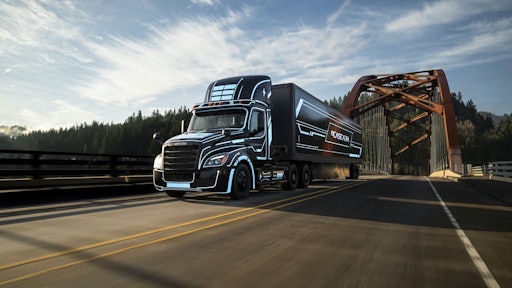 Daimler Trucks North America
OEM Industry News Briefs provides a weekly round up of the latest news and company announcements you may have missed in the heavy equipment engineering and manufacturing industries.
DEUTZ announces leadership changes
DEUTZ has announced its Supervisory Board has appointed Dr. Sebastian Schulte as the new Chairman of the Board of Management. Schulte previously served as Chief Financial Officer and Labor Director for the company; he will retain these responsibilities in the interim.
Schulte will replace the company's long-standing Chairman Dr. Frank Hiller who was unanimously dismissed by the Supervisory Board.
In addition to Schulte, the company has decided it will add a woman to its Board of Management and is currently looking for a candidate; this will return it to a four-person board. Dr. Dietmar Voggenreiter has also been appointed as the new chairman of the Supervisory Board, replacing Dr. Bernd Bohr who resigned from the position but intends to remain an ordinary member of the board.
"Sebastian Schulte is a team player and a leader with strong analytical skills. As the new Chairman of the Board of Management, he brings precisely the expertise needed for the next phase of the company's development: the profitable transformation of DEUTZ into a leading provider of carbon-neutral drive solutions for the off-highway sector," said Voggenreiter.
Inmotion expands production capacity
Inmotion Technologies is building a 6,000 sq. m production facility which will aid its expansion efforts to meet increased customer demand. The company develops and manufactures power electronics for use in various commercial vehicle applications, demand for which is expected to continue growing as OEMs advance their electrified product offerings. Some major OEMs have already estimated 50% of their vehicle sales in 2030 will be fossil-free models.
"Large customers in the truck sector are moving ahead with electrification and this creates a strong demand for our products and services. It is very rewarding and stimulating to contribute with solutions to the climate crisis. Our products are a very important part of the electrical vehicles that accelerate the reduction of fossil fuel usage. Demand is very strong and we are in an incredibly expansive phase where we build Sweden's largest factory for vehicle‐mounted inverters and power electronics," says Martin Wennerblom, Marketing Director at Inmotion Technologies.
Inmotion estimates its new production facility will have the capacity to deliver equipment to at least 200,000 vehicles each year. Construction has begun on the facility and its inauguration is planned for mid-2023.
Deere & Co. recently announced it has acquired majority ownership in Kreisel Electric Inc., a developer of immersion-cooled battery technology. Kreisel manufactures high-density, high-durability electric battery modules for off-highway and other high-performance applications.
This acquisition will aid John Deere's efforts to advance its electrification efforts.
Deere first announced the acquisition in December 2021, and it is now complete after regulatory approvals.
Yanmar expands engine manufacturing capacity
Yanmar Engine Manufacturing India Pvt. Ltd. (YEMI) has begun construction of a new state-of-the-art industrial engine manufacturing facility in India. This new facility will be able to produce 80,000 engine unties per year in the 15-37 kW power range.
The company intends to increase production capacity to 160,000 units per year in the future. Engines produced at the new facility will be supplied to customers in India, Europe, the United States, Asia and other markets the company serves.
Engines will first be produced for Yanmar brand tractors, then for other agricultural and construction equipment manufacturers.
"In emerging countries such as India, which are experiencing rapid economic growth, demand for industrial engines is expected to grow as mechanization increases in the agricultural and construction sectors," said Varun Khanna, Managing Director of YEMI.
"The new plant will be an important base for expanding Yanmar's global industrial engine sales in the future," added Hajime Hirai, Director of YEMI.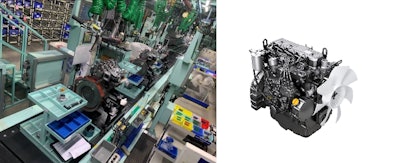 Meritor extends ePowertrain supply agreement with PACCAR
Meritor Inc. has extended its supply agreement with PACCAR in which it will provide the truck OEM with its 14Xe ePowertrains as well as battery-electric vehicle integration kits. These products will be integrated into the Class 8 Kenworth T680E and Peterbilt 579EV electric trucks and the 520EV refuse truck.
According to Meritor, the ePowertrain along with its Power Controls and Accessories (PCAS) and Energy Storage System (ESS) enable the PACCAR vehicles to meet customers' application demands while also ensuring high efficiency, performance and range.
"This extension affirms the strength of the PACCAR and Meritor partnership, and illustrates that our technology continues to prove itself in real-world applications," said Tim Bowes, senior vice president and president, Electrification, Industrial and North America Aftermarket for Meritor.
"PACCAR is committed to delivering cutting-edge electrification solutions to our customers," said Darrin Siver, PACCAR senior vice president. "Meritor has performed very well and is a key partner to help us deliver on this commitment."
READ MORE: Meritor to Begin Production of Electric Powertrains, Forms New OEM Partnerships
Carraro extends cooperation with CLAAS
Carraro Group recently signed an extension of its decades-long cooperation with agriculture OEM CLAAS. As part of the new agreement, Carraro will provide axles and gears for CLAAS' special and compact tractors. In addition, the cooperation will include mutual knowledge transfer and exchange of skills in the fields of human capital and best practices in sustainability.
"A clear short- to medium-term goal of our commitment is to increase sales and market share in the segments of special and compact tractors," explains CLAAS CEO Thomas Böck "To achieve our goals, we are investing together in new developments, but also in competences and skills of our employees and know-how-transfers."
"This agreement seals a solid 10-year relationship between two industrial groups of reference in their specific markets," comments Andrea Conchetto, CEO of Carraro Group. "Today, however, we are going beyond a typical contract for the supply of vehicles, components and services, because we intend to pool our mutual skills and exploit them on a common basis. This is a new way of consolidating business relationships that can determine an important advantage for both players involved. Sharing best practices, comparing cultures, increasing knowledge of the end user thanks to the widespread presence in the market of CLAAS GmbH will allow our group to grow further and consistently."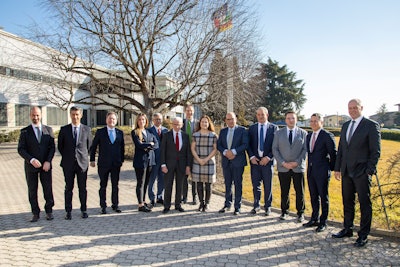 Werner Enterprises to validate new Cummins natural gas and hydrogen engines
Logistics provider Werner Enterprises will soon begin validation and integration of Cummins' recently introduced 15 L natural gas and hydrogen internal combustion engines. Cummins will start integrating the engines into Werner's trucks in the second half of 2022 beginning with the natural gas engine.
The natural gas engine can be paired with an Eaton Cummins Automated Transmission Technologies Endurant HD Transmission and Cummins Fuel Delivery System to aid performance in heavy-duty transport applications. Other transmission offerings will also be available. The 15 L engine will offer ratings up to 500 hp and 1,850 ft.-lb. of torque, while not requiring selective catalytic reduction (SCR) to meet 2024 California or Environmental Protection Agency emission standards, providing a potentially carbon-negative solution when powered with renewable natural gas (RNG) says Cummins in its press release announcing the partnership.
"Our broad range of powertrain solutions from advanced diesel, natural gas, hydrogen to electrification allows Cummins to provide multiple options that meet our customers' specific business needs and sustainability targets today. The next generation Cummins powertrains will provide a clear path to transition towards a zero- emission future," says Srikanth Padmanabhan, Vice President and President, Engine Business, Cummins.
"The options Cummins is providing align with our longstanding focus on sustainability and reducing our carbon footprint," said Derek Leathers, Chairman, President and Chief Executive Officer, Werner Enterprises. "They understand the priority we place on using technology to minimize our impact on the environment. By being proactive now, we are ensuring a better future for everyone, and I look forward to this collaborative effort."
READ MORE: Cummins Unveils Fuel-Agnostic Engines
Daimler Trucks forms partnership for public charging infrastructure
Daimler Truck North America LLC (DTNA) recently signed a memorandum of understanding with NextEra Energy Resources, LLC and BlackRock Renewable Power (BlackRock) to create a joint venture which will focus on the design, development, installation and operation of a U.S. charging network. The high-performance chargers will be nationwide and designed for use with medium- and heavy-duty battery-electric vehicles as well as those powered by hydrogen fuel cells.
The companies intend to begin operation of the joint venture in 2022 and the first charging sites to be constructed starting in 2023. Funding for the project will come equally from all three companies.
Charging infrastructure is one of the biggest hurdles to the adoption of battery-electric and other alternatively powered vehicles. As such, the companies plan to initially build charging infrastructure along critical freight routes on the east and west coasts of the U.S. as well as in Texas by 2026. They plan to leverage existing infrastructure and amenities as well as add new sites. Battery-electric vehicle charging will be the first priority followed by that for hydrogen fuel cell vehicles.
"The planned joint venture with NextEra Energy Resources and BlackRock is another building block in our global partnership strategy to accelerate the infrastructure required for carbon-neutral commercial transportation. Whether in the U.S. or in Europe, these kind of collaborations are essential to successfully tackle the urgent need for zero emission vehicles. Daimler Truck North America, together with its two new allies, is taking the wheel and paving the way for a nationwide infrastructure for battery-electric and hydrogen-powered commercial vehicles in the U.S.," says Martin Daum, CEO of Daimler Truck.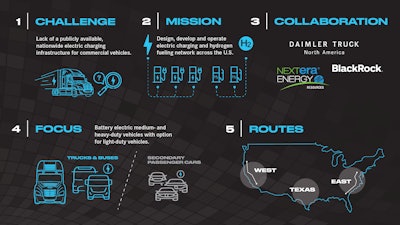 Companies in this article