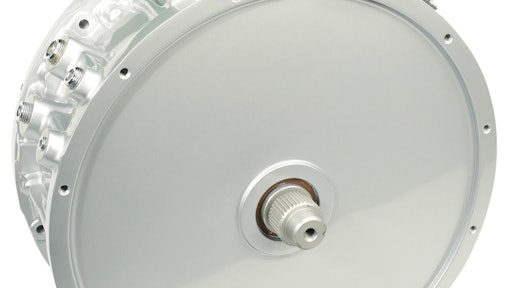 BorgWarner continues to drive electrification into the commercial vehicle market segment with its powerful High Voltage Hairpin (HVH) 410 electric motors. The advanced and highly efficient technology propels Scania's new Citywide hybrid bus for urban areas. Positioned between the clutch and gearbox in a P2 layout, the 650V electric motor drives the vehicle at low speeds when enough energy is available. The motor also charges the battery by generating power while braking or driving downhill, and supports the shifting sequence in the automatic mode of automated manual transmissions. With their clean, quiet operation, HVH410 electric motors allow buses to operate in zero emission zones and noise-sensitive areas.
"Hybrid and electric technologies aren't just for passenger cars. As a key enabler for parallel hybrid drive concepts for commercial vehicles, BorgWarner's HVH410 electric motors help meet both market demands and emissions regulations," says Dr. Stefan Demmerle, President and General Manager, BorgWarner PowerDrive Systems. "This application, as well as our development partnership for future programs with Scania, expands our comprehensive hybrid and electric product portfolio and reinforces our strong reputation as a global leader in clean and efficient technology solutions for combustion, hybrid and electric vehicles."
BorgWarner's HVH410 electric motors are available as fully housed motors or as rotor/stator assemblies. Featuring the patented HVH stator winding technology, the versatile and powerful electric motors deliver a maximum torque of 2,000 Nm and a power output of up to 300 kW (402 hp) with peak efficiencies of over 95%. In addition, their compact dimensions and individually customizable stack length, cooling and winding configurations facilitate easy integration into almost all electric and hybrid applications. As a result, BorgWarner can provide its customers with tailor-made solutions to fit their specific requirements.
Companies in this article