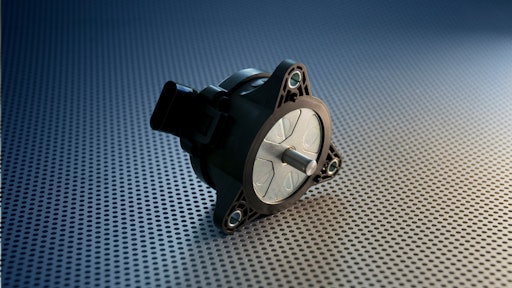 "From mind to motion" is how Pierre Gandel, the Managing Director of Sonceboz SA, expresses the company's philosophy. Mechatronic drive systems, i.e. the integration of electronics, motors and mechanics, describe its core competence. The Swiss high-tech company is thoroughly oriented to the current demands of the market. It is recognized by the off-highway sector throughout world for its achievements in continually seeking to develop new worldwide standards for targeted applications.
Intelligent electrical drive systems for highly demanding customized applications are thus the hallmark of this traditional company that can look back over an eventful 75 years. Mechatronics is Sonceboz's core competence. In practice this means: the skilled 1,000 employees develop and produce highly robust, compact and smart programmable movements which support the customer with innovative, customized and high-volume solutions based on proven technologies and a zero-defects policy. To be an innovative partner to the off-highway industry, Sonceboz invests heavily in R&D in key application's fields such as emission and engine control, mobile hydraulics, implements and driver assistance. Moving Magnet Technologies (MMT), Sonceboz's 100%-owned subsidiary in France, also presents new electro-magnetic concepts based on intensive research; these offer great potential for engine management applications. Sonceboz's comprehensive product portfolio includes stepper motors, brushless DC motors, high torque motors and electrical linear drives together with customer-specific system solutions containing complete control electronics and associated mechanical elements, electronics and sensors. With facilities in Switzerland, USA and France, the Sonceboz Group provides unique values to its partners-customers.
Compact smart BLDC actuator for large diesel engine applications
The new smart brushless DC (BLDC) actuator is a high performance electronically commutated actuator specifically developed for large diesel engines applications. This powerful actuator delivers high peak torque values, from 2 to 20 Nm, in a very lightweight and compact housing. Therefore its outstanding compactness and robustness make it easy to integrate in narrow engine compartment. It can operate in a supply voltage range between 9 and 32V. In the event of power failure, an integrated return-to-zero spring is included. The failsafe position is customizable as well. This brushless DC actuator delivers short positioning times–125 ms–while providing positioning accuracy for finer flow control. By integrating a position sensor and a CANbus control electronics, it is acting as a modular smart stand-alone actuator. Thanks to wide torque range, it is an ideal off-the-shelf motion system for any valves requiring smart actuation. The core rotor/stator offers high design flexibility, allowing a mounting in a wide array of applications on any diesel engines (typically from 4 to 16 liters) throttle valves, EGR valves, turbocharging, exhaust brakes. High reliability and service life is guaranteed all over a large operating temperature range, varying from -40 to 140 C. If the engine's application requires a non-smart or an even more compact electric actuator, a range of torque motors complement the customer's choice. They exhibit peak torque values from 1 to 5.5 Nm and a less than 100 ms response time. Both Sonceboz versatile motion solution suit applications running in harsh environments with minimum allotted space, and they can contribute to tally to Tier 4 Final or Euro 6 standards.
Robust torque motor for heavy duty engine control applications
The Sonceboz 42XX Series torque motor is a brushless rotary actuator specifically designed for engine control applications that require extended life time and exposure to harsh environments. Features such as compactness and best-in-class torque density are ideal for designs requiring a small footprint and superior torque performance. Fast and accurate positioning is achieved due to a unique mechanical and magnetic structure that is optimal for applications such as Exhaust Gas Recirculation (EGR), intake, exhaust, turbochargers and bypass-throttle valves. Thanks to its direct drive design, the Sonceboz torque motor is extremely robust and contributes towards the reduction of engine down time. Latest product enhancements include breakaway torque values that now extend to 4.8 Nm for 12V systems (higher in 24V systems) and a new generation position sensor that further improves the compactness of the product. This actuator enables a high dynamics thanks to its 100 ms positioning time. The core rotor/stator exhibits a track record in the automotive industry with an exceptional 0 ppm rate, making this electromagnetic technology extremely reliable. All sizes of torque motors inside the product range can be driven with a H-bridge that is typically standard in the engine control unit, therefore offering substantial system level cost-savings compared to other actuators featured with integrated electronics.
The most compact smart actuator for mobile hydraulics valves
The newest smart actuator from Sonceboz is dedicated to the optimal actuation of mobile hydraulic valves on off-highway vehicles. This all-in-one actuator encapsulates in a very slim and compact housing CAN drive electronics, an electric motor and a gear train. The embedded sensorless closed loop electronics provides on-board diagnostic and force detection, permitting to perceive sticking effects and valve failure. This actuator does not need a pilot circuit as solenoid controls do. A dead-zone compensation feature helps improving precision and compensating wear and mechanical play, and an efficient system to reduce power consumption is available features. So as to ease an assembly into a wide array of sectional valves, this very flat and compact actuator is designed in two sizes, 37 mm and 42 mm thickness. Thanks to its IP6k9k protection degree, this electric actuator is capable to durably operate in the harsh environments of agricultural or construction vehicles, where humidity, dust, vibrations prevail. Its robust design makes it withstanding extreme temperatures, from -40 to 100°C, thus exhibiting an outstanding cold temperature behavior. All those attributes makes it a powerful fit for hydraulic valves requiring a reliable, intelligent and safe actuator.
High Speed generator for Rankine cycle Waste Heat Recovery
Nowadays, one of the most stringent constraint for the commercial vehicle industry is the need for fuel consumption and CO2 emission improvement. In spite of all the new developments done to increase the engine efficiency, it is still agreed that almost 30% of the energy supplied to the engine is lost at the exhaust through heat losses. Several ways have been investigated to recover this lost energy at the exhaust (thermoelectricity, mechanical turbo compound…), but the most promising solution in a near future seems to be the exhaust heat recovery though a Rankine thermo-dynamical cycle. Indeed, several developments in the commercial vehicle industry have demonstrated that Rankine cycle could decrease the CO2 emissions from 5 to 10% depending of which solution you choose to recover the mechanical energy from the gas expansion. The most efficient solution is the use of a turbine with a rotating shaft driving the rotor of an electrical machine used as a generator. The requirement for such electrical machine is the generation of few electrical kilowatts with rotation speed higher than 100 krpm.
With a recognized 25 years' experience in the area of permanent magnet electromagnetic structures, Moving Magnet Technologies (MMT) has developed an innovative and patented structure of three phase, permanent magnet, synchronous electrical machine with more than 90% efficiency at the required working point. One specific value of the MMT electrical machine structures is their compatibility with mass production requirements. These high speed electrical machine can either be used as a generator or as brushless DC motor.
MMT will be represented by Gerald Masson at the CONEXPO-CON/AGG tradeshow, Las Vegas, NV, on March 4 to 8 2014 where the company will share the booth 83553 with mother company Sonceboz. MMT will exhibit its prototypes of high speed electrical machine for the commercial vehicle industry.