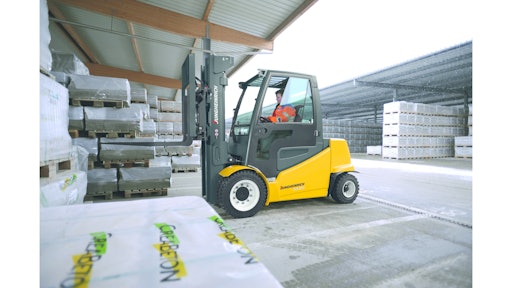 Mitsubishi Caterpillar Forklift America Inc. (MCFA), the provider of Jungheinrich lift trucks and narrow-aisle products in the United States, Canada and Mexico, introduces its 7,000-lb. model capacity to its Jungheinrich large electric pneumatic tire lift truck series. Featuring advanced AC technology for increased performance and productivity, the EFG 535k-S50 Series features industry-leading lift speeds and increased energy efficiency.
"We're excited to offer this new, Jungheinrich smaller capacity electric pneumatic tire lift truck model in North America," says Steve Rogers, Senior Product Marketing Consultant for MCFA. "The EFG 535k-S50 Series is another example of Jungheinrich's commitment to designing warehouse products that achieve industry-leading performance and productivity."
Key features of the Jungheinrich EFG 535k-S50 series include:
Enhanced Energy Efficiency: This series is equipped with the newest generation of three-phase AC technology, resulting in increased productivity and the ability to run up to two shifts on a single battery charge in most applications. Additionally, these forklifts feature a maintenance-free braking system that uses regeneration, which turns momentum into energy and feeds it back into the battery.
Improved Operator Control: Featuring a comprehensive range of components for increased control, including responsive acceleration and braking, the EFG 5 Series of lift trucks allow for precise positioning. Other key features include Jungheinrich Curve Control, which enhances operator control by automatically reducing the driving speed when the operator is turning corners.
Enhanced Ergonomics: The EFG 535k-S50 Series also features a spacious operator compartment for added comfort and a SOLO-PILOT hydraulic lever control for easier operation. The innovative overhead guard design allows for optimized operator visibility, helping to reduce the risk of damage during operation.
To learn more about the new EFG 535k-S50 Series of electric pneumatic tire forklifts or Jungheinrich's complete warehouse product line, visit http://www.jungheinrich-lift.com.