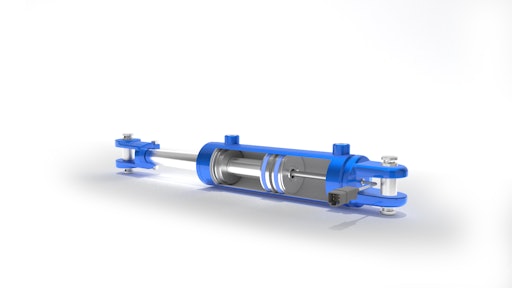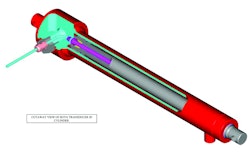 Earlier this year, Terex AWP introduced its first entirely all-electric and electric-hybrid Genie® Z™-boom lift, which combines the benefits of quieter, environment-friendly operation with the four-wheel drive performance of a traditional diesel-powered machine. Offering the advantages of zero emissions and full workday operation on just one charge, the new all electric Genie Z-60/37DC boom is ideal for indoor and outdoor applications, such as industrial plants, malls, convention centers and construction sites. As a result of its fast recharging capabilities that provide full charge from an 110V wall power supply in less than 14 hours, operators can use this machine every day.
Driven by high-efficiency AC motors, this new fuel-efficient model combines the benefits of advanced diesel power, four-wheel drive performance and the cleaner, quieter efficiency of compact, low weight electric-powered booms.
The new Genie Z-60/37FE boom lift provides the choice of two modes of operation: "Full-electric," which delivers full-day, emission-free performance on a single charge, or "hybrid" mode, which provides more than a week of run time from a single tank of diesel fuel — an excellent solution for jobsite conditions that demand higher performance and productivity.
In hybrid mode, the machine uses its environmentally-friendly 24-hp Tier 4/ Stage IIIB Final diesel-powered generator to maintain the battery charge or to supplement the battery power to get a boost in machine performance.
Rota Engineering LTD, the premier mobile hydraulic cylinder linear sensor supplier, provided a sensor for the Z60 machine's closed loop control of the steering system with focus on meeting Terex AWP's requirements to keep the machine's goal of being "green" in the environment. The endeavor required finding an alternative to rotary sensor/encoders, the technology typically used by aerial work platform OEMs on kingpin steering mechanisms. With the advent of using high efficiency AC motors on each wheel of the Z60, Terex AWP could not fit traditional rotary sensor/encoder technology into the available space around the kingpin. Another goal was to improve the long term reliability of using a sensor, due to the vulnerability of mechanical breakage due to impact on the rotary sensor/encoder.
Terex AWP worked with Rota Engineering to find a suitable alternative for the steering system by integrating Rota's Hall Effect transducer into the steering cylinder. Using the Rota Hall Effect sensor allowed Terex AWP to replace the rotary sensor/encoder with a clean and integrated smart cylinder. The smart cylinder design provides best protection to the sensor while enabling integration into the small and restricted space inside the cylinder. In the majority of cases, The Rota Hall Effect sensor does not change pin centers on existing cylinder designs.
The Rota Hall Effect sensor provides superior electrical and environmental automotive / off-road performance to ECE-R10, including high shock and sustained vibration, which the mobile market requires in order to have true long-term reliability. The Rota sensor has been proven to operate in harsh environments, both in the field and in the lab, including handling myriad shock profiles, including those of hydraulic excavator bucket cylinders to include sine vibration 75g including 1 hour at resonant frequencies.