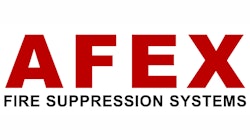 AFEX Fire Suppression Systems announces that Liebherr Group and Ground Force Worldwide will feature AFEX equipped machines at MINExpo 2016, September 26-28 in Las Vegas, NV.
Liebherr Mining Equipment will feature the AFEX system on its T 264 mining truck. The T 264 is part of the 220-tonne size class, matching ultra-class hydraulic excavators, as well as electric shovels and wheel loaders. Its unique combination of a high-horsepower engine (2,700 hp), an efficient Litronic Plus AC drive system and powerful electric wheel motors (4,425 hp) allow for faster cycle times, making the T 264 exceptionally productive and cost-efficient. Visit Liebherr's exhibit in booth 7627 to learn more.
Ground Force Worldwide designs, engineers and manufactures mine support equipment for surface and underground mining applications. It offers over 40 product lines, including the world's largest fuel and lube trucks, water trucks and cable reel trucks. Its designs provide the best return on investment in addition to keeping your revenue producing "iron" running efficiently. Visit Ground Force in booth 6971 to learn more and see its AFEX equipped truck.
AFEX delivers rugged, reliable fire suppression solutions for mining equipment that maximize machine safety and productivity. Visit AFEX at MINExpo in booth 7062.
Companies in this article