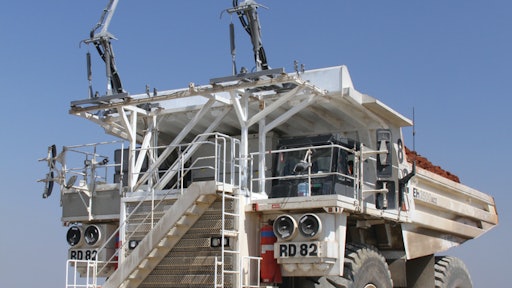 As mining equipment designs evolve, safety, efficiency and function automation are the key aspects on which OEMs have been focusing. Ease of operation has also been an important design element, as the number of skilled laborers continues to decline. Operator interface simplification in trucks has taken drivability to the point of functions being forward, reverse and a gas pedal, says Randy Baker, President of P&H products at Joy Global Inc., Milwaukee, WI. "[It's about] trying to make the equipment inherently easier to operate and get more consistency out of the operator."
Depleting ore grades are beginning to have an effect on how mining equipment is designed, as well. Miners and equipment are now going even deeper into the earth's surface to reach material, causing some of the machinery to increase in size and load capacity so larger amounts of materials can be carried in fewer passes. Operations are also starting to be located in more remote locations where there isn't an established infrastructure. There's often a lack of power, water and other resources, including skilled labor, requiring OEMs to work with the mines to assess and design machines which will best suit the needs of the operation. "A lot of the mines today are asking us to help them evaluate what kinds of technologies are out there to alleviate some of their challenges," says Josh Wagner, Director of Marketing for P&H products at Joy Global. "We're looking at how larger machines can help them meet their production targets."
Increasing safety
Hitachi Construction and Mining Products, Moline, IL, is currently developing a camera system which will provide operators with a 360 degree view of their surroundings in order to help improve safety. The SkyAngle Camera System consists of four cameras whose images are combined by software into a single bird's eye view of the entire vehicle to give the operator clear visibility all the way around the vehicle. Operators will also be able to switch camera angles as necessary. "In the past, [operators were] just relying on a few camera angles or the mirrors," says Brian Mace, Manager of Mining Product Marketing and Applications at Hitachi. "Now you have one image showing visibility 360 degrees around the truck."
Liebherr Mining Equipment, Newport News, VA, has also developed a safety enhancing camera system, says James Ritter, Product Manager for Mining Trucks. As part of the company's new Operator Assist technology, an integrated camera system with video recording capabilities provides additional viewing angles around the truck to help eliminate blind spots. Ritter says there will also be a proximity awareness system available which provides audible and visual alerts to the operator when an object is in close proximity to the truck. To help keep drivers more alert while operating equipment, Liebherr will offer a fatigue monitoring system as part of its Operator Assist technology. "[It] provides real-time monitoring of the operator for fatigue and distraction events while the truck is in motion," says Ritter.
Energy efficiency
Rising fuel prices over the last 20 years has increased many mining OEMs' interest in using alternative fuels. Liebherr's Ritter says the industry has also been investigating the implementation of liquefied natural gas (LNG) and dual fuel engine options.
High fuel costs have been a strong driver for improving equipment energy efficiency. Joy Global's Baker says this has been done either through the use of energy recapture systems or simply changing the actual efficiency of mechanical systems. Both Hitachi and Joy Global have been using AC drive technology in their equipment for several years now as a means of increasing efficiency. Mace says Hitachi has shovel products using an AC drive in conjunction with a diesel engine as well as those which replace the engine with an electric motor. He notes that the company is working to become more vertically integrated by using the AC drives Hitachi creates in its equipment, instead of going to a vendor for the AC drives. "We are kind of unique in that we are the truck manufacturer and also the manufacturer of the drive system," says Mace.
After its acquisition of LeTourneau Technologies Inc., Longview, TX, in 2011, Joy Global was able to begin implementing LeTourneau's Switch Reluctance (SR) Drive Systems as a means of full energy recovery (For more information on the LeTourneau acquisition, search 10284991, and for more information on the SR system, search 10057035 at oemoffhighway.com). Baker says that although SR systems have been around for a long time, they hadn't been applied to the mining industry in any big way, until now. While the AC drive technology Joy Global had been using for years was an efficient means of capturing and reusing energy, the SR system is better. For example, the SR system recovers 100% of the energy generated from dynamic braking and immediately delivers supplemental power to the vehicle for ultra-efficient fuel economy. The company has already fully integrated the SR technology into its wheel loader product line and is beginning to implement it into the shovel products as well as Joy Global's underground equipment.
While the SR system offers many efficiency benefits, implementing "true hybrid technology"—meaning the vehicle includes idle-off capabilities, regenerative braking capacity and power assist and engine downsizing—on mining equipment is difficult, especially on trucks and wheel loaders. Baker says this is because battery technology that can store the magnitude of power necessary to drive a large mining vehicle is not currently available. "The big problem with a hybrid truck is [determining] where you put the batteries," says Baker. "You're decreasing the load carrying capability of the truck because you're putting in literally tons of battery power." He says that as battery technology continues to improve, then true hybrid technology can be more easily adapted into mining equipment. "In our wheel loader product line we do have hybrid technology and energy recovery, but it's limited by the amount [of energy] that it can store." (To read more about battery and capacitor technology development, see our July/August article, "Increase efficiency by distributing the workload" on page 20 or by searching 10733401 at oemoffhighway.com.)
Where true hybrid technology can excel in a mining operation, says Baker, is through the implementation of a trolley system. Similar to city buses, the vehicle is electrically driven via a line voltage hooked up to the drive system, whether it's an AC or SR motor. It enables the machines to be even more environmentally friendly because an engine does not have to be used to move the vehicle, and a lot of energy can be recovered from and provided to the machine. Joy Global and Hitachi have both developed several vehicles which can be run on an electric trolley system.
Jon Torpy, Business Line Manager - Rotary Blasthole Drills for Atlas Copco Construction Mining Technique USA LLC, Commerce City, CO, says when the company designed its electric blasthole drill products, it wanted to make things as easy as possible. "Our design is fairly simple in that we replace the standard diesel power plant on a drill with an electric motor and associated components to run the electric motor," says Torpy. "Rather than designing entirely new electric drills, this allows us to maintain commonality with the diesel version of the same drill."
On its blasthole drills, Atlas Copco brought to market a patent-pending automatic hydraulic clutch to help improve fuel efficiency. Typically on the blasthole drills there is an air compressor which Torpy says is the largest consumer of horsepower and fuel. "The compressor is directly tied to the engine so it creates a load on the engine even when it is not required in the drilling process," he says. The clutch, however, engages the compressor only when it is needed in the drilling process, saving fuel and money as well as extending the life and service intervals of the compressor. Torpy also notes that because the clutch is completely automatic, no special operator training is required.
Making machines smarter
Advancing vehicle health monitoring systems has become a major component to mining equipment design. Mace says companies are placing more sensors and controllers on the vehicles to collect and send data via satellite or wireless technology back to customers, either to their business systems or standalone vehicle health monitoring systems. Information about a vehicle's performance and health can also be sent to the dealership and even the manufacturer to help diagnose and troubleshoot problems. "We've moved from diagnostic towards more prognostic," says Wagner of Joy Global. "It ultimately allows [customers] to be more predictive." Taking the prognostic approach helps enhance productivity by reducing downtime because the machine monitoring provides real-time information that enables the customers to make decisions much more quickly.
When considering autonomous vehicles, mine operators look at which vehicles have the highest contribution to cost and if the technology is mature enough to be applied on machines with the lowest possible risk. Wagner says that currently autonomous vehicle technology is available on trucks and drills, whereas the loading and excavation side of mining still has no proven autonomous technology. "That's a whole different ball game when it comes to autonomy," says Wagner, "[because there are] different levels of automation required." He continues, "In the next five years the biggest focal point for us is going to be enhancing our machines and looking at how we can automate different functions of our machines as a building block towards autonomy."
Atlas Copco's Torpy says the company began working on autonomous technology over a decade ago for its underground products with the intent of designing a system that could easily be adapted into its various product offerings. This helps not only ease the design but also training and troubleshooting. Torpy notes that there are several building blocks which go into making an autonomous drill such as auto drill, auto level, obstacle detection and pipe handling. "One of the bigger challenges with drills is handling the large pieces of drill pipe without operator interaction in a multi-pass operation," he says. Pipe often needs to be replaced because it wears down, causing a reduction in its diameter and damaged threads, which is why it's difficult to add pipe to autonomous operations. Through the Atlas Copco technology platform, known as the Rig Control System (RCS), the company is automating the pipe handling process on large rotary drills. RCS is a CANbus based system, which Atlas Copco uses as a technology platform, and is the building block for future autonomous product developments and enhancements. "Our goal with RCS isn't just to design an autonomous drill but to design an autonomous drill that is made for miners," says Torpy. The system is designed to be durable and fit into the maintenance framework available at most mines, enabling technicians with proper training to troubleshoot and repair the RCS system as easily as they would a hydraulic system.
All of the companies agree that autonomy will be the future of mining, as well as more advanced monitoring and larger scale equipment. "I think you'll see that in the future, the scale and the size of the equipment will continue to grow as technology allows," says Joy Global's Baker.
Eventually the goal will be to not only make the vehicles autonomous, but the majority of the mine operation itself. Hitachi's Mace says the intent is to remove the human element from inside the mine as a safety and an operational benefit. Autonomy will continue to progress in a direction that will allow a single person to control several vehicles at once from a remote location. Everything, from the machines to the processes to mapping and designing the mine, will eventually be automated and connected to a single mine system.
While the industry appears to be in agreement that autonomy will be the future of the mining, it's still unclear as to when or how the industry will get there. "There are a lot of different paths you can go down," says Wagner. "You can go down a path that would let this happen in 20 years, or it could happen 50 years from now. But I think all of the OEMs have recognized this opportunity and all of them have their own drive towards autonomy."
Companies in this article