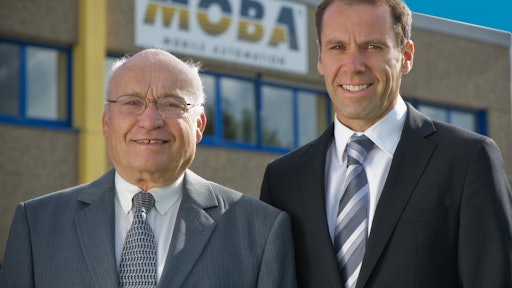 MOBA Mobile Automation AG from Limburg/Germany looks back on four decades of successful company history. Fourty years of MOBA – that means 40 years of expertise as a manufacturer and developer of mobile electronics, identification technology and mobile weighing equipment for construction machines, waste disposal vehicles and agriculture.
With the founding of MOBA as an engineering office, everything began small in 1972: with the sale of height and slope sensors as a one-man business in the garage of company founder Paul Harms. In 2012, on the 40-year anniversary of the company, MOBA Mobile Automation AG is anything but small. As an internationally recognized expert, the company is a constant in the field of mobile automation. Today, MOBA offers a wide range of self-developed and -manufactured products and systems for a broad spectrum of construction machines, special machines and for the waste disposal sector. More than 420 staff members worldwide, subsidiaries in nine countries, an international dealer network and considerable growth rates – the company history of MOBA Mobile Automation AG is a success story.
"To hold one's ground for 40 years in this market, which is characterized by rapid technological development, is an outstanding achievement," says CEO Volker Harms. "This is due, on the one hand, to the high innovative strength of our 60-person development team and, on the other hand, to the fact that MOBA has always stood and continues to stand for quality, flexibility and reliability," adds Harms, who took over management of the company from his father, Paul Harms, in 2004.
Technological competence – from construction machines to waste disposal vehicles
"Over the past 40 years, MOBA has acquired an increasingly broad range of know-how in the area of mobile automation. The product and system spectrum grew accordingly," says Paul Harms, company founder. MOBA brought its own height and slope sensors to market for the first time in 1976. Ultrasonic sensors and complete systems followed, for example, in 1991 the MOBA-matic, today the world's leading levelling system for pavers. Another milestone was the introduction of the Big Sonic-Ski non-contact, ultrasonic system for pavers in 2001, by means of which planarity and effectiveness in asphalt paving could be improved considerably.
Through the development of always new solutions, MOBA is today able to offer 2D- and 3D-control and monitoring systems in the construction sector for nearly all machines used in earthworks and road construction. With the participation in Novatron 2011, MOBA rounded out its product spectrum with excavator control systems. MOBA is also well prepared for the future: within the framework of the EU research project ASPHALT, in which MOBA played a key role, construction site operations were optimized through satellite navigation and fleet management, enabling even better road quality to be achieved in the future.
While focus of development and manufacturing in the first years was on the automation of construction machines and agricultural equipment, the company expanded into the business area of waste disposal technologies in 1990 with the founding of MOBA Dresden GmbH. In addition to identification systems, MOBA has been offering weighing systems and software for communal and commercial waste management contractors in this area for more than 20 years. MOBA initially developed and produced identification systems, such as the identification system for municipalities "MAWIS", which facilitates transparent and efficient waste collection. With the founding of MOBA Data GmbH in 1994, the product spectrum was expanded through software packages. The field of mobile weighing technology for waste collection vehicles followed in 1995.
MOBA has been present on the market in the area of safety-related technologies for more than ten years with systems for manlifts and mobile cranes. One milestone in this area was the development of the MRW in 2002, a redundant load cell that is used for overload protection on, e.g., manlifts or mobile cranes.
New developments
With the MOBA product platform, MOBA has offered controllers, sensors and HMIs for integration in a wide range of systems and applications since 2011. The company thereby expands its customer base, as the components can be flexibly used in a wide range of machines and industries. MOBA products convince on the market through their modular structure as well as the modern design, for which, for example, the modular HMI concept for control panels was awarded the Red Dot design award in 2012.
The MOBA Community, which went online in mid-2012, provides the first interactive online forum for mobile automation specialists and experts. Independent of time and place, community participants can discuss new trends, exchange experiences and information and have questions on applications, systems and products answered by experts quickly and in an uncomplicated manner.
Strong market position
From the beginning, MOBA developed foreign markets, both in Europe and worldwide. With the founding of various subsidiaries and cooperations with dealers on an international level, sales and service were intensified directly on-site. As a result, MOBA is well positioned in Europe, North America as well as in Asia. Focus is currently on expanding into the South American markets, which offer great potential for development.