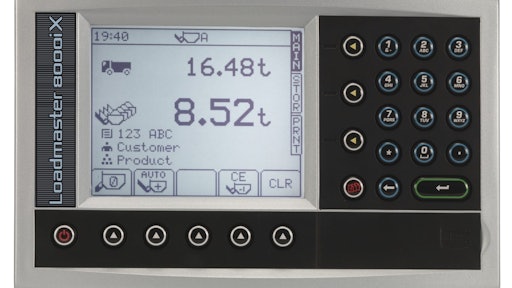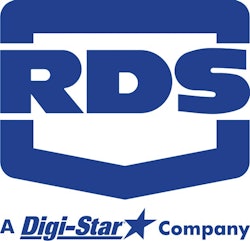 INTERMAT 2012 saw the unveiling of RDS Technology's new Loadmaster iX range of on-board weighing instruments for wheeled loaders.
Loadmaster iX benefits from additional standard features including temperature compensation which enhances system performance, particularly on machines with a wide variation in operating temperature and angle compensation, providing an additional level of precision beneficial on most sites, and not only those with obvious slopes.
In addition, the Loadmaster iX range offers effective management of weighing data. The Loadmaster 8000iX has an integral SD card port for the fast and efficient transfer of data between loader and weighbridge or office PC, and enables pre-registered customer reference data to be uploaded directly to the instrument.
Also available is the trade-approvable Loadmaster 9000i. When fitted to a wheeled loading shovel, this on-board weighing scale effectively transforms the loader into a mobile weighbridge which conforms to MID Class Y(b) levels of accuracy.
The company has recently gained approval via the UK National Measurements Office to self-verify its instruments. Subject to formal training by RDS, this approval extends to all EU RDS distributors. This will dramatically speed up verification times and reduce end user costs.
Also on show at INTERMAT was the new WEIGHLOG α10 on-board weighing system. Incorporating the latest color touchscreen technology, it provides a user-friendly on-board weighing system that can be used for truck loading or check weighing.
WEIGHLOG α10 uses a 4.3 in. color, high brightness resistive touchscreen display and additional physical keys providing a modern and ergonomic operator interface.
Suitable for use with up to 10 different attachments, e.g. buckets or forks, the system can be retrofitted onto telescopic handlers, skidsteers and forklifts.
The system measures hydraulic pressure using up to four sensors at a certain position on the lifting cycle compensating for pressure changes in the system.
Enhanced storage capability comprising 30 products, 30 customers and up to five different recipes enable accurate record keeping and traceability.
The system provides communication and data storage via SD card reader and USB 2.0 host allowing quick, safe and efficient uploading and downloading of data.