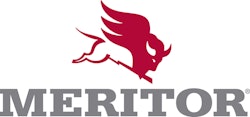 Meritor WABCO, a leader in the integration of safety technology for the commercial vehicle industry, introduced the next generation of its OnGuardTM collision safety system today, featuring major industry advancements in its radar-based technology.
This improved system, which integrates collision warning, adaptive cruise with active braking and collision mitigation, will be available on every vehicle ordered with OnGuard after October 1.
"Our next generation of OnGuard is a step change in the functionality of collision safety systems and we believe it represents a significant technological leap forward in reducing crashes involving commercial vehicles," says Jon Morrison, president and general manager, Meritor WABCO. "With more than 3 billion miles logged on more than 25,000 OnGuard units in the market, our depth of experience in this technology takes us to the next level to further reduce the risk of rear-end crashes on our roads and highways."           
The new OnGuard system features improved object tracking performance and immediately available stationary object warning capability. It is designed to integrate stationary object braking capability in the near future. Major improvements include:
Advanced radar resolution and robust tracking designed to minimize false warnings from very small, inanimate objects.
Evasive maneuver check, giving the system visibility into adjacent lanes. If the system recognizes the potential for a rear-end collision and detects an object in an adjacent lane, it is designed to detect that the vehicle cannot perform an evasive maneuver and apply the brakes sooner. The earlier the system brakes, the higher the likelihood of avoiding a crash.
Auto alignment, which makes the radar more resistant to misalignment to ensure robust operation. This feature is designed to eliminate the need to perform small, manual adjustments during installation and over time due to normal operating conditions.
Improved driver display with a larger, higher-resolution screen shaped for easier orientation on the vehicle dashboard.
When faced with a serious accident threat, the next generation OnGuard system is designed to brake the vehicle more aggressively than the current system's limit of one-third to one-half of a full brake application with the improved object detection.           
"Meritor WABCO has long been committed to continually advancing safety technology," adds Morrison. "These types of major advancements are necessary to increase adoption rates and make the systems more reliable and user-friendly for drivers and fleets."