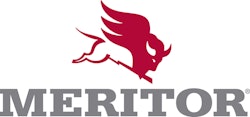 Meritor WABCO, a leader in the development and integration of safety technology for the commercial vehicle industry, has announced its next generation Lane Departure Warning (LDW) system, including the innovative SafeTraK technology by Takata Corporation, will be available for fleet installation starting in October this year.
Meritor WABCO's LDW, powered by Takata's SafeTraK technology, is a forward-looking, vision-based system designed to monitor the road and the vehicle's position in the lane, audibly warning the driver if the vehicle unintentionally leaves its lane. Drivers are alerted if the system detects lane drifts, weaving or lane changes without a turn-signal application. Advanced image analysis algorithms enable the Meritor WABCO LDW to detect a wide variety of lane markings, such as dividing lines on the highway, even in unfavorable lighting or weather conditions where there are limited visible solid, dashed or reflective lane markings. The Meritor WABCO LDW is a fully integrated compact unit with automatic calibration and integrated diagnostics that simplify setup and operation.
A valuable feature unique only to the Meritor WABCO LDW is a Driver Alertness Warning (DAW) function that provides a warning when the system determines that the driver is drowsy. This differentiated and powerful tool helps drivers stay aware of dangerous driving situations caused by fatigue.
The Federal Motor Carrier Safety Association (FMCSA) has cited "failure to keep in proper lane" as the third most cited reason for a fatal truck accident, an event that is commonly caused by distraction or fatigue. While fleet management can monitor and train on adhering to hours of service (HOS) regulations to mitigate drowsiness, drivers may still operate their vehicles while fatigued or inattentive. Fatigued or inattentive driving can result in higher accident costs (average of $91,000 for all accident types, including property damage, injury and fatal) and less favorable CSA 2010 ratings. The CSA 2010 weighting for a fatigued driver violation in the Driver Fatigue BASIC is the most extreme and Meritor WABCO customers realize that LDW can assist them in preventing this violation. FMCSA has estimated the payback for LDW type systems to be as short as nine months and the payback as high as $6.55 for every dollar spent. The National Transportation Safety Board (NTSB) has recommended the adoption of LDW due to its high efficacy.
"Customers recognize our continuous commitment to optimize safety products and have expressed great interest in our new system," says Jon Morrison, president and general manager, Meritor WABCO. "With more than 800 million North American commercial truck miles logged, Meritor WABCO's LDW system with the addition of next generation SafeTraK technology by Takata broadens our portfolio of active safety systems for the commercial vehicle, allows us to be a single, integrated supplier for all critical safety needs, and provides the fleet with a valuable tool in improving safety and reducing costs."