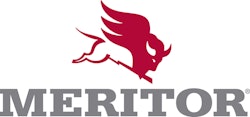 Meritor WABCO, a leader in integrated safety technology and efficiency systems for the commercial vehicle industry, brought together more than 25 prominent fleets and leading industry media for a hands-on technology event in southeast Michigan during which it showcased the company's advancements in integrated safety and efficiency technology.
"As we continue to develop products designed to increase driver safety and optimize vehicle performance, we're pleased to provide our customers and business partners the opportunity to experience current and near-term safety technology for the commercial vehicle market," says Jon Morrison, president and general manager, Meritor WABCO.
Highlights from the event include:
Launch of the next generation OnGuard collision safety system that will be available on vehicles ordered after October 1, 2012 and feature major industry advancements in radar-based technology, integrating collision warning, adaptive cruise control with active braking and collision mitigation with stationary object warning.
Introduction of ESCsmart technology, which will advance the performance and functionality of electronic stability control (ESC) featuring self-learning "drive it away" capability whereby the system is designed to automatically adapt to changes in the vehicle's configuration.
Immediate availability of

Meritor

WABCO's Lane Departure Warning (LDW) in North America, which is a vision-based system first announced in February designed to monitor the road and the vehicle's position in the lane, audibly warning the driver if the vehicle unintentionally leaves its lane.
Availability in North America beginning in September 2012 for Electronic Control of Air Suspension (ECAS), designed to improve traction on 6x2 applications through electronic load transfer and electronic height control, reducing air consumption and improving fuel economy.
Showcase of efficiency products including its air system solutions that are engineered for optimized performance with less energy consumption.
In addition, Scott Belcher, president and CEO of the Intelligent Transportation Society of America (ITSA), presented Meritor WABCO with the ITS America Smart Solution Spotlight Award for its development and use of OnGuard. He also spoke on the changing nature of transportation technology. In addition, Meritor WABCO customers and guests heard from Annette Sandberg, former Federal Motor Carrier Safety Administration (FMCSA) administrator, who discussed the state of innovative safety technology in the industry and its contribution to safer highways.