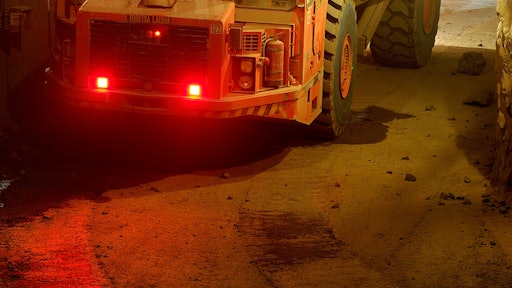 At MINExpo, Sandvik will unveil a bold portfolio of innovative equipment and services, including a new dimension of comminution. The exhibition will mark the world premier for Sandvik's revolutionary eco-efficient comminution machine - a machine which produces a finer mill feed thereby boosting the downstream milling process. This innovative solution from Sandvik will help customers productively address the energy challenges facing them both now and in the future.
Sandvik will also launch other machines which feature safety-oriented designs, reliable productivity and the latest technology. The bolter miner, MB610, offers fast and easy access to maintenance points, large and ergonomic working platforms, enhanced cutting forces and world-class performance.
Sandvik Mining will introduce newly enhanced automation concepts that open up a new era in mining. The Sandvik AutoMine product family is the most comprehensive automation offering for underground and surface mining. Increasing fleet utilization and production rates, improving working conditions and reducing maintenance costs, Sandvik AutoMine promotes preeminent safety, productivity and peace of mind for mining operations. Sandvik Mining's Automation focuses not only on equipment autonomy, but also on mining process automation and management.
"We're driving innovation throughout our entire portfolio, from new equipment to ever smarter customer services," says Anna Sörelius, Vice President, Business Development of Sandvik Mining. "From the Sandvik comminution machine to Sandvik AutoMine, we are bringing compelling, safety- focused and productive new products and services to the market faster than ever before. I'm incredibly proud of these new equipment and services advancements." Demonstrating some of these capabilities will be an underground simulator, available for "test rides."
"Since Sandvik's major strategic shift only six months ago, the company has found a new energy. It has provided substantial improvements in time-to-market, managed to differentiate on customer services and it continues to build on its strong portfolio in mining equipment and services." Sandvik Mining is delivering on its pledges, and is clearly demonstrating its path to future success."
In addition to key technologies such as automation, production enhancement, fracture detection and drilling optimization, Sörelius reinforces the importance of human talent and creativity.
"MINExpo is an important venue to meet with dealers and customers, who provide valuable feedback that we use to improve our services, tools, and equipment. Sandvik Mining makes certain we stay in tune with the market, our customers," says Sörelius.
Completing the ultimate mining industry offering, Sandvik will also feature several innovative surface, underground drilling and L&H machines, including the high-pressure DR560 DTH drill rig, now available with compressor management system and AutoMine Drilling; the machine also combines different pressure options, maneuverability and reliability with maximum drilling performance.
Since Sandvik Mining Systems introduced its PF300 fully-mobile In-Pit Crushing and Conveying (IPCC) system in March 2009, renewed interest in mobile crushing concepts in the major mining markets has been extraordinary.
Our newly developed fully-mobile crushing plant makes the IPCC method a better alternative to traditional truck haulage due to lower operating and maintenance costs, higher energy efficiency, a significant reduction of its CO2 footprint, and radical declines in dust emission.
The PF300 utilizes Sandvik's proven crushing technology to offer a full range of roll crushers flexible enough to suit even the most challenging mining applications. Taking advantage of the many years of expertise in designing steel structures, crawler travel systems and apron feeders, as well as all types of conveyors and conveyor components, the entire system is custom-engineered by Sandvik Mining and equipped with genuine parts. With commissioning of the two first units scheduled for the middle of 2012, it is obvious that the PF300, with its compact and stable design, has a big potential for future market share for IPCC applications.
Other advances include Sandvik's DE811 multi-purpose Exploration drill which features a number of improvements such as the boom-mounted electronic control console allowing the operator to work safely up to 3 m (10 feet) away from the mast. Exploration will also offer an "x" version of the DE130 compact core drill for use in explosive underground environments such as coal, an improved RC hammer with patented bit design providing a 30% performance advantage, and a redesigned line of diamond products.
Sandvik Tools: designed to make every mining day better
Sandvik continues its mission to deliver high quality Rock Tools that provide the best productivity in the industry, all with the superior user experience for which Sandvik Rock Tools is known for.
New Top hammer tools for mine development, the innovative Sandvik Alpha 330 improves the service life of the current model by up to 15%, with up to 80% improvement versus R32 models.
The Alpha 330 is a patented product unique for Sandvik. The short thread design and hexagonal rods in the tool system result in a rigid, integrated power pack drill string with superior resistance to bending stresses, in addition to improved bit guidance and perfect energy transfer. The sturdy thread is well guided inside the bit skirt, offering high precision in collaring – even in complex rock formations and uneven surfaces.
Cutter picks featuring the XT grade tungsten carbide can cut materials up to 180 MPa (26,000 psi). With Sandvik rock tools you cut hard and soft rock even faster, even better and more efficiently when battling tough conditions. The new RR321 rotary drill bit continues the development of the most comprehensive portfolio in the industry, which includes the RR220 (standard air), RR321 (premium air) and RR440 (sealed bearing). Combined with the drill string tools, the range makes Sandvik the only drilling tools supplier in the world with such a broad, yet technologically exceptional offering in the world. The RH460 hammer line is Sandvik's latest, new high-performance DTH hammer family, providing high impact energy and drill performance to maximize productivity in variable ground conditions. The RH 460 hammer family will consist of 3.5 in., 4 in., 5 in., 6 in. and 8 in. hammers; 4 in., 5 in. and 6 in. hammers are expected to start shipping in the fourth quarter of 2012.
Cubex is set to introduce a new In-The-Hole (ITH) production drill at MINExpo. The drill delivers advances in comfort and safety for the operator, ease of use, a more rapid learning curve, and a platform for drilling automation. It has been developed through more than three decades of ITH drilling experience and maintains Cubex's high build quality. See the new drill at booth 1475 in the North Hall. Sandvik is the sole global distributor for Cubex ITH underground drilling products.
Visit Sandvik Mining at MINExpo booth C-7309 in the Central Hall.