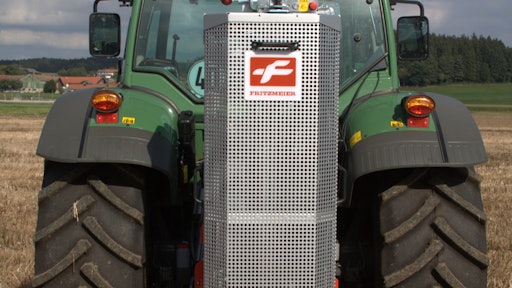 The fully automatic PROFI 60 and 90 devices from Fritzmeier Umwelttechnik are the only soil sampling devices to be approved by the Bavarian State Research Center for Agriculture by the Agricultural Research Institute in Bavaria [Landesanstalt für Landwirtschaft]. The PROFI 60 and 90 enable the extraction of soil samples in one to three layers at depths of up to 60 or 90 cm.
The precision farming specialists have continuously improved and optimized the components during recent years: hydraulics, touchless sensor technology and control units. The core of the current implements are the ESX light control unit and a hydraulic manifold with proportional valves. So the device is prepared for ISOBUS mode in the future.
The system can be operated conveniently from the driver's seat via terminal. All required information of the system's status is displayed during operation and all settings, including layer separation, can be made via terminal without leaving the vehicle's cabin. The current drilling depth is detected electronically according to the number of rotations of the auger. No mechanical adjustment by hand to do. This saves valuable time.
Additional information, such as current drilling depth, number of samples and diagnostics of the sensor system, is also provided. The PROFI devices can be adapted to any hydraulic system via display.
All samples can be linked with GPS data, recorded and transferred to any GIS-software. Computers and functional software programs enable continuous documentation of measurement results. This approach has delivered an optimal performance, particularly in projects monitoring groundwater protection. Short machine set-up time accelerate the changeover between various fields. The drills have a special coating layer to ensure a long service life. A stone guard as well as an overpressure shut-off also protect the auger from damage.