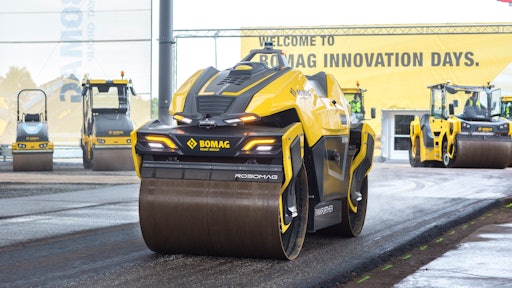 Attendees at CONEPXO-CON/AGG 2020 were among the first in North America to see ROBOMAG, BOMAG's first fully autonomous tandem vibratory roller. The concept roller was developed as a technological study by BOMAG in cooperation with the Technical University of Kaiserslautern in Kaiserslautern, Germany. ROBOMAG combines guidance technologies such as GPS, Lidar and state-of-the-art positioning sensors with BOMAG ASPHALT MANAGER, one of the most advanced Intelligent Compaction technologies available. With ROBOMAG, BOMAG is turning its vision of fully autonomous construction equipment into reality.
ROBOMAG can be used fully autonomous in a defined work area. The system obtains information on position, situation and movement using a combination of different technologies for spatial orientation, work area awareness and jobsite safety. ROBOMAG features sensory environment recognition to detect objects within its path to avoid collisions.
In addition to fully automatic mode, ROBOMAG provides the option to follow manually entered movement patterns, so the roller can perform its task autonomously, even with special compaction projects. For loading or manual operation, ROBOMAG can be operated by remote control. The roller incorporates emergency stop mechanisms for fully autonomous and manual operation.
The ROBOMAG also recently received an iF Design Award for its innovative design.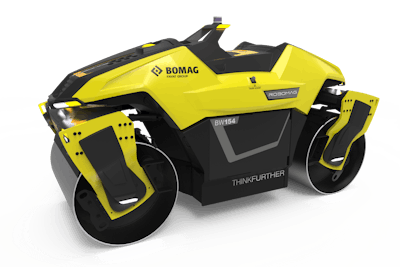 ASPHALT MANAGER included
Beyond fully autonomous movements, ROBOMAG features ASPHALT MANAGER for automated Intelligent Compaction control, monitoring and documentation. Once the mat layer thickness is inputted, ASPHALT MANAGER continuously measures compaction progress through the highly effective Evib system and automatically adjusts drum vibration from true vertical to horizontal as mat stiffness increases. The system automatically adapts vibration to the roller's travel direction to prevent bow waves and scuffing. ASPHALT MANAGER delivers consistent automated compaction results without over compaction.
As a technology study, ROBOMAG serves as BOMAG's vision for autonomous compaction in the not-so-distant future.