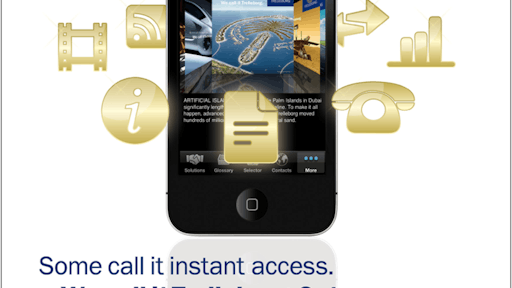 Global industrial group, Trelleborg, has launched an innovative new smartphone app making it easy to keep up-to-date with the latest news and updates from the group, while on the move.
The 'Trelleborg Gateway' app also provides quick access to product and contact information from across the group and includes an interactive rubber type selector and polymer glossary for engineers. Stefan Svardenborn, Brand and Marketing Director for Trelleborg Group, comments, "We recognize that mobile working is becoming an increasing necessity and we are committed to ensuring that all our stakeholders, from investors and employees to engineers, have easy access to information and news from the group.
"We believe the development of the 'Trelleborg Gateway' app illustrates the innovative nature of Trelleborg Group, not only how we seal, damp and protect in demanding environments, but also in the way we communicate."
'Trelleborg Gateway' is intuitive and very easy to use. It is available free of charge for the iPhone at App Store and for Android mobiles at Android Market. It can easily be found by searching for 'Trelleborg Gateway.'
The 'Trelleborg Gateway' isn't the first app from the Trelleborg Group. The Trelleborg Sealing Solutions business area has developed a successful 'ISO Fits & Tolerances' app and recently launched the 'Unit and Hardness Converter' tool. Both aimed at engineers, the 'ISO Fits & Tolerances' provides results based on the ISO 286 System of Limits and Fits while the 'Unit and Hardness Converter' is able to quickly convert frequently used units and currencies, as well as popular hardness scales.