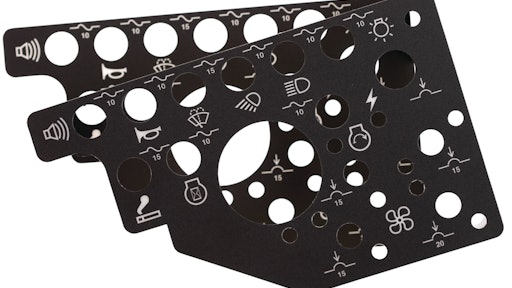 Conventional wisdom says the more precise you make your engineering drawings, the more likely you are to get the quality and performance you want from your industrial graphics. In most cases, that's true. But it is possible to be too exact, particularly when it comes to specifying substrate brands, which could drive up your costs unnecessarily.
Three of the most commonly used substrates are polycarbonate, polyester and vinyl. But engineers often reference the brand name "Mylar®," for example, instead of the generic product name "polyester." Doing so prevents your industrial graphics supplier from substituting an alternative product, and there are plenty of lower-cost equivalents on the market today that perform just as well or even better in certain applications. Creating lock-out specs that require the use of a certain brand or even a specific substrate can also lead to over-engineered decals, forcing your supplier to use an over-performing, and typically more expensive, substrate for the end product.
Specify the application, not the brand
Instead of calling out substrate brands, it's more effective to focus on providing details about the application and environment in which your graphics must ultimately perform. This approach also helps eliminate the risk of accidentally specifying an inappropriate substrate material.
Key questions to consider as you create engineering drawings include:
Where will it be used? It's critical to indicate, for example, within the specification whether your graphics will be used in an interior or exterior application.
To what type of surface will it be applied? E.g. painted, powder-coated, plastic or textured? The answer will help determine the need for a standard or a more aggressive adhesive.
How long does it need to last? Be specific by providing a statement such as: "Decals shall have, at a minimum, a life span of seven years providing reasonable protection from fading, tears or abrasion, ultra-violet light, ozone, or substances such as lubricants, inks, paints, cleaning solutions, aliphatic solvents and dirt." Also, if color retention or readability are the most critical needs over time make sure to call those out specifically as well.
What type of environment usage will predominate? Such as high moisture, UV exposure, or extreme temperature conditions. Be sure to include performance requirements such as peel strength, service and application temperature, and material shrinkage.
Does it need to meet OSHA, ANSI, EPA or other specifications? Federal, state and municipal regulations take precedence over any particular requirements specified in your drawings.
Once you've answered these questions, your industrial graphics supplier will be able to recommend the best substrate for your application needs.
Selected Substrates and Scenarios:
For every substrate used for decals and other industrial graphics there are hundreds of potential applications, but it is helpful to provide a few representative applications, a commonly recommended substrate and some expected functionality.
Situation 1: You need an instrumentation panel overlay depicting knob and gauge locations on a piece of equipment used outdoors with a required life expectancy of at least 5 years.
Recommendation: a polycarbonate substrate with standard industrial adhesive.
Polycarbonate is a strong, rigid, transparent plastic. Adhesives are applied to its sub-surface after printing, and various pressure-sensitive adhesive options are available depending on the application. Because it effectively resists chemicals, heat and abrasion, polycarbonate is ideal for harsh environments and applications where decals may be exposed to impact and constant physical touch, such as for electrical controls, membrane switches, overlays, fascias, nameplates and instrument components. It's also suited for backlit signage, such as for turn signals and low fuel indicators.
Average lifespan: Two to 10 years, depending on grade and application
Average shelf life: At least two years when stored around 70 F (20 C) with humidity levels less than 50%
Some common brand names: Bayfol®, Calibre®, Lexan®, Makrolon® and Naxell®
Situation 2: You need an informational label to be applied to an engine surface which may reach temperatures exceeding 200 F.
Recommendation: a polyester substrate.
Designed more for interior than exterior use, polyester is a plastic material typically used for membrane switches, overlays and nameplates. It's heat-resistant and stable and won't stretch or shrink, but it doesn't form over surface irregularities like vinyl. Polyester can be coated with permanent pressure-sensitive acrylic adhesive.
Average lifespan: Two years
Average shelf life: At least two years when stored around 70 F (20 C) with humidity levels less than 50%
Common brand names: Catalar®, Celanex®, Eastar®, Eastalloy®, Eastapack®, Flexmark®, Hetron®, Marnot®, Melinex®, Mylar®, Premi-glas®, Spector®, Ultradur® and Valox®
Situation 3: You need a graphic depicting your company name and logo on the outer surface of a vehicle's engine compartment.
Recommendation: a vinyl substrate.
Ideal for curved surfaces, vinyl is a flexible, weather-able plastic that withstands outdoor use and forms over minor surface irregularities. Already UV-resistant, it can hold inks even longer when coated with a UV laminate. Vinyl is commonly used for signs, bumper stickers, decals and labels.
Average lifespan: Two to 10 years outdoors, depending on grade and application; longer indoors under controlled temperatures and low UV exposure
Average shelf life: At least two years when stored around 70 F (20 C) with humidity levels less than 50%
Common brand names: Boltaron®, Dural®, Kohinor®, Pliovic®, Oxy®, Tedlar®, TempRite® and Vista®
The Final Word on Specifying Industrial Graphics Substrates
Understanding the various substrates available—and knowing the difference between brand names and product names—will help you better specify the right materials to keep costs down and performance up.
With this knowledge, you can discuss quality and cost options with your industrial graphics supplier, work together to analyze and update your current engineering drawings and requirements, and ensure your specifications are met without sacrificing cost-savings for brand recognition.
Tobbias Day is Director of Quality Management at Muir Omni Graphics. An expert in industrial and fleet graphics, Tobbias is a frequent corporate trainer for graphics application strategies and efficiency techniques. He writes a monthly column in Muir Omni Graphics' "Best Practices" e-newsletter entitled "Quality Corner: Q & A." Tobbias can be reached directly at (309) 673-7034 and [email protected]. To subscribe to the e-newsletter, visit decalbestpractices.com.
Companies in this article