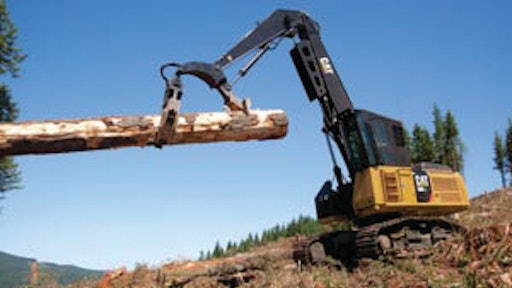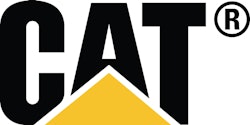 Caterpillar Forest Products introduces the new Cat 568 Forest Machine (FM) that delivers more performance — while consuming less fuel — than the previous model. Highlights include an increase in horsepower, more efficient hydraulics, longer track frames for more stability, and ground-level accessibility for maintenance.
Cat Forest Machines are versatile, purpose-built machines that can be customized to perform many forestry applications. The 568 is available in a general forestry configuration for road building, site prep and processing; and in a loader version for log loading, shoveling, butt-n-top loading and millyard applications. The 568 is the largest in the four-model FM line.
Two pilot machines were tested on logging contractors' work sites in the Northwest United States. Over 2,400 hours in total were logged on the machines by at least eight operators. Their feedback was critical to validating machine design and component life and fine-tuning features.
New, more efficient engine and hydraulics
The 568 is powered by the new 319 net hp Cat C9.3 ACERT engine, which provides increased power and torque as compared to the C9 engine in the 330D FM. The 568 also has more horsepower than competitive machines in the same class.
In designing the C9.3 engine to meet U.S. Tier 4 Interim emissions regulations effective this year, new technology was incorporated to ensure that changes to meet emissions requirements would not reduce the life of the system, increase operating costs or reduce productive uptime. The new engine is more powerful and burns less fuel than the previous C9.
The electronic-controlled high-pressure air system includes a new turbo, a new cylinder head design and an integrated valve cover and thermostat. The fuel system includes a new high-pressure pump, electric priming pump, injectors and high-durability fuel lines. The standard fuel capacity has been increased to 317 gallons.
The 568's hydraulic efficiency is 10% higher than with the 330D FM. Pumps and other system components are improved and reduce parasitic power losses. The hydraulic valve arrangement and the resized and reshaped oil passages — unique to Cat hydraulic excavators and the 568 — enable freer oil flow. Operators will notice the machine runs more smoothly and responds more quickly. Also, less engine effort is required to move oil through the hydraulic system, which translates into fuel efficiency gains of up to 5% over the 330D FM, depending on application.
The Flexxaire programmable reversing fan to blow debris out of the radiator and maintain optimum engine temperature, is now included as standard equipment. Also included as standard is the starting aid for cold weather, which includes two extra batteries, high capacity starter motor, heavy-duty cable, jumper start lines, ether aid and block heater.
Ground level servicing
The redesigned one-piece engine hood and larger filter, cooling and hydraulic compartments make servicing components easier. Spin-on fuel and oil filters are accessed from the ground level. Hydraulic housing, including filters, is now situated inside the hydraulic tank to help prevent contamination.
Ports and valves are easily accessed to extract fluid samples for analysis through Caterpillar's S·O·S Services Program.
Rugged structure
The 568 structure is purpose-built for duty in the woods with a wide, tall, reinforced carbody, rugged swing bearing, heavy doors and extra guarding. Track frames are 13 in. longer than in the 330D, resulting in 18% more stability and load handling performance. The upper structure weight and stresses are distributed evenly across 10 track rollers, as compared to nine track rollers in the 330D.
Pilot machine operators commented on the stability. Bryon Brown with Tim Brown Logging Inc. in Castle Rock, WA, operated the 568 pilot for about 60 hours of shovel logging and 12 hours of loading trucks. "All the shovel logging was done on steep ground — probably at least 20% grade and some up to 50%. The new Cat 568 is a very stable machine. It operates fine on steep ground," he reports. "Some of the logs we picked up to load on the truck were 40 ft. long and in the 15,000 to 16,000 lb. range. It doesn't have any trouble picking them up, very stable."
Josh Cloke, also with Tim Brown Logging, operated the 568 pilot for about 25 hours. He adds, "It has great walking power to walk over anything. Very stable on steep ground. Great for logging great big logs."
Strong lift and swing
The excavator mass and reach linkages and purpose built log loader boom and stick sets are built for heavy-duty applications. Increased steel thickness on the rear and center section of the boom, the side sections of the stick and internal reinforcement plates increase the durability of general forestry HEX linkage arrangements.
The 568 is available with either over/under or under/under log loader linkage with matching heel arrangements. Over/under (heel boom cylinder on topside of stick and stick cylinder on underside) provides more lift height, maximizes reach and tucks the heel up closer to the stick for more clearance for high-decking in a wood yard.
The swing priority circuit on the 568 uses a new electric valve that's operated by the machine's improved Electronic Control Module (ECM). Compared to using a hydraulic valve, an electric valve allows for more finely tuned control when loading or shoveling.
"The swing power in the new Cat loader is incredible, especially in tree length timber. It'll swing anything the grapple will hold on to," Brown says.
Cab changes
Changes to the cab enhance functionality and operator comfort. The LCD monitor is 40% larger than in the 330D FM and is equipped with a buzzer to warn the operator of critical events, such as low engine oil pressure or overheating. The AC unit and ducting is improved and the new heated air suspension seat is standard.
"It's a very nice cab on the 568. Control layout, position of the control levers, armrests, everything — a very comfortable machine. Very easy to sit on unstable ground or on the side of hills. Visibility is excellent," Brown says. "Nothing wrong with the interior. It's perfect the way it's set up."
"It's all around a good machine no matter what you're doing," Cloke adds.