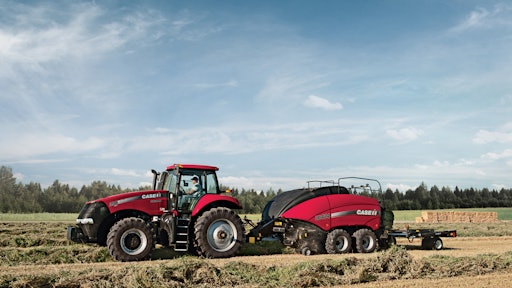 It's not often that a familiar silhouette changes so dramatically: Case IH has redesigned the new LB4 Series large square baler for both style and function. The new design changes encompass both internal and external changes that make the new LB4 series large square balers significantly more efficient than previous models.
"We are very excited about the performance of this new baler series," says Brett DeVries, Case IH Hay and Forage Marketing Manager.
DeVries continues, "The goal is to help producers maximize short baling windows. The new design has increased capacity by as much as 20%."
Inside, the LB4 Series balers feature a new, high-inertia flywheel that is 19% larger than previous models and results in improved performance in uneven windrows. The new, high-capacity pickup features a roller windguard, feed-assist roller and faster rpms to maximize crop flow into the baler. The gearbox runs at an astonishing 48 strokes per minute to put crop through the machine quicker and more efficiently.
"The high-speed baling means producers can get more done in a day without compromising bale density or shape," says DeVries.
As for the sleek new look? The new curved design allows the baler to shed debris more easily.
"Case IH has always had an industry-leading double knotter assembly. The reliable, heavy-duty direct-drive knotters provide outstanding reliability, minimizing mistties," says DeVries.
Many other parts of the baler have been reinforced for better wear and longer life, including the all-new, heavy-duty frame on the pickup and reel.
"The LB4 large square baler has been put to the test, baling more than 200,000 bales, and it has excelled in all kinds of crops and conditions," says DeVries.
Together, the new design elements create a product that is not only more efficient and reliable but also is easier to use and maintain. The baler is 2 ft. narrower, allowing for better visibility around the baler and easier transport. Most major service points can be accessed by opening just one easy-open service door at ground-level, reducing complexity and maintenance time.
The LB4 large square balers also come equipped with steering sensors that interface with the intuitive AFS Pro 700 display to more efficiently help producers build the perfect hay bale.